Zelenskyj calls for protests in Russia
IFinal preparations are under way for mock referendums on Russia's accession in four Russian-held Ukrainian territories. The votes under martial law in Donetsk, Luhansk, Kherson and Zaporizhia are scheduled to begin on Friday and have no chance of broad international recognition. With the partial mobilization she initiated, the leadership in Moscow is also encountering resistance in its own country, which Ukraine is also trying to stir up: President Volodymyr Zelenskyy called on Russians to protest the mobilization and evade conscription in his daily video message on Thursday.
"Protest! fight! Running away! Or go into Ukrainian captivity! These are the options for you to survive," said Zelenskyj in his speech, which was in Russian. According to him, there are already 55,000 Russian soldiers in the Ukraine died, according to Moscow there are almost 6,000. Zelenskyj appealed to the mothers and wives of the conscripts: "Do not doubt that the children of the leadership of your state are not taking part in the war against Ukraine. Those who make decisions in your country protect their children. And your children will not even be buried."
Addressing his own compatriots, Zelenskyy explained that the mobilization in Russia be a sign of the strength of Ukraine. With the decision, the war for the Russians will no longer be just an event from television, but will move into real life. For the Ukrainians, on the other hand, nothing will change, they will continue to fight for the liberation of their country, he was convinced. With a view to the UN General Assembly, the Ukrainian President explained that Ukraine is now supported by an even larger circle of states in the international community.
Diplomatic exchange of blows in front of the UN
Meanwhile, verbal clashes between Russia and Western-backed Ukraine continued in New York, where Zelenskyi had delivered his speech to the United Nations the day before. Moscow has no interest in peace talks and "is only looking for a military solution," said the Ukrainian foreign minister Dmytro Kuleba before the UN Security Council. He accused Russian diplomats of an "extraordinary amount of lying". Referring to Russian Foreign Minister Sergey Lavrov, who entered the room at the meeting on Ukraine about 90 minutes late and then left again immediately after his speech, Kuleba said: "I also noticed today that Russian diplomats are fleeing just like Russian ones Soldiers."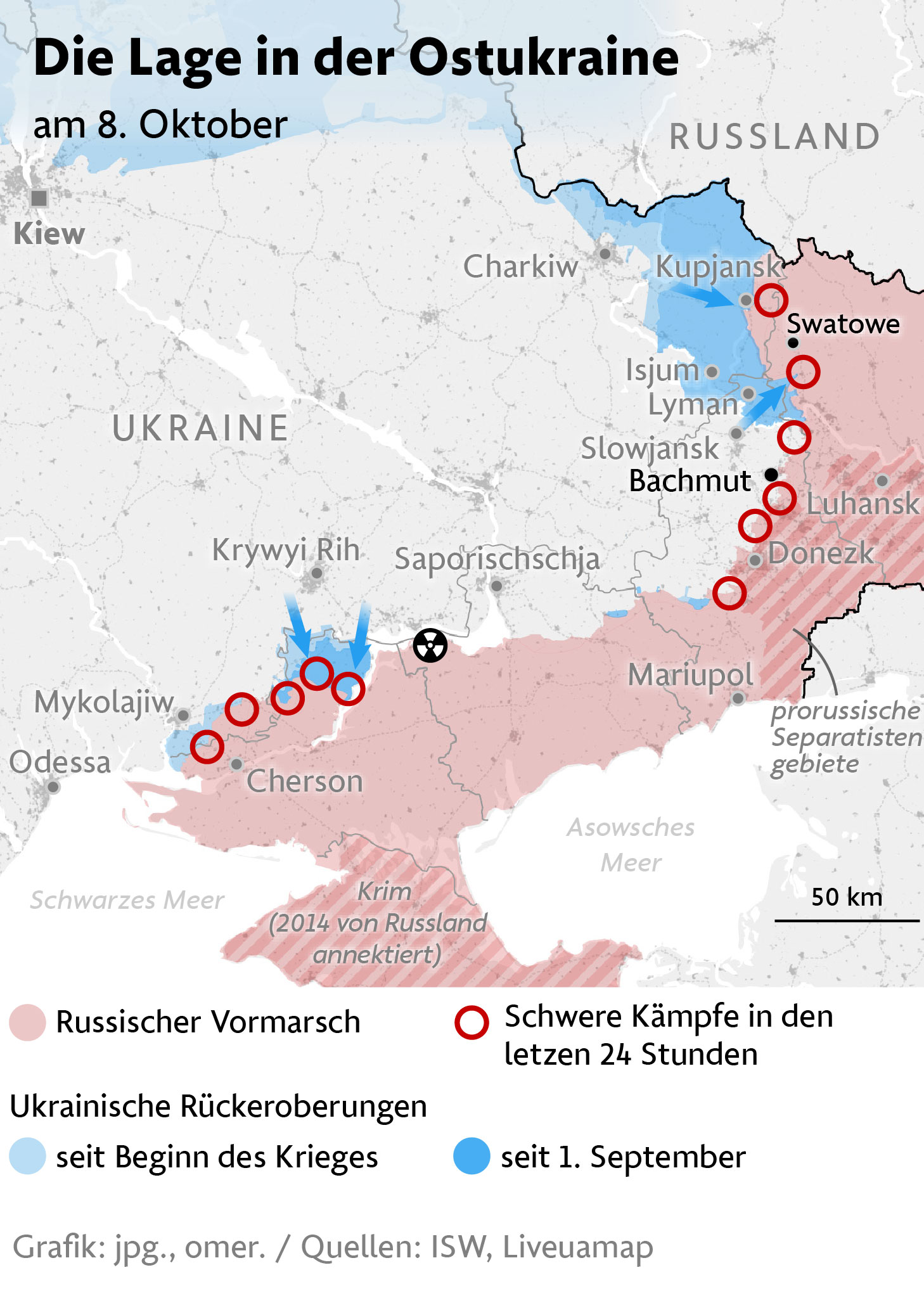 Lavrov, in turn, accused the West of direct interference in the war because of its arms deliveries and support for Kyiv. "This policy of wearing down and weakening Russia means the West's direct interference in the conflict, turning it into a party to the conflict," Lavrov said during his brief appearance at the UN Security Council session. The position of those states "that are pumping weapons into Ukraine and training their soldiers" is particularly cynical. The aim of this support is obviously to delay the fighting "for as long as possible, despite the casualties and destruction," Lavrov said.
Kremlin denies higher figures on mobilization
It is true that many people in Russia have already received their draft notice. Kremlin spokesman made reports that up to a million reservists could even be called up Dmitry Peskov However, the Internet portal of the newspaper "Novaya Gazeta", which has since been discontinued in Russia, wrote that President Vladimir Putin had given the Ministry of Defense a free hand to mobilize up to a million men. This is in point 7 of Putin's decree on Wednesday. This point was missing from the publication and was classified as "For official use only".
In its report, the newspaper, which operates from exile, referred to alleged sources in the Russian presidential office. Peskow himself said on Wednesday that the said paragraph of the decree was about the number of reservists. However, it is true that 300,000 men should be called up, as announced by Defense Minister Sergei Shoygu.
In view of the mobilization announced by the Kremlin, many young men are trying to break away from Russia. In addition, there was MoscowSaint Petersburg and other cities across the country protested against the forced service to arms - and hundreds of arrests.
In addition to mobilizing reservists, Russia has also begun calling up recruits for ordinary military service, which is customary once every six months. This time 120,000 conscripts were drafted. "Citizens called up for military service will not be taken to participate in the special military operation in Ukraine," said the representative of the General Staff Vladimir Tsimlyansky. The Kremlin continues to steadfastly follow its line of officially calling the war a "military special operation." According to Tsimlyansky, conscripts whose term of service is about to end will also be released and sent to their hometowns. In Russia, regular military service lasts one year.
That will be important on Friday
In the Ukrainian regions of Donetsk, Luhansk, Kherson and Zaporizhia, forced votes on joining Russia will start on Friday. They should be completed by Tuesday. However, basic democratic principles are disregarded and there are no independent international observers present as a supervisory authority.