Young Ukrainians in Germany: integration succeeds, just how well?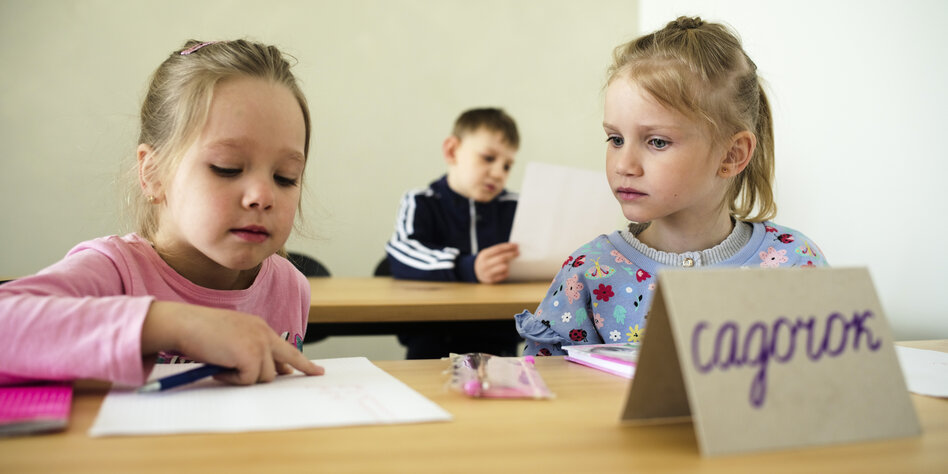 More than 200,000 Ukrainian children go to school in Germany. A success? Not necessarily, say parent associations and researchers.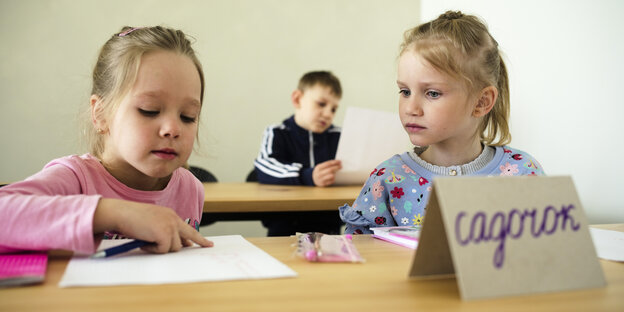 BERLIN taz | The integration of Ukrainian students into the German school system has been largely successful – at least according to the numbers. Almost ten months after the start of the Russian war of aggression, more than 200,000 children and young people who fled Ukraine are taking part in classes in this country.
"It is a great integration achievement of our school system," said the chairwoman of the Conference of Ministers of Education (KMK) Karin Prien on Tuesday at a press conference des media service integration. Prien emphasized that the federal states reacted quickly based on the experience of 2015/16 and set up a task force at the beginning of March. In many federal states, schooling is compulsory for refugees from day one.
Natalie Roesler from the federal parent network of migrant organizations for education and participation (bbt) is also largely satisfied with the development. "In the beginning, many students have parallel am Online lessons from Ukraine participated," she says. However, the number has now dropped significantly. "The willingness to integrate into the German school system is growing".
Nevertheless, Roesler sees a need for action. She knows from Ukrainian parents that the schools do not accept their children due to a lack of space or staff. One Research by the media service integration confirms that. In North Rhine-Westphalia, around 1,000 children were waiting for a place at school at the end of October, and according to media reports 1,600 in Berlin.
Need for action visible
KMK President Prien admitted that there were still problems "here and there". However, it is completely normal for a child not to go to school on the first day after arriving in Germany. However, the lack of places is not the only point of criticism from Roesler's association. Among other things, the bbt would like to see more counseling services for parents. Often the only way to do this is through volunteer work. "This support for families must be nationwide and funded," says Roesler.
The assessment of the Berlin migration researcher Juliane Karakayali is even more critical. For example, Ukrainian students often stay too long in welcome classes, even though separating them from other students leads to poorer learning outcomes and can be stigmatizing. Among other things, Karakayali refers to one Current study by the RWI – Leibniz Institute for Economic Research in food. Accordingly, refugees who are initially put in a preparatory class are less likely to make the leap to high school.
How refugee children are taught varies from state to state. In six states – including Brandenburg, Lower Saxony, Rhineland-Palatinate, Saarland and Thuringia – refugee children are learning together with other students this school year. In the others, they are initially taught separately until their German is good enough for regular classes. There are different models in Bavaria, NRW, Berlin and Saxony-Anhalt.
For Karakayali, this patchwork quilt is a sign that not much has improved since 2016. Above all, she misses uniform guidelines for teaching: "In many federal states there is no curriculum for the welcome classes and no clear criteria for when the children should switch to the regular class," says Karakayali. In reality, children are parked in mainstream classes because of a lack of resources such as staff.
Ukrainian teachers should help
KMK President Prien reiterated that the students in a welcome class should of course have a "clear perspective on regular classes". This is also why the KMK would have initiated a simplified transfer of Ukrainian teachers into the German school system.
In their state of Schleswig-Holstein, 160 Ukrainian teachers have already been hired. However, this is not so easy, as Ukrainian teachers usually only have a bachelor's degree – the KMK standards, however, provide for a master's degree.
According to the migration media service, around 3,000 Ukrainian teachers have been taken on nationwide, but mostly not as full teachers, but only as learning companions. However, it is estimated that at least 13,400 additional teachers will be needed to teach the new students from Ukraine.