Young journalists resign: Appreciation? none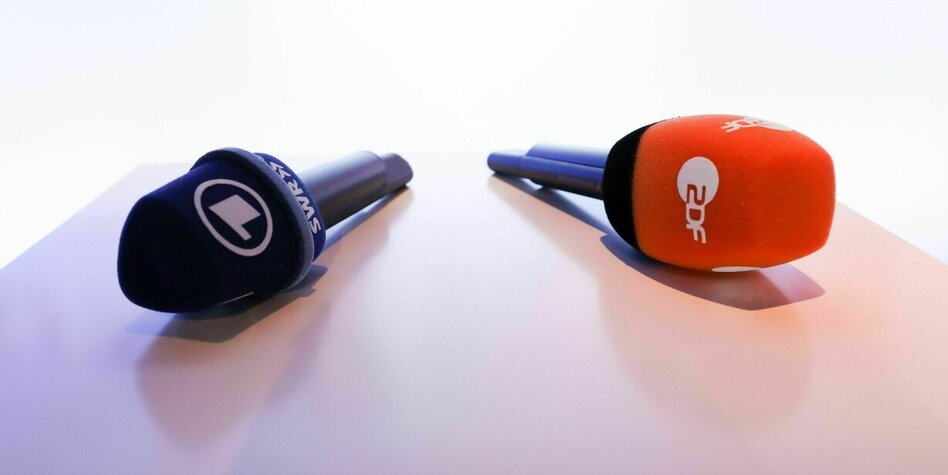 Young journalists often work in insecure, freelance employment. How do you experience the current scandals at ÖRR?
In-house research teams, terminations without notice and the ongoing question of what and who will come next: The Scandals surrounding public service broadcasting (ÖRR) have been causing a stir for weeks. The focus is primarily on the management floors. But what do those who are still far away from the executive floors say? Who often have not been working for the ÖRR for long and are already feeling the general displeasure? How do young journalists in the ÖRR experience the current scandals? And how do you rate your work situation?
A report on prime time on RBB. It's about drought and water shortages in Berlin and Brandenburg. The film wins an award – a sequel is made two years later. A success across the board for both the broadcaster and the reporters. Nico Schmolke is one of them. He says: The shoot had nothing to do with a glossy documentary.
Schmolke, 31, is a reporter and works as a freelance journalist for Rundfunk Berlin-Brandenburg (RBB). His area of ​​responsibility includes research, implementation and interviews. Filming is not one of them – actually. But when the protagonist falls ill, the day of shooting is booked and the team has to be paid, Schmolke goes out on another day himself – and films. So that material can be created at all.
The motto of the station was: just no additional day of shooting. Schmolke is not remunerated for the extra effort. His payment is fixed at a flat rate. He doesn't want more money, his pay is reasonable, he tells the taz. On the other hand, he does not find the way in which money is wasted on the top floors appropriate. "It is simply absurd to see where savings have to be made and what cannot be paid for. And then you can see from the Schlesinger case where the money is going instead," says Schmolke.
Adjust mindset
As a freelance journalist for the RBB, Schmolke knows about the downsides of freelance work for the ÖRR. And the lack of WiFi access in the RBB building seems to be the least of the evils. "As if I didn't exist at all," Schmolke describes his position in the house. There is a lack of appreciation. For that to change, public broadcasters would have to fundamentally adjust their mindset, he says, and understand that "the freelancers make up a large part of the workforce - and therefore entire parts of the program".
Schmolke hopes that the momentum of the scandal surrounding the former RBB director Patricia Schlesinger will be used not only to look at what is going wrong in management, but to look at the ÖRR as a whole. He is confident when looking at his colleagues. "I see that many well-known authors are now loudly coming forward and denouncing specific things in the online workforce," says Schmolke.
Çağlar Efe agrees that something is fundamentally wrong. Efe is 28 years old and a freelance journalist at WDR. He sees it as a gift to be part of public service broadcasting. Efe has an international biography and is the first in his family to go to college. Not only is it difficult to get access to the editorial offices, but also to be taken seriously. You often don't even get an answer to suggested topics, says Efe.
Despite studying media sciences, he cannot live from journalism alone. He needs another job. "When you then realize how money is being squandered in the management floors, that simply can't be the case," he says.
people in leadership positions
Public service broadcasting claims to be accessible and approachable for everyone. But instead of implementing this, it seems to Efe, a parallel world has developed in the management floors, where people live in the lap of luxury, while particularly freelance colleagues often have to work twice. "I don't understand how people in leadership positions can be so obsessed with power," he says.
Efe is rather skeptical about the future. New appointments alone do not mean change, he thinks. Structural reforms and well-functioning control bodies are needed instead of "amateur associations that can't achieve anything". And even if a good review should succeed, Efe hopes that the scandal will never be forgotten.
The young employees are far from forgotten. The debates and internal discussions sparked by the scandals are also causing fear among them. About before criticizing your own employer. After all, most of them are employed on a freelance basis and therefore have little security. 32-year-old Emilia Finkel*, who wishes to remain anonymous, also knows this feeling.
Finkel works as a freelance journalist for various young formats of public broadcasting. She wasn't surprised when she heard about the affair. As a freelance journalist, she is not employed by the ÖRR herself, but by external production companies. "The broadcasters pass on the orders to production companies in order to outsource them and thus save money," she explains. When asked if she and her colleagues are paid appropriately, she laughs and replies, "Definitely not."
Click trap online formats
Like Efe and Schmolke, Finkel also notices that there is a lack of appreciation. And it's not about special praise, it's just about being taken seriously. Freelance journalists in particular who work for online formats are often smiled at. "Online formats are often only understood as 'products on the side'," says the journalist. Nevertheless, they should run particularly well. This often means that new formats are quickly discarded.
A lot of attention is paid to range – and algorithms can make it very arbitrary, says Finkel. She thinks range can be an important clue. Nevertheless, many developments simply need more time, "and public service broadcasting could actually take that time because it is not dependent on advertising".
There is a lot of talk about the construction sites that the public broadcasters are currently working on and which have involuntarily come to light. But that's not enough. The broadcasters face a special task: They have to save face and prove that they are able to accept criticism from their own ranks. Especially by those who also suffer from internal structures: the young freelancers. You want change at eye level.
* The full name is known to the editors