World Economic Forum in Davos: Scholz is silent on tanks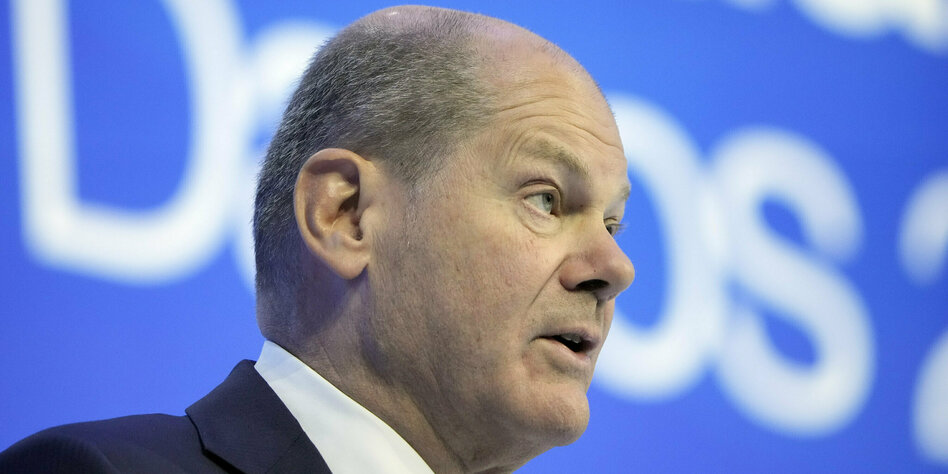 Chancellor Scholz announces no tank deliveries to Ukraine on World Economic Form. Instead, he promotes Germany as an industrial location.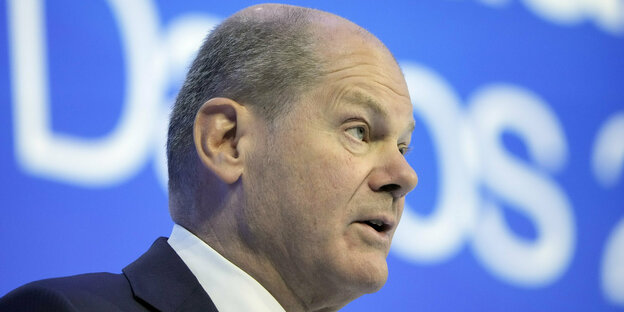 DAVOS taz | In his speech to the World Economic Forum, Chancellor Olaf Scholz did not promise Ukraine any additional heavy weapons. He said nothing about the delivery of Leopard tanks in Davos on Wednesday. He answered a specific question from the audience in the congress center with familiar positions. "For the war to end," the Russian aggression must fail, said the Chancellor. "A broad alliance supports Ukraine. We supply weapons in large quantities."
The federal government is under pressure on the tank issue – also in Davos. At the congress, Poland's President Andrzej Duda, among others, spoke out in favor of a "new chapter in military aid" – he wants to send Leopard tanks to Ukraine, but needs German approval for this. Lithuania's President Gitanas Nausėda said: "We are in a situation where a stronger commitment is needed to supply tanks to Ukraine." He very much hopes "that our strong ally will do this".
Scholz used large parts of his speech to the German role in climate policy and the global decarbonization of industry, but also to promote Germany as a location for foreign investment. After the Russian attack, the country very quickly made itself independent of Russian energy supplies. "The transformation towards a climate-neutral economy is experiencing new dynamics," said Scholz. Germany has changed, it is "tackling decarbonization", will be climate-neutral in a good two decades and still remain "a strong industrial country".
The construction of the infrastructure for the import of liquid gas within a few months has proven that the country can be "mobile, unbureaucratic and fast," said Scholz. That is also his concern for the future. "Your companies can measure us against this," he said to the international investors in the hall.
Committed to globalization and international trade
The Chancellor advertised "that the first supply chains for green hydrogen are being created in Germany". Europe will be the "first climate-neutral continent" in the world. They feel committed to globalization and international trade and are striving for further trade agreements, including with South America and the USA.