When we are locked up: At home with Corona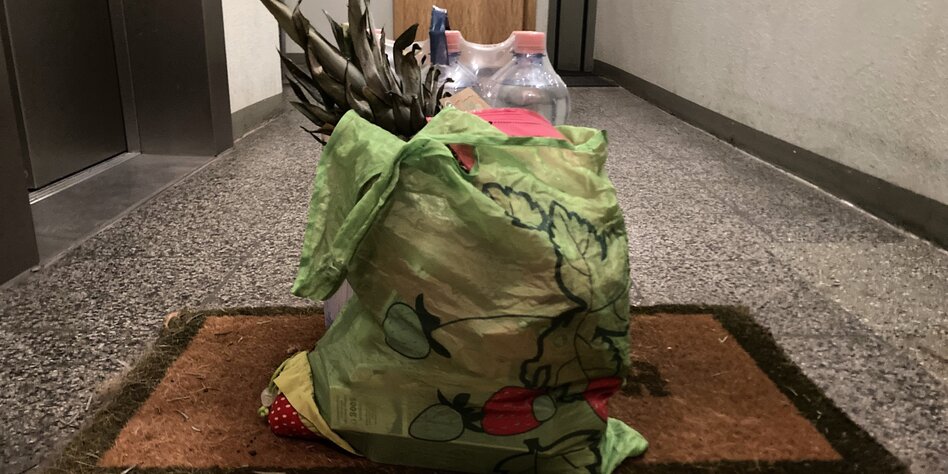 There are probably more people in quarantine than ever before. Five people between the ages of 4 and 70 tell how they experience this time.
The limbo in my head
I get hammered awake. Something is wrong. Is there a jackhammer penetrating the top of my skull?
I'm actually a headache specialist: throbbing, pulling, pressing or aura – I know them all. I had my first migraine attack when I was eleven. But that?
My still tired head is slowly understanding: Kurt is standing not two meters under my mattress with his jackhammer and is probably just ripping off tile by tile from the wall.
Kurt, that's what I called the craftsmen from the 2nd floor who have been working for weeks on conjuring up a loft out of the old building below us.
It sucked before the virus made itself at home in my body – now it's limbo.
Thanks to the pounding in my head, I'm already sick before I open my eyes. What do I do now? Go down and ask Kurt for mercy? Only – I'm not allowed to leave the apartment. Hang out the window and yell? My voice would never get through the closed windows, through Kurt's headphones – which I hope he's wearing – and against the jackhammer. I opt for 400 mg ibuprofen.
In the next few hours I will be offered an acoustic product presentation. My guess: Ah, an orbital sander, then a flex? And again hammering. I don't know the next noise yet… an industrial vacuum cleaner? The whirring mixes with the pressure pain behind my forehead, which is now only even.
Finally silence at 3pm – in and out of my head. And the best message of the day on my display: pizza in the bathroom. Thank you, Dad.
Sophie Fichtner, 25, currently lives with her parents
The dear corona-denying neighbors
For a person who loves to be outdoors, quarantine is generally a stressful thing. And my three-year-old son and I have had this countless times now, even though we were healthy.
For the first time, however, we are now suffering from corona and in quarantine, and at times with severe symptoms. And as if it wasn't challenging enough to cope with everyday life alone with a sick child, our neighbor who is hard of hearing makes it even more difficult.
The good lady – Ü60, "old hippie", extremely friendly and sweet – is a supporter of various conspiracy stories and denies Corona. That became clear to me immediately when I wanted to borrow tools when I moved in and she wanted to take the opportunity to make me believe all the connections about the actions of a global power elite and told me that everything about Corona was a lie. Since then, in telephone calls that unfortunately can also be heard well through the wall, she has been telling people that they shouldn't be tested, the tests are all contaminated.
She also loves to turn on her TV; At least the device roars through our apartment from the evening and drives the already throbbing head dangerously close to the limit of bursting.
In the past I haven't been shy about ringing her bell and asking her to turn the thing down, only now we have Corona. Since the woman expressly forbids me to wear a mask and is not vaccinated either, we don't have a chance now. I can't complain to her because I want to protect her. A dilemma.
Ronja Malin, 33, single parent
Part of a study I never signed up for
The stupidest thing about Corona isn't the headache, even if it's honestly trying to split my skull. There are pills.
The stupidest thing about Corona is not that my book is coming out during this time. I still do the interviews. There are pills.
The stupidest thing about Corona isn't the constant sleeping. I'm usually bad at that, so I'm catching up on the last five years.
What really annoys me about Corona: that rich people have become even richer and poor people even poorer during this time. On January 20, communist author Bini Adamczak tweeted: "Remember the appeals in the first lockdown to see the crisis as an opportunity to become a better version of yourself etc? The world's billionaires have increased their wealth by $5 trillion since March 2020. And what have you been up to for the last two years?"
Another bad thing about Corona is that you become a mirror of the sensitivities of others. Messages come via Messenger. Prove that I'm not feeling so bad… Show that I was vaccinated three times and still got sick… The fact that my vaccination reactions felt worse than the week of Corona is proof of…
I'm part of a study I never signed up for. Their result is already clear: solidarity is for the bucket, and science is a new twist on mau-mau.
should i lie Exaggerating, at least a little? Such a small suffering post on Twitter, do others too. I'm trying to write one, I'm bored with it myself.
Daniel Schulz, 42, taz editor
Quarantine is just quarantine
I'm an active person. Also very fond of travelling. Not leaving your apartment for two weeks requires discipline. It was already the second time. The first quarantine was deliberate because I knew I would have to isolate myself for 14 days after visiting family in Brazil. It was still difficult, because I didn't feel like I was missing anything. I was tested "negative" twice, but had to persevere through the time. Thoughts came to me about how we want and need to live in the future.
But the second time I was "positive". Luckily, the symptoms weren't bothersome. So it didn't scare me. Anyway, I'm vaccinated and convinced that this is helpful.
But I had to cancel my appointment calendar for the next 14 days. I was extremely strict again and didn't leave the apartment for 14 days – not even to the mailbox. Meanwhile, my wonderful, helpful neighborhood gave me a lot of support. All I had to do was call someone, can you get me something and they put it in front of my door.
This text comes from the taz on the weekend. Always from Saturday at the kiosk, im eKiosk or right in weekend subscription. And at Facebook and Twitter.
Everyday life actually went on as before. I did my jobs as a freelance editor from my desk, which I still like to do at 70 as a pensioner. Thanks to modern technology, communication is possible from the quarantine.
I also rediscovered my sewing machine. One thing, however, was very difficult for me: getting tired. Even though I always walked around the apartment during long phone calls, this is no substitute for long hikes.
Nevertheless, I am optimistic about the future, even though traveling has now become a major challenge.
Lisa Berten, 70, freelance editor, retired
The secret behind the two stripes
Twice in my life I've been very happy to have two strips on a rapid test. Both times I became a father 9 months later.
When I got infected with Corona in January and the other three members of my infection community too, I wasn't so happy. But a little.
This may be incomprehensible to people who have caught severe histories, more dangerous mutants, or less understanding bosses, but my immediate reaction was relief. Finally, I thought, after two years the running away, the fear, the waiting is over.
The almost two weeks at home, without work but with two small children, were unexpectedly nice, especially when the flu symptoms subsided. I found that jigsaw puzzles and memory games are more fun when you're not dead tired and thinking about the to-do list. The children were also happier: no shouting, no fighting over brushing their teeth and tidying up. Yes, that sounds like a serious side effect, like a hallucination, but it was!
Coming up with new games every day was challenging, so here is a partial list:
– The floor is lava: set up a course through the apartment with chairs and tables, sofas and skateboards
– TV! But not as a breather for the parents and not Paw Patrol, but watch old children's films together, absolutely: Augsburger Puppenkiste
– Build a raft out of sushi sticks
– Borrow a trampoline and bounce the energy away
When I dropped the kids off at daycare after two weeks and waved after them, I could have cried. Now the madness that we call everyday life begins again.
Kersten Augustin, 33, taz editor
Corona, that's the stuff that's in the body
I'll be five in three weeks. After my birthday I should also get a vaccination against Corona. But now I already had it. But it wasn't bad. It was nice to be home for so long and that mom and dad had so much time.
I drew a picture, my sister Pauline and I are on it. You can look inside my body because Corona is also in the body: there is the heart, the stomach with food, the lungs, veins and bones. And the soul. In my hand is my carving knife. Every day we sat on the balcony and carved a stick. I drew a cross on the marbles so Pauline wouldn't swallow them.
Jone, 4, daycare child