Waste sorting in Ukraine: Garbage and war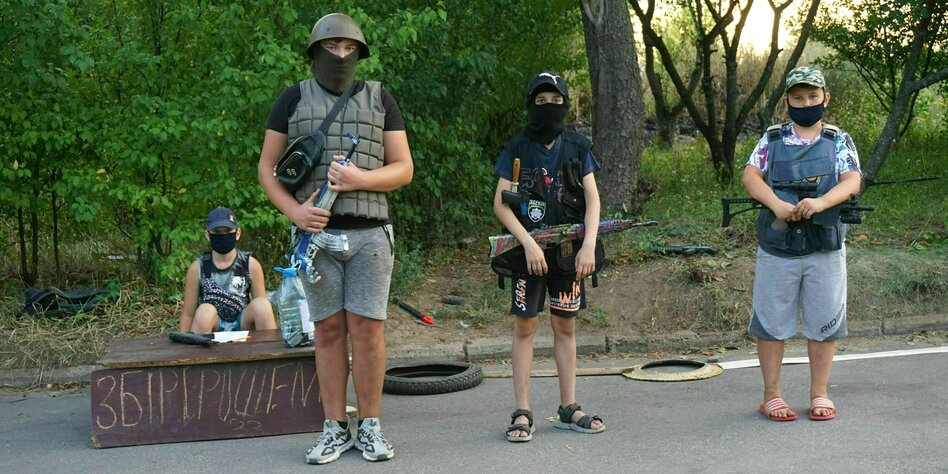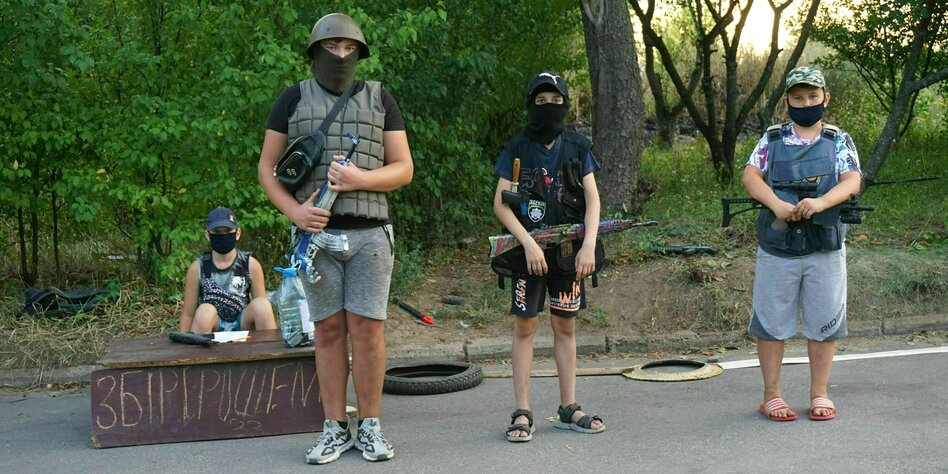 The small Ukrainian town of Lyubotin has been shelled. 10,000 refugees live here. Anna Prokaeva deals with waste separation there. Why?
MAnna Prokaeva's car laboriously makes its way up the hill on the unpaved road riddled with potholes. Here on the outskirts of the town of Ljubotin, which has 30,000 inhabitants, near the metropolis of Kharkiv, in a very rural setting, she has bought a little house in the countryside.
But before she goes to her ramshackle shack with the beautiful orchard with lots of plum trees, she stops at a small composting facility. The fact that this plant was built is also thanks to her own tenacity, after all, she managed to get Ljubotin to join the "Zero Waste" project. "Here, residents of multi-storey houses who do not have their own garden can dispose of their organic waste."
Prokajewa is mighty proud of this facility. Finally, in a suburb of Kharkiv, the sense of waste separation has been recognized. On the other hand, another resident of a little house on the unpaved path is not at all proud. "Listen," she hisses at the woman who has Ljubotin to thank for his composting facility. "That thing stinks seven kilometers upwind. And soon we'll have a plague of rats here too. In any case, I don't throw anything in this funny box." However, the visitor cannot perceive any unpleasant smell.
An island of tranquility – apparently
who some days in Kharkiv has spent in Ljubotin finds a flourishing life. There are no almost deserted squares over which the few pedestrians with tunnel vision hurry, here there are no houses with craters from rocket impacts. The streets seem as quiet as before the war. Not like in Kharkiv, where the few cars rush along at a pace as if their own survival depended on their horsepower. Here nobody runs after a journalist and threatens him with the police because he thinks he is a spy because of his camera.
In Ljubotin the houses are small and neat, with pretty gardens. The few cafes in town are even open. But the most important thing is that for weeks there have been no victims killed by Russian rockets and artillery. But appearances are deceptive.
Anna Prokaeva has been living in Lyubotin for several years. From here she runs her environmental group "Kharkiv Zero Waste", Kharkiv without garbage. The members advise local authorities on problems with waste reduction, composting and recycling, collect waste themselves and then send it for recycling. They collect old clothes and whatever else can be recycled in an "eco hub". And they build little garbage sorting containers.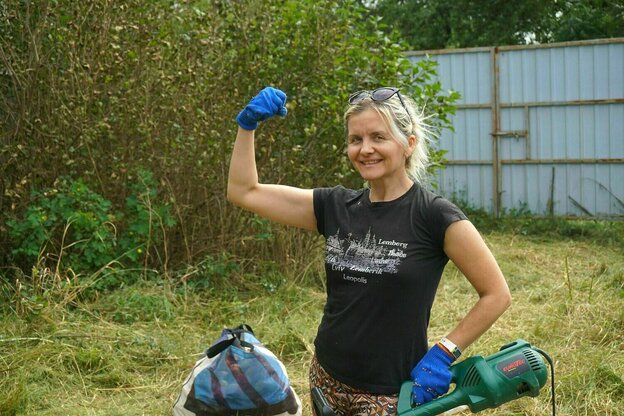 The priorities changed after the war. Aid for the many internally displaced people was collected in the Öko-Hub. The people had fled in the cold spring and needed summer clothing and hygiene items.
But already at the beginning of April, the group came to the conclusion that avoiding waste is still important, especially in times of war. Recycling collapsed many times during the war. For example, the city of Kharkiv has a state-of-the-art waste processing facility in its Derhachi district. The problem now is that Derhachi is in the north of Kharkiv, which is particularly frequently shelled by the Russian army. That's why the rubbish is temporarily stored somewhere else. In addition, after the Russian invasion, many recycling companies left Kharkiv to find safer places to live.
The mayor and the waste separation
The mayor of Lyubotin, Leonid Lazurenko, resides in an inconspicuous two-storey house on Slobozhanska Street. Just a few meters away, in front of a bakery, residents exchange the latest news with paper cups in hand.
Even though Ljubotin has been spared rocket attacks for several weeks, the mayor says the fear of these missiles is still there. "Every night we hear the rockets hitting neighboring Kharkiv. Any resident of Lyubotin can tell you the exact time it hit Kharkiv last night. Nobody can sleep peacefully here." Half of the residents of Ljubotin work in Kharkiv and are therefore exposed to Russian attacks there during the day.
What occupies Leonid Lasurenko, apart from the rocket attacks and taking care of 10,000 internally displaced persons who have found a temporary place to stay in Ljubotin, is the garbage problem. His city also participates in the "Zero Waste" initiative of several Ukrainian localities. They were just about to build a waste disposal plant according to European standards. But it was destroyed by Russian missiles. His city also participates in the "Zero Waste" initiative of several Ukrainian localities.
Anna Prokaeva, environmentalist
"Waste avoidance is not a luxury that we cannot afford in war. A garbage dump was once shelled in Mariupol. It then burned for a long time"
"Avoiding waste is not a luxury that we cannot afford in war," says Anna Prokaeva. "Right now we have to make sure that our mountains of rubbish don't grow so quickly." Because the more rubbish you have, the more rubbish you have to transport. With the current petrol prices of the equivalent of 1.50 euros, logistics is an expensive affair. And the drivers of these garbage transports are endangered because of the Russian rocket attacks.
It's not a problem at all, Prokaeva complains, separating organic waste and composting it on site. Organic waste, which makes up 50 percent of waste, creates methane gas. And if a landfill is shelled, that methane gas could start a dangerous fire. "In Mariupol once a garbage dump was shelled. Then it burned for a long time. Hygiene items such as diapers and pads, in particular, generate a lot of waste if they are single-use products."
And that's why Prokaeva organizes courses with "Zero Waste Kharkiv" in which diapers and pads are made of fabric for multiple use. "Some of them took place in air raid shelters," she says.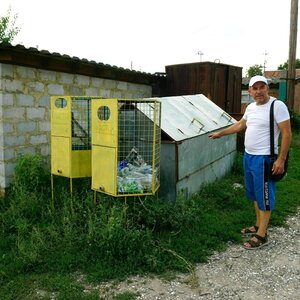 Many houses in the Kharkiv region have been bombed to rubble in recent months. Nonetheless, says Prokaeva, it is already necessary to think about how this rubble can be recycled, for example as gravel or building material.
And then Prokaeva talks about the children. It is particularly important to make the youngest generation aware of environmental issues – especially now, at a time when cinemas and amusement centers are closed, kids are not even allowed to swim in the river and there is a night-time curfew, many children are visiting libraries . "And that's why we put out our information material about waste avoidance there. And the parents do everything to ensure that the children come to our events. We represent European values ​​with our environmental protection ideas. And the parents want our children to be guided by European values."
Olexandr Solotarjew helps wherever he can
When Olexandr Solotarjew wants to enter his Romaschka district, he is stopped at a checkpoint. Only when he donates money to the army can he continue, masked people tell him. But Solotarjew only laughs – and the people around the checkpoint laugh with him. Because the masked people are children and the weapons they hold in their hands are self-made and made of wood. You play war. Oleksandr Zolotarev praises them for their patriotism, gives them a token sum and then he is allowed to move on.
Here in this district, which looks like a small village, Solotarjew is at home. He is the chairman of "Ljubotin SOS", an association of volunteers from Ljubotin. Actually Solotarjew is a physicist and businessman by profession with numerous stays and good contacts in West Africa.
There are many farmers in Ljubotin. But other residents also maintain at least one kitchen garden of their own. Solotarjew has grown a small garden in front of his house with lovingly planted flowers, potatoes, cucumbers and tomatoes. He is also the head of a household. These communities manage themselves, regulate their rents together and share the costs among the tenants. And so Olexandr Solotarjew campaigns for the support of old and sick people and the many refugees. And he asks for the support of the Ukrainian army.
In Romaschka, the group "Kharkiv Zero Waste" has set up a container for sorting garbage. Solotarjew, who is also involved there, travels to Kharkiv several times a week. When he distributes humanitarian aid, he always makes sure that there are no single-use products among them. Disposable plates, for example, don't go in his bag.
Last month, the SOS Ljubotin "eco-hub" distributed three large boxes of crockery to the refugees in the neighbourhood. There are also clothes, pans, cutlery, mattresses, blankets, food, medicine and shoes that the residents of the district have donated for the refugees.
In order to increase the willingness to donate, the group organizes district festivals. There the refugees can talk to the locals and there is a free lunch. In addition, donations in kind are collected. "Ljubotin is a very spacious city," explains Oleksandr Zolotarev. Elderly and sick people did not always manage to visit the eco-hub or the district festivals themselves. That's why you pick them up in a minibus.
Winter is worrying
It won't be easy this winter, as Ljubotin mayor Leonid Lazurenko knows. "If, for example, the electricity should fail, the pumps will no longer work either. But without pumps there is no water supply," says Lasurenko. "Then you would have to start up water, fetch water from the wells in the village and use diesel generators. Only, we don't have enough diesel generators in the city for such a situation," he adds. These days it is Electricity in the Kharkiv region been absent several times. The Russian army shells power plants and substations.
In the event that the heating no longer works, emergency shelters have been set up in public buildings. Makeshift beds will then be set up there and people will be provided with blankets and food. The collection of pellets and wood has already started in case there is no gas.
Mayor Lasurenko keeps an eye on his city. Half an hour after the interview, his office manager comes to the bus stop and asks the journalist whether the long wait at the bus stop is bothering him. He could also wait in a cozy corner in the town hall.
Anna Prokaeva won't have any problems with the water this winter, that's for sure. A few meters from her house, on the street, there is a fountain that is open to the public.