+++ War in Ukraine +++: Sham referendums have begun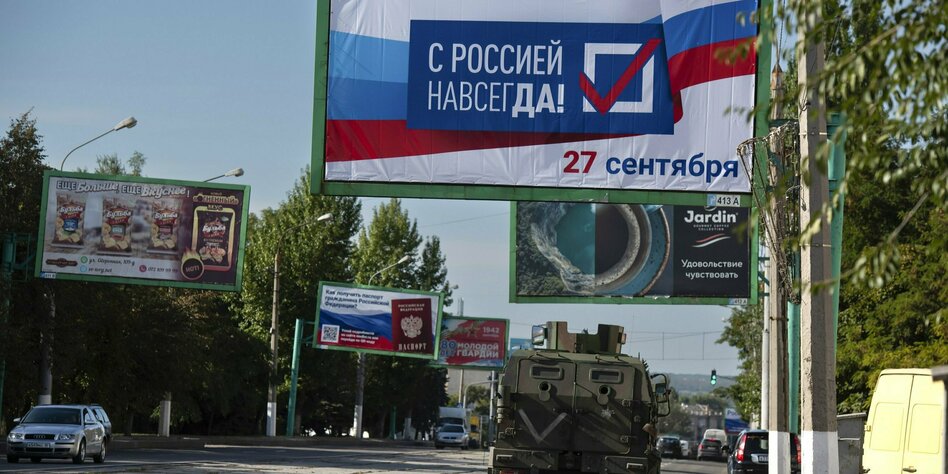 In the south and east of the country, people are to vote on joining Russia. Selensky calls on the Russians to resist after partial mobilization.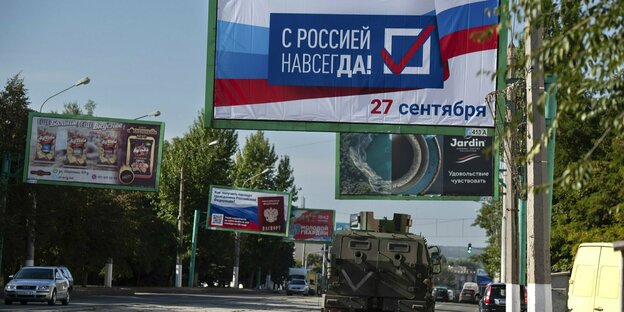 Sham referendums started in occupied territories of Ukraine
The pro-Russian administration in occupied territories in Ukraine has Bogus referendums on joining Russia began. The Russian-backed administration said voting started on Friday in the Ukrainian regions of Zaporizhia, Luhansk and Donetsk. The referendums are rejected by Ukraine and the West and regarded as illegal under international law. With this, Russia is apparently preparing to annex the Ukrainian territories.
A referendum was also due to be held on Friday in the Kherson region, which is under almost complete control of Russia.
In the mock referendums, residents are asked if they want their region to become part of Russia. The referendum is expected to turn out as the Kremlin wants. Russia could use the sham referendums as an excuse to interpret attacks by Ukrainian soldiers on the occupied territories as attacks on Russia itself. This would result in a significant escalation of the war that began in February. (ap)
UN: Hungary's foreign minister meets Lavrov
Hungary's Foreign Minister Peter Szijjarto met his Russian counterpart Sergey Lavrov on the sidelines of the UN General Assembly in New York. In a video published on Facebook, Szijjarto says they talked about gas supplies and the construction of the nuclear power plant by the Russian state-owned company Rosatom in Hungary. (rtr)
SPD politician Roth wants unbureaucratic visa solution
The chairman of the Foreign Affairs Committee, Michael Roth, speaks for itself Visas to Russian opponents of the war out. "I'm very much in favor of people who say no to this fascist war, people who say we don't want to go to war in Ukraine, and we don't want to support this policy of Putin either, that we can help them in a free Europe offer a home," says the SPD politician on ZDF. "We now need quick and unbureaucratic solutions for issuing visas, including humanitarian visas." He hopes that the European Union and Germany will send clear signals. The suspension of simplified visas for Russian citizens agreed by the EU states came into force in mid-September. Since the Partial mobilization on Wednesday calls on the opposition in Russia to protest. (rtr)
Finnish border guard reports increased number of entries
Finland continues to register an increased volume on its border with Russia. According to the Finnish border guard, the number of Russians entering the country doubled on Thursday compared to the previous week. (rtr)
Greens and SPD plead for the admission of Russian conscientious objectors
The Greens and SPD are calling for Russian conscientious objectors to be admitted quickly. "Anyone who does not want to take part as a soldier in Putin's murderous war of aggression against Ukraine, which violates international law, and therefore flees Russia, must be granted asylum in Germany," said Parliamentary Secretary Irene Mihalic (Greens). Rheinische Post according to a preliminary report. SPD faction deputy Dirk Wiese tells the newspaper that the stricter penalties that people would face if they were withdrawn from conscription "I already think that the current legal situation is sufficient as a reason for asylum." (rtr)
Zelensky calls on the Russian population to resist
Ukrainian President Zelensky has called on the Russian population to resist partial mobilization in the country. 55,000 Russian soldiers have already died since the start of the Russian war of aggression on February 24, Zelenskiy said in his nightly video address. "Do you want more of this? No? Then protest against it. Fight it. run away Or surrender," Zelenski said.
"You are already complicit in all the crimes, murder and torture of Ukrainians," Zelensky said in his video message to the Russian people. "Because you were silent. Because you keep silent."
Now it is "time to decide," said Selenski. For men in Russia it is about "die or live, become an invalid or stay healthy". For women, it's about "losing their husbands, sons, grandchildren forever — or protecting them from death, from war, from a person," Zelensky said, referring to Putin. (afp)
Diplomatic exchange of blows at the United Nations
Verbal clashes between Russia and Western-backed Ukraine have continued in New York. Moscow has no interest in peace talks and "is only looking for a military solution," Ukrainian Foreign Minister Dmytro Kuleba told the UN Security Council. He accused Russian diplomats of an "extraordinary amount of lying". Referring to Russian Foreign Minister Sergey Lavrov, who entered the room at the meeting on Ukraine about 90 minutes late and then left again immediately after his speech, Kuleba said: "I also noticed today that Russian diplomats are fleeing just like Russian ones Soldiers."
Lavrov, in turn, accused the West of direct interference in the war because of its arms deliveries and support for Kyiv. "This policy of wearing down and weakening Russia means the West's direct interference in the conflict, turning it into a party to the conflict," Lavrov said during his brief appearance at the UN Security Council session. The position of those states "that are pumping weapons into Ukraine and training their soldiers" is particularly cynical. The aim of this support is obviously to delay the fighting "for as long as possible, despite the casualties and destruction," Lavrov said. (dpa)
Kremlin denies higher figures on mobilization
It is true that many people in Russia have already received their draft notice. However, Kremlin spokesman Dmitry Peskov presented reports that up to a million reservists could be called up as a lie Novaya Gazeta wrote, however, that President Vladimir Putin had given the Defense Ministry free rein to mobilize up to a million men. This is in point 7 of Putin's decree on Wednesday. This point was missing from the publication and was classified as "For official use only".
In its report, the newspaper, which operates from exile, referred to alleged sources in the Russian presidential office. Peskow himself said on Wednesday that the said paragraph of the decree was about the number of reservists. However, it is true that 300,000 men should be called up, as announced by Defense Minister Sergei Shoigu.
In view of the mobilization announced by the Kremlin, many young men are trying to break away from Russia. In addition, there were protests in Moscow, Saint Petersburg and other cities in the country against the forced service with weapons - and hundreds of arrests.
The CDU foreign politician Norbert Röttgen sees Putin under massive pressure at the latest with the partial mobilization in his own country. "I would say the stage has been reached that his authority is crumbling," he said on Thursday on the ZDF program "maybrit illner". "He has now frightened his own people, the young people." Putin's system reveals military and political weaknesses, which could ultimately lead to "diplomacy once again regulating conflicts and not weapons." (dpa)
120,000 conscripts drafted
In addition to mobilizing reservists, Russia has also begun calling up recruits for ordinary military service, which is customary once every six months. This time 120,000 conscripts were drafted. "Citizens called up for military service will not be taken to participate in the special military operation in Ukraine," said the representative of the General Staff Vladimir Tsimlyansky. The Kremlin continues to steadfastly follow its line of officially calling the war a "military special operation." According to Tsimlyansky, conscripts whose term of service is about to end will also be released and sent to their hometowns. In Russia, regular military service lasts one year. (dpa)