Waiting time for naturalization: brushed off and put off
The waiting time for naturalization is often unbearably long, and sometimes the bureaucracy takes years. The golden holding loop has now been awarded in Aachen.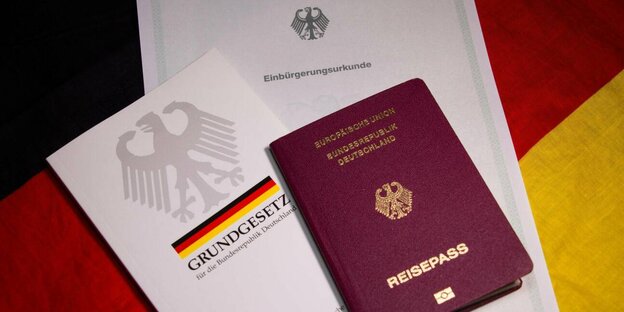 AACHEN taz | Rachid has been in Germany since 2010. The man, who originally comes from Morocco, has been waiting for the naturalization notice since May 2021. In between, he says, the application was put on hold for months because the immigration authorities were concerned corona declared unable to take the compulsory naturalization test. "Four months ago it was said that the cases from December 2020 were being processed, now it is said that we are in January 2021. I don't want to continue with the calculations," says Rachid. positive? "Yes," he reported, "if you call the immigration office, someone answers." But then you just get brushed off.
Rachid's story went to 3rd place in a special competition on Wednesday night: he now wears the Bronze Holding Loop.
The Catholic University Community (KHG) in Aachen, which is very involved in helping refugees, had announced the contest. At an award ceremony in the city, she ceremonially awarded the queues in gold, silver and bronze. For particularly bad experiences with the immigration office.
Ten candidates ran for election: they all told absurd stories of delays and bureaucratic hurdles. One reported that he had come here almost ten years ago, "Now I would like to arrive in Germany." One was told: Do not call for the next 12 months, the other will be told 18 months. Otherwise: silence. "Why are only such heartless people in office?"
Waiting up to 24 months in Berlin
A five-member jury had to decide. One of the jurors, University Chancellor Manfred Nettekoven, grumbled: "We are dealing with an authority that only protects itself. 'Don't call!' is always the first instruction. That is against the rule of law."
Naturalizations take time almost everywhere in Germany scandalously long. Hamburg reports at least seven months processing time, Munich eight to twelve, in Berlin it sometimes takes 24 months. In Krefeld, according to the local refugee council, people sometimes wait a full year just for the obligatory consultation appointment. The city of Cologne, on the other hand, wants cases to be completed after a month. Becoming a German is an undemocratic lottery, depending on where you live and on the staffing of the offices. It's often bad.
According to a recent study by Südwestrundfung, offices everywhere are complaining about a lack of staff, high levels of sick leave, overwork and a bad mood internally. More than 70 percent of the main reasons for this are not enough suitable applicants, too few or vacant positions, but also a lack of space or too little pay.
Aachen is high up in the nationwide queue. "The duration of a naturalization procedure is currently around 18 months," reports the city region. On average. And the number of applications for "naturalization in the German national association" is increasing: in 2021 there were 1,723 in Aachen, this year there will be well over 2,000. And the "aftermath of the wave of refugees from 2015", according to the authority, are still to come because an application can only be submitted after six years at the earliest.
The NRW Refugee Council writes: "Around 19,100 Syrian nationals received their naturalization certificates nationwide in 2021 – almost three times as many as in the previous year (6,700) and around five times as many as in 2019 (3,860)." In Aachen, 2,870 applications are currently unprocessed.
Those who have money have an advantage
That's 2,870 fates, 2,870 times waiting, always new costs, the often complicated extension of old passports from the countries of origin, job problems, travel problems. And uncertainty: what will happen when? Doubts: Am I even welcome? A psychotherapist explained at the award ceremony on Wednesday evening that escape trauma and "the profound psychological uprooting" could only be managed on a firm basis. "That doesn't work without a concept, support, integration, home."
More applications in the future means waiting longer. Unless you try to buy the German passport indirectly: Lawyers recommend threatening an action for failure to act. But that can easily cost a thousand euros or more.
The Silver Hold eventually went to a couple from Syria: data engineer Elie and financial advisor Luciana, who have also been waiting for over a year. Elie says: "I'm not allowed to leave the country. My company recently had a large order from BMW Spain. I was out." In January, the two will have a baby. "What papers does the child get?" asks Luciana.
Pakistani Rakhshanda, winner of the Gold Prize, can tell you: probably none. Her child, born in 2019, is still stateless today. She told her story about the long stay here, about her master's degree, the job – and then broke off in tears. Markus Reissen, the responsible KHG consultant, knows her life story well: "That takes your shoes off."
Then they stood there, the winners, on a large black, red and gold triple podium like at the Olympics, holding pattern sashes over their shoulders and smiled bitterly. A triptych of the indictment.
715 naturalizations were actually completed in the Aachen region in 2021. There will be a celebration for the 413 new citizens residing in the city of Aachen itself on Saturday, August 27th in the town hall. Markus Reissen from the KHG would find it "a charming idea" if the 2,870 from the long queue also went. "Just stand there. One could silently hold up a sign: Unfortunately, we have to stay outside."