Violent unrest in Peru: President Boluarte charged
Peru's public prosecutor's office wants to charge the incumbent president with "genocide" because of the police's brutal actions against protesters.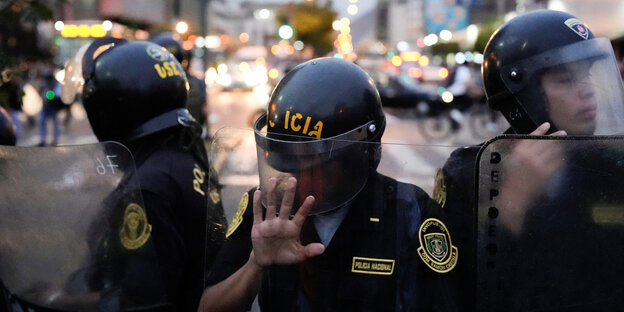 LIMA afp/rtr/ap | The Attorney General's Office in Peru has announced an investigation into President Dina Boluarte for "genocide" during the protests against her. The preliminary investigations were also directed against Chief of Cabinet Alberto Otárola, Interior Minister Víctor Rojas and Defense Minister Jorge Chávez, the law enforcement agency said on Tuesday (local time) on Twitter. The Office of the President and the Offices of Ministers did not initially respond to requests for comment.
At least 40 people have been killed and more than 600 injured in the protests against Boluarte, which have been going on for around four weeks. The investigation would look into the alleged crimes of "genocide, intentional killing and serious bodily harm," said the Attorney General.
In the past weeks bloody clashes between security forces and demonstrators. Chief of Cabinet Otárola on Tuesday announced a three-day night curfew in the southern Puno region, which is a central scene of the protests.
At the Monday 18 people were killed during the unrest in the Puno region. 14 of them died in confrontations with the security forces around the airport of the city of Juliaca. Demonstrators had tried to occupy the airport. In the Puno region, many indigenous people live from the Aymara people.
Police officer burned in car
The riots continued on Tuesday. A police officer was killed in his car after it was set on fire. The 29-year-old officer was on patrol with a colleague in the town of Juliaca near the border with Bolivia on Monday evening (local time) when a mob attacked them, police reports said Tuesday. The crowd later set fire to the patrol car in which one of the police officers was sitting.
Prime Minister Alberto Otárola confirmed the tragedy in a parliamentary session. Police officers who rushed to the scene found one of the officers who had been beaten and tied up. His colleague was already dead, said Otárola. "He was burned alive in his squad car."
The trigger for the protests is Deposition and imprisonment of controversial President Pedro Castillo. He is accused of illegally trying to dissolve parliament to avoid impeachment. Since then, the acting president has been Boluarte. Castillo's supporters are demanding new elections, the politician's release and Boluarte's resignation.
In order to govern, a vote of confidence in Parliament was necessary. The new government won on Tuesday.