Violence against refugees in Kenya: empty promises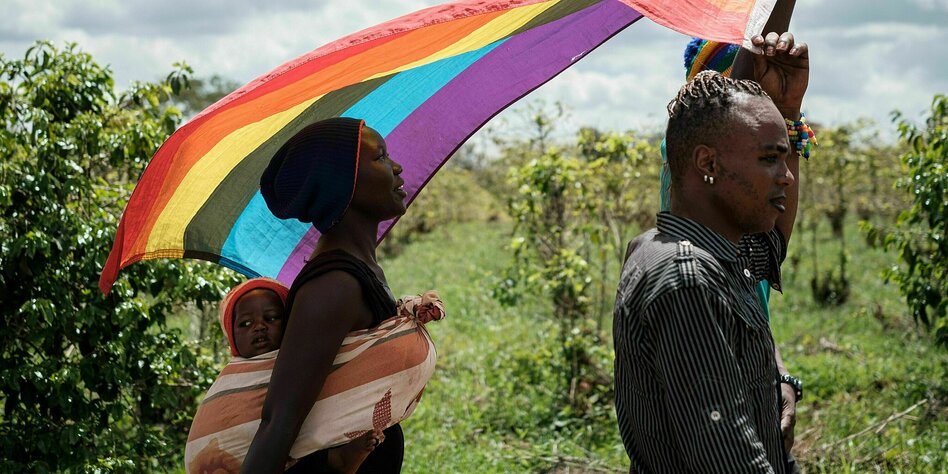 Many LGBTIQ people leave Uganda and flee to Kenya. There, too, they experience homophobic violence. So far, their protests have hardly been heard.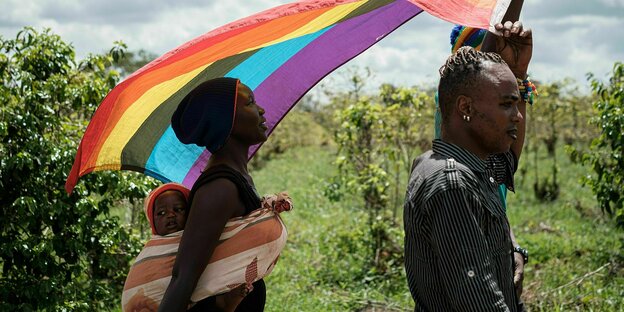 KAMPALA taz | "I'm so exhausted," says Juliet Wabule, then she starts to sob. The 45-year-old Ugandan sits in front of her laptop in Kenya's Kakuma refugee camp and reports via video to the taz about the "hopeless situation we find ourselves in here." The stress of the past few years is clearly visible in her eyes. "Now we're being beaten and arrested here too," she says. The homophobia in Kenya's camp is worse than in her native Uganda.
Like so many Ugandan homosexuals, Wabule left her homeland three years ago. As early as 2013, Uganda's parliament passed a law that initially provided for the death penalty and later life imprisonment for gays and lesbians. After strong international criticism, the constitutional court declared the law null and void in 2014. However, it is far from off the table. In 2021, Parliament passed a similar law. This time it "only" provides five years in prison for same-sex relationships and no longer life imprisonment. Uganda's President Yoweri Museveni has yet to sign it before it can come into force.
It is now hanging in the air like the sword of Damocles, says Frank Mugisha, chairman of the Ugandan NGO Smug, which campaigns for the interests of homosexuals in Uganda. "It's another law used by law enforcement agencies to harass, blackmail and arrest LGBTIQ people," he says. For him, the new law is a diversionary tactic used by the government to distract attention from the political and social crises.
2021 was an election year and Uganda's opposition was tortured and harassed – but the political debate revolved around the so-called anti-gay law. Same-sex relationships have already been banned in Uganda's penal code by the British colonial rulers. Mugisha therefore sees no reason at all for further tightening.
Stuck in the desert
Even if the new law is not yet in force, a large number of gay and lesbian people have fled Uganda in recent years. Some have received asylum in Europe, in the Netherlands or in Germany. But the journey there is long and expensive, and the likelihood of an application for asylum being low. Most of them therefore seek protection in neighboring countries, especially in Kenya. They then end up like Wabule in the Kakuma refugee camp in the hot northwest of the country. "We've been stuck here in the desert doing nothing for years," reports the mother of three. "Other refugees are given refugee status and then receive help from international organizations," says Wabule. "The Kenyan authorities are refusing to process our cases."
Wabule suspects political tactics behind this. Kenya's current President William Ruto, like his predecessor, is close friends with Uganda's presidential family. In Uganda, the influential first lady in the government, Janet Museveni, is an advocate of harsh laws against LGBTIQs. As a strictly religious education minister, Museveni has fueled hatred of homosexuals in Uganda's conservative society, accusing them of "recruiting" children and youth into schools to be homosexual. She also banned all sex education classes in Uganda to end the issue of same-sex sexuality altogether. This leads to today high rates of unwanted pregnancies among Ugandan girls.
National and international NGOs have criticized Uganda for this – without success. Because although the anti-gay laws never came into force, Uganda's society is extremely homophobic. The homophobia extends into one's own family, reports Wabule. She experienced this herself. Her escape story is exemplary for many lesbian and gay people in Uganda.
Like a spokeswoman for LGBTIQ refugees
"My husband's family took my daughter away from me so, as they say, I don't teach her to be a lesbian," she says. "My father is a pastor, and when he found out that I was having an affair with my best friend from school, he rejected me," she says and cries. She dropped out of school at the age of 17 and could never have graduated. After years of being homeless on the streets of Uganda's capital, Kampala, her aunt then decided to marry her off to a Muslim man.
"I have three children from him," she says. But then her husband died unexpectedly of lung failure. "While I was still mourning, my deceased husband's father caught me in bed with my girlfriend," she says. Then she had to flee. "I knew I would never be safe anywhere else in Uganda," says Wabule. She had no choice and fled to neighboring Kenya.
Like so many Ugandan LGBTIQs, she has since been stranded in Kakuma camp. Because without approved asylum, refugees in Kenya are not allowed to leave the camps and are not allowed to work. They also have no right to aid deliveries or educational offers like the UN refugee agency UNHCR. They are also regularly attacked and harassed by other refugees in the camp. In April 2021, a 22-year-old gay man from Uganda died from his burns when the barracks that housed around 300 Ugandans were set on fire and burned down. "Many of our people have fled the dust because of this," reports Wabule. Since then she has been the spokesperson for the LGBTIQ refugees in Kakuma. "They walk to Sudan and then on to the Mediterranean."
To improve their situation in Kakuma, the refugees demonstrate regularly. So also last Wednesday. "We are asking UNHCR to move us to another camp or to protect us," Wabule explains. To back up their demands, which they had emailed, they started a protest march from the camp to the nearby UNHCR office. But on the way they were stopped by the Kenyan police: "They beat us and sprayed us with tear gas," says Wabule. "We ran away."
But not everyone managed to escape. 15 men and five women were arrested and taken to the local police station, she says. Wabule visited her comrades-in-arms in the cell the next day. "The warehouse manager and the police officers were so angry with us. But we have a right to demonstrate, as in any civilized country."
When asked by the taz, UNHCR in Kenya replied on Thursday with a press release: "The demonstrators were asked by the police to leave because their protest was not officially approved." And further: "The situation escalated and a total of 18 people were arrested and taken away. "Unlike what is read on Twitter, no one was injured. The UN refugee agency assures that it is committed to ensuring that all refugees and asylum seekers in Kenya, including LGBTIQs, are treated "with the best possible protection and assistance on a fair and equal basis". Kenya's national refugee agency and the police remain silent about the incident.
Wabule rolls his eyes at the UNHCR statement. "The Kenyan authorities have now promised us that they will process our applications within a week," she reports. The same promises were already made after the past LGTB protests in Kakuma. "But we have no more hope," she concludes. "We'll just keep protesting," she says, sounding resigned: "To keep being beaten."