US project on songs against slavery: music that demands and not begs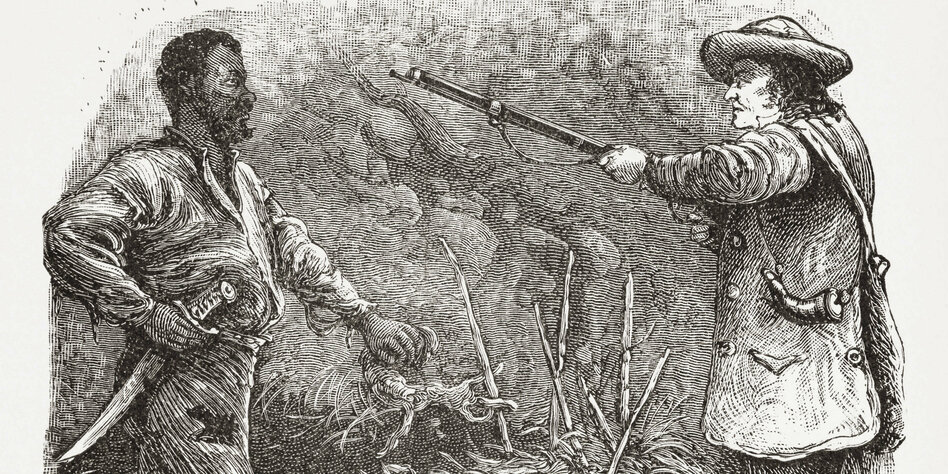 Mat Callahan publishes a research on traditionals with "Songs of Slavery and Emancipation". They called for revolt against US slavery.
Songs that were coined and sung by blacks in the cotton fields of the southern United States are canonically usually associated with motifs such as the ability to suffer and lyrics that are moving but promise tolerance. Often linked to religious metaphors and requests: "Oh, let us all from bondage flee / Let My people go / And let us all in Christ be free / Let My people go".
While rummaging through an antiquarian bookshop in San Francisco, US musician and author Mat Callahan finds a book by US historian Herbert Aptheker, which he believes fundamentally questions the current historiography of slave music in the United States. Aptheker's 1939 work Negro Slave Revolts in the United States, 1526–1860, on the other hand, proceeds differently.
It reconstructs the history of slavery along revolts against the injustices of slavery. In his account, Aptheker quotes the song "Hymn of Freedom" composed by a slave in 1813: "Arise! rise! shake off your chains! / Your cause is just, so Heaven ordains / To you shall freedom be proclaimed!" And the refrain: "Firm, united let us be / Resolved on death or liberty! / As a band of patriots joined / Peace and plenty we shall find".
poetic power
For Mat Callahan, this quote was an impetus to conduct his own music-historical research on the musical heritage of the fight against slavery beyond Aptheker's book. "I grew up singing 'Go Down, Moses.' 'Deep River', 'Many Thousands Gone' and numerous other songs whose beauty in terms of melodic and poetic power is unsurpassed," writes the 71-year-old Callahan, who was part of the DiY- San Francisco punk scene, in the introduction to his recent book, Songs of Slavery and Emancipation.
But he had never heard anything like that before. Or read it, because more than the text of "Hymn of Freedom" was not available at that time.
Music historical awakening experience
Callahan writes that these lyrics do not use cryptic or religious terms, but rather revolutionary ones. A music-historical awakening experience, so to speak, from which the picture that existed of the music of the suffering slaves in the USA up to that point can be expanded and rewritten.
The results of Callahan's research are not only available in book form, but also as a lavishly designed double album with 31 songs and a documentary. There is a lot to discover in this mountain of material. The slave revolts, which the historian Aptheker, who died in 2003 and was a member of the National Committee of the Communist Party of the USA until 1991 and author of numerous books on the history of US racism, were fueled and carried on by music that is even more incompletely documented than the music of the Slav: inside else.
On the one hand, this has to do with the fact that Afro-American history is primarily one oral history and there are hardly any original recordings of traditionals. For another, Callahan writes, because history is written since the era of reconstruction i.e. the time after the US Civil War of 1865-1877largely still insisting that the slaves had endured their fate.
Documents unearthed by Mat Callahan during his research are testimonies that contradict this picture. The compilation that accompanies the book contains a total of 31 songs: 16 written and sung by slaves and 15 labeled "Abolitionist Songs". Slavery is no longer simply denounced as a source of suffering by those affected and those who are outraged by the injustice.
Re-recorded
It is about their abolition, also with violence. "We want no cowards in our band / That from their colors fly / We call for valiant hearted men / That are not afraid to die," says the song "Children, We Shall All Be Free." Songs of Slavery and Emancipation" re-recorded. Using sources – lyric sheets, tablature and oral tradition – Mat Callahan has reassembled the music in an attempt to provide the most historically accurate arrangement possible.
Based on his research, the pieces were then re-recorded by an ensemble and choir in a Kentucky church. Playing and singing by over 50 musicians was recorded with just one microphone. According to Callahan, this reduced sound is as authentic as possible.
Collective Liberation
Whether that really sounded like that at the time cannot be said with certainty, but it is not decisive either. One way or another, Callahan and his comrades-in-arms succeeded in making a drastic correction to US music historiography. After all, these songs mark the beginning of the Afro-American music tradition, from blues, jazz and soul to hip-hop. And book, sampler and film make it plausible that images from the start of a collective liberation were a natural part of this tradition.
"Power to the People", in the sense that there was obviously a lot of music that not only wanted to give comfort and sang about freedom as a beautiful dream, but also aggressively called on us to conquer it with weapons: "We shall not always weep and groan / And were these slavish chains of woe / There's a better day that's coming / Come and go along with me", says the "African Hymn". Matt Callahan's main criteria when searching: songs that demand, unequivocally, and not plead. There is also a call to revolt in the religious imagery that appears again and again in these songs: "We'll join the armies in the skies! We'll ruin Satan's kingdom".
There's one on Songs of Slavery and Emancipation, too Solidarity march for revolutionaries in Haiti to hear ("Recognition March of the Independence of Hayiti") and a homage to Nat Turner, who in August 1831 with his comrades-in-arms in the slave-owning state of Virginia killed plantation owners and subsequently more than 50 Americans: inside. 100 slaves were killed in retaliation for that "Nat Turner Revolt" and their leader was executed.
In the song "Nat Turner" the eponymous hero acts as a portent of inevitable liberation: "You can't keep the world from moverin' round, nor Nat Turner from gainin' ground", sung by a gospel choir. The vocal melody also shows the liberties that Mat Callahan had to take during the recordings.
Where have all the flowers gone?
The song "Nat Turner" has appeared in various places in US folk music literature, for example in Pete Seeger's book "Where Have All the Flowers Gone?" under the title "Gaining Ground". Seeger, in turn, had received the lyrics and music from folklore and music researcher Lawrence Gellert, but found that the music did not fit and composed a new one. According to Callahan, however, a recording of the song cannot be found, nor can the original notation, and Seeger's tablature did not match the lyrics.
That's why he, Callahan, composed a new melody "in the style of the time". The song "Nat Turner", as we hear it today, thus points out that every historiography starts from the present and that an authentic approach, whatever that looks like, must be built in.
The project "Songs of Slavery and Emancipation" aims to be more than just an addition to the existing canon of US slavery music. Rather, it is about establishing a historically based counter-canon that does not hide its own construction work and in which the enslaved appear as active, conscious and combative subjects who were morally and ultimately also politically superior to their tormentors. Most importantly, the music constructed and reconstructed by Mat Callahan sounds immediately impressive.