Ukrainians in private housing: still precarious housing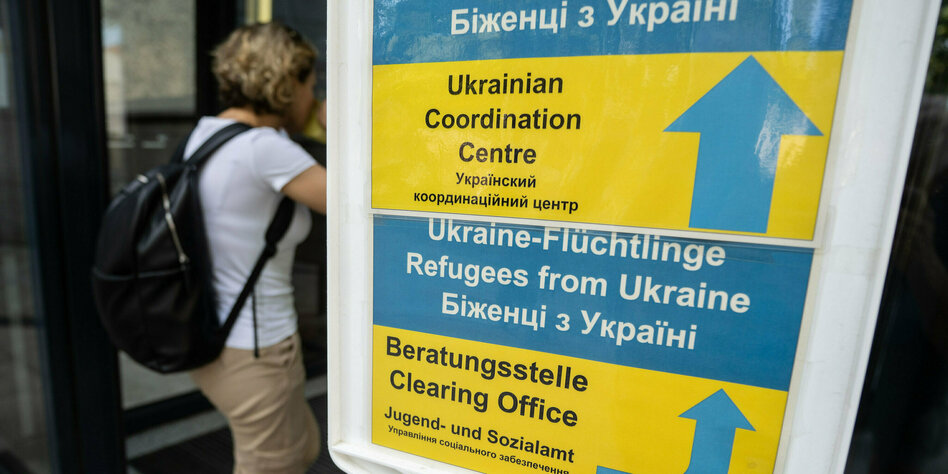 One million Ukrainians have fled to Germany so far, many are still privately housed. Three protocols of help and challenge.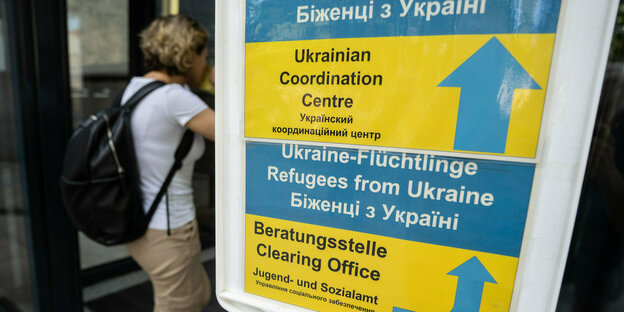 BERLIN taz | A good million refugees from Ukraine have come to Germany since the beginning of the Russian war, at least according to reports in the Central Register of Foreigners. In Berlin alone there were 80,000 of them applications for a residence permit. And initially it was often private households that took in the refugees – and they still do to this day. The interim solution becomes a permanent solution, with challenges on all sides.
Berlin's Social Senator Katja Kipping (left) openly admits that this is not an ideal situation. "We have an enormous, really big lack of space in Berlin. I want to say that very clearly," she told the taz. The places in the public facilities, such as in the arrival center in Reinickendorf, were not enough. And the problem isn't just in Berlin.
The state remains dependent on private willingness to help. And according to a current survey by the German Center for Integration and Migration Research (DEZIM), this has recently decreased slightly, but remains at a high level. 47 percent of those surveyed are still thinking about volunteering. And 17 percent are willing to temporarily take in Ukrainian refugees privately. On Thursday, Dezim wants to conduct another survey together with the online portal "Accommodation Ukrainepublish. The willingness to help can also be seen here: the portal alone arranged 45,000 private recordings nationwide by September.
Clubs criticize accommodation
In Berlin, a volunteer from the association "Schöneberg hilft" reports that most Ukrainians* who are accommodated privately do not have their own room, but sleep on sofas in living rooms. The situation is "absolutely dependent" and actually illegal. "The authorities keep their ears open when it comes to paying the rent." This puts an unnecessary financial burden on the hosts and triggers feelings of guilt in many Ukrainians because they cannot pay the rent.
Diana Henniges from the "Moabit helps" association also reports that many private hosts underestimated the additional emotional and financial burden. Different eating habits, rhythms of life and ideas about hygiene collide. Language barriers made communication difficult. Added to this is the psychological stress that many of those who have fled the war suffer from. Most hosts only wanted to make their living space available for a short time. Due to the lack of government offers, however, they feel under pressure to continue their commitment, says Henniges.
"It is a blatant achievement to permanently free up private living space. That is not reasonable," says Henniges. The state government must quickly find a long-term solution. "The city showed incredible solidarity. I have to take my hat off to that. But the country is resting on this solidity."
Kipping points to their efforts. "All of us, the state of Berlin and the districts, have a duty to look everywhere where you can still create accommodation and places." In general, however, there are hardly any free accommodation places.
Therefore, in July, Berlin performed for the first time an emergency plan in place. "If all acquisitions and rentals planned so far work out and if the number of arrivals doesn't increase - I'm more assuming an increase - we will have a deficit of 3,000 places by the end of the year," says Kipping. The left-wing politician also appeals to the refugees to keep an eye out for other federal states. "The most important thing is to lay your cards honestly. Anyone who wants to stay in Berlin will find it more difficult to find an apartment in Berlin than in some other non-city states."
***
"You can't do anything about your situation"
The Böhm family decided to take in a mother with two children at the beginning of April. The three Ukrainians fled to Berlin from the Russian attacks on their hometown of Kharkiv. For the father of the family, Timm Böhm, taking in refugees was a matter of course. "Three of my grandparents were also refugees. If there hadn't been people who helped with food and accommodation, I wouldn't exist today," the management consultant explains the motivation for sharing his living space with refugees from Ukraine.
Katja and her two children have their own bedroom in the Böhm family house. When the family moved in, cupboards and their own fridge were provided for the Ukrainians. Living room and garden are shared.
The language barrier represents a particular difficulty for living together. Cultural differences also play a role, explains Mr. Böhm. Different ideas about hygiene and raising children meet where solutions that make all roommates feel comfortable have to be found. "I don't know what's wrong or right, but it's just different," says Mr. Böhm. The hosts immediately address conflict issues openly with the guests. This is important for a long-term life together, but sometimes also exhausting.
Katja suffers from the consequences of a stroke and her son probably has a post-traumatic stress disorder. The destructive consequences of his aggressive behavior cost the first two monthly payments from the job center, reports Mr Böhm. But the hosts are understanding. "You can't do anything about the situation. You can't blame them, but that doesn't mean it's not annoying."
Mr. Böhm applied for child benefit for the family, organized and accompanied doctor's appointments and found accommodation for the children in a nearby school or daycare center. The management consultant calls authorities and doctors in the car and quickly writes e-mails at rest stops. He arranges his professional appointments in such a way that he can accompany his family to the job center, for example. Thanks to her host's commitment, Katja and her children are already receiving benefits from the job center.
There was also a job offer for the Ukrainian. But those who are considered to be integrated into the labor market no longer have a legal right to a language course. That's why the job offer was rejected and Katja initially receives Hartz IV and learns German. All in all, it is very costly and time-consuming, according to the experience of the Böhm family. But despite the language barrier, the cultural differences and the bureaucratic effort, Böhm enjoys living together.
***
"Unfortunately not a pleasant experience"
"It wasn't quite as easy as we had imagined," Joachim Meyer has to admit. At the end of February, he and his wife made the free room in their apartment available to a refugee from Ukraine.
The couple had registered their willingness on the website of a private aid organization. A short time later, the Meyers received a call at 3 a.m. and asked if they could accommodate someone. They actually wanted to take in a woman, maybe with a child. During the night, accommodation was sought for a single blind man. The Meyers spontaneously said yes. The volunteers who organized the lodging arrangement brought the man to the Meyers that same night.
"We accepted him as a family member," reports Joachim Meyer. They ate together and talked a lot. In their free time, the Meyers supported their guest with visits to the doctor and authorities and organized living together. The couple's private life fell by the wayside, says the IT consultant.
"Unfortunately, it was not a pleasant experience," says Mr. Meyer, reflecting on living together. The Ukrainian had mental problems, was very aggressive and had trouble dealing with his own blindness. That's how the host described it. Again and again he sustained severe lacerations because he bumped into doorknobs and corners of furniture in the unknown apartment. Her guest declined offers of help from the Meyers.
"It got worse from day to day," says Mr. Meyer. One day the guest threatened suicide because things didn't go as he had expected. That's when the Meyers realized that living together safely was no longer possible. They called the aid organization that put them in touch. They organized the man's pick-up and alternative accommodation. In total, the Ukrainian lived with the Meyers for a week.
"You shouldn't approach it naively," advises Mr. Meyer. "Such admission and care is quite exhausting." He thinks that someone who does something like this should think very carefully about whether he:she can afford it financially and in terms of time.
Despite the difficult experience, the Meyers would take in people from Ukraine again. "However, this time really only a woman with one or two children and only for a limited time." The Meyers have also communicated their willingness to the responsible public authorities in their municipality via a website. "We didn't even get an e-mail from them that the registration was successful," reports Mr. Meyer.
***
"Quite exhausting"
Anne-Kathrin Semmler rents an apartment near the Virchow Clinic in Berlin. When war broke out in Ukraine, she decided to leave her apartment for a refugee and move in with her boyfriend. "I wanted to help," says Ms. Semmler, explaining the motivation for making her living space available. "You can see your own prosperity. My friend also has an apartment, so I was able to move in with him," says the property manager.
When Mrs. Semmler offered her living space through the "Housing Berlin" initiative, she made it clear that she had no capacity to accompany her to the social welfare office or job center. "Sure, I can come along to go shopping or briefly explain the infrastructure, but I didn't have time for extensive questions or any kind of support," explains Ms. Semmler.
Fortunately, everything went the way Ms. Semmler had imagined. At the beginning of May, a Ukrainian woman moved into her apartment. The apartment was suitable for those seeking protection due to its proximity to the Virchow Clinic. Her daughter was there for treatment.
At the time, the Ukrainian did not need help with administrative procedures or applications. Except for registration in Tegel, she did not visit any authorities. The visit and the recovery of the daughter had priority, which is why the living room was used almost exclusively for sleeping. Due to the language barrier, Mrs. Semmler found out about the well-being of her guest via a translator. "She never expressed any discomfort," reports Ms. Semmler.
When the daughter was released from the hospital in early June, the two looked for an apartment for two people. The two of them couldn't stay in Frau Semmler's apartment. The landlord had forbidden it. Accommodation in Frau Semmler's apartment was never intended indefinitely anyway. "It would certainly have been possible over the summer, but I would have said by autumn at the latest that I would need the apartment again," says the hostess.
Ms. Semmler then helped to find a new apartment. Mother and daughter are again accommodated in private living quarters in Berlin. Ms. Semmler is still in loose contact with them and knows that they are now also facing the jungle of German authorities. The former hostess hopes that they will receive support in this.
Even if the accommodation worked well in her case and was a pleasant question for both the hostess and the guest, Mrs. Semmler would have liked a distribution key for the people from Ukraine. "It was negligent that people were allowed to choose their own place of residence," says Ms. Semmler. She does not understand that small towns and villages were not included in the accommodation of the newcomers, although they also had capacities.