UK finance minister sacked: Liz Truss exchanges
Prime Minister Truss fires her party colleague Kwasi Kwarteng. Both had a love of economic growth in common.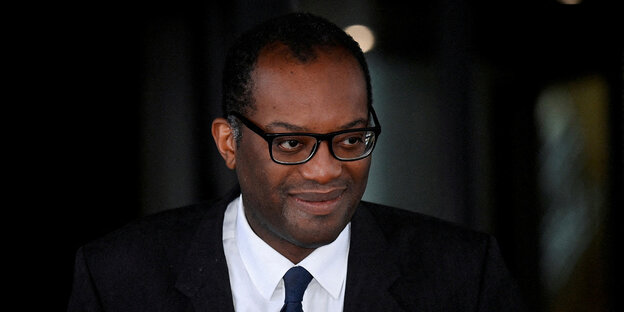 British Prime Minister Liz Truss has fired her finance minister and close party colleague Kwasi Kwarteng after five weeks in office. In a press conference Friday afternoon, she declared former Health Secretary Jeremy Hunt to be the new Treasury Secretary.
She also announced that she would refrain from raising corporate taxes, as previously announced by her government. Originally saw the controversial plan proposes to refrain from an increase from 19 to 25 percent from next year. Turning away from this plan could flush the equivalent of almost 19.5 billion euros into the state coffers.
Kwarteng's dismissal did not come as a surprise – even if he had proclaimed the day before that he was firmly in office. Behind his departure is the so-called "mini" economic budget, which he presented on September 23 in the interest of a policy aimed at economic growth. In it he had numeroustax cuts announced, but without naming any financial cover for a resulting deficit of the equivalent of around 70 billion euros, and without submitting an independent assessment report.
On the international markets, Kwarteng's measures were perceived as implausible and as a risk factor. The pound sterling, the country's currency, has twice fallen to multi-decade lows against the US dollar.
As a result, the conservatives are losing support
As a further consequence, the Conservative Party fell significantly in opinion polls. Finally, pension funds also faltered – so much so that the British central bank had to buy billions of dollars in government bonds and government securities in order to stabilize the market to some extent. The International Monetary Fund (IMF) also criticized the British government's measures.
At the conservative party conference, Kwarteng then waived a tax cut for top earners and promised a detailed outfitting of his plans. But that was not enough to calm the markets and the resentment of conservative backbenchers. The latter even called for a new one on Thursday prime minister.
Late on Thursday evening, a day before the official end of the IMF economic summit in Washington, Kwarteng was called to London and upon his arrival received word that he had been fired.
Jeremy Hunt, his successor, was Culture and Sport Secretary during the London Olympics in 2012, then Health Secretary until 2018, and then Foreign Secretary until July 2019. He belongs to the more moderate wing of the Tories. In the summer he was in the running for party leadership, but was eliminated in the first round. Although he supported Rishi Sunak in the final battle for party leadership, he and Truss share an interest in economic growth.
Can Truss stay in office?
Truss told a news conference on Friday that her proposed measures were "in the national interest and to help stabilize the economy."
Journalists wanted to know why they believed they could remain in office because of their proximity to Kwarteng. Truss replied: She continues to believe in her plan for growth, because "since 2008 Britain has suffered from stubbornly low growth."
Labor Shadow Finance Minister Rachel Reeves said a reshuffle "would not undo the damage done so far." The current situation is a crisis created by Downing Street.