Trial against ex-Czech prime minister: The favorite is on trial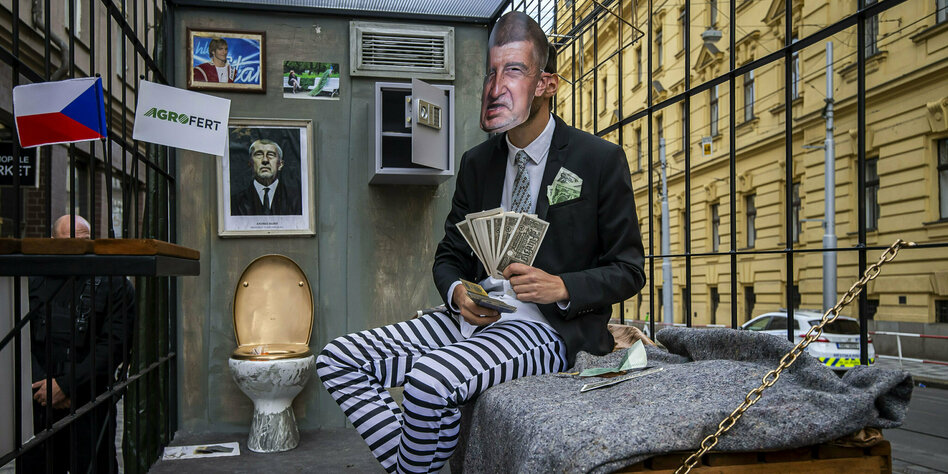 Andrej Babiš is accused of misusing funding. His trial may thwart his presidential ambitions.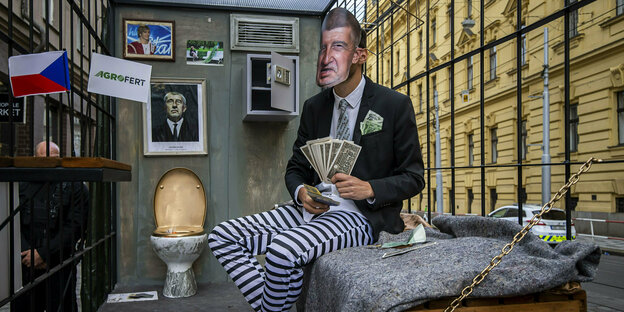 PRAGUE taz | Early Monday morning there was already a lot of activity in front of the City Court in Prague's New Town: In addition to dozens of journalists, a number of onlookers had already gathered in front of the Prague Palace of Justice before 7 a.m. to get seats for room 101, where Andrej Babiš was in front of his at 9 a.m. sharp judge should appear.
The ex-Prime Minister of the Czech Republic encountered his personal horror even before that: Political activists from the movement "One Million Moments for Democracy" appeared in front of the court in a carnival mood and waited for the accused oligarch with a cage and prison cot. He enters the courthouse around 8 a.m. with his former employee Jana Nagyová, with whom he shares the dock.
The two are accused of having swindled European subsidies amounting to the equivalent of two million euros for the construction of Babiš' luxury resort "Stork's Nest" 14 years ago. They face a three-year suspended sentence and fines of the equivalent of 400,000 and 20,000 euros.
Andrej Babiš deliberately committed a crime when, with the help of Nagyová, he had the cross-connections between his Agrofert Holding and the Storchennest company covered up in order to obtain subsidies that were reserved for small and medium-sized companies, according to public prosecutor Jaroslav Šaroch in his indictment.
Babiš sees himself as a victim of political machinations
It is based on a "string of hypotheses," replied Babiš' lawyer Michael Bartončik in his hour-long defense speech. The stork's nest project was checked a total of nine times, "including by those who are shouting today that it's bad," Babiš defended himself.
The 68-year-old Slovakian, whom half Czechs admire as a shrewd businessman and half despise for his career in the pre-1989 communist nomenklatura, sees himself as a victim of political machinations.
"I'm being brought to court to be turned off politically," he raged in the House of Representatives at the end of last week. The head of the opposition party belongs to him after his narrow electoral defeat in October 2021 as a simple member.
Babiš's political plans are clear: the Czech Republic will elect its next president in January 2023. Although Babiš has not yet officially announced his candidacy, he is already considered a favorite for the Prague Castle post.
But if he is finally convicted, nothing should come of it. Judge Jan Šott cannot even say how long the trial will take. The main hearing is scheduled for October 2nd.