Traveling with a camper: slowing down in a mobile home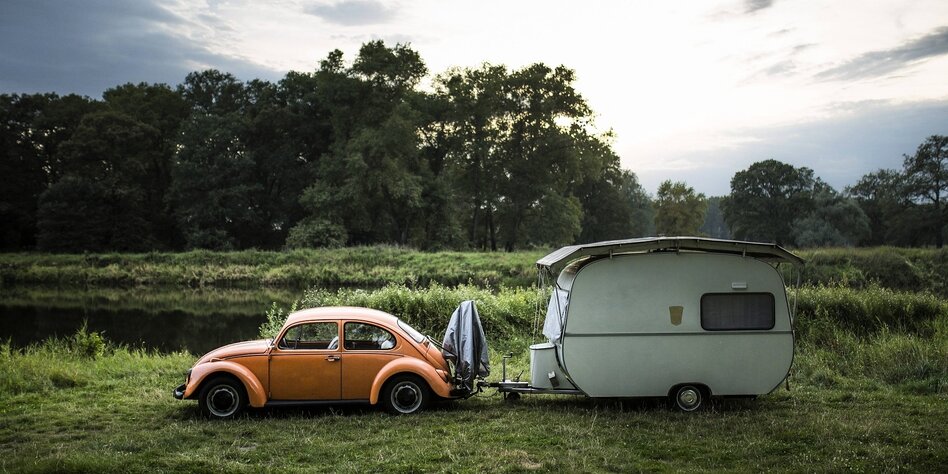 Across Europe, many are on the road with campers. More and more agricultural businesses are benefiting from the search for a parking space.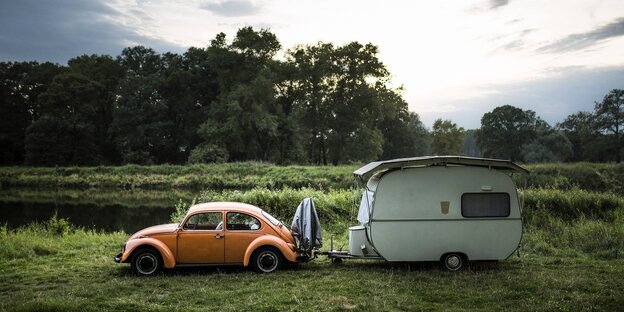 Is that downsizing or is it upscaling? Marco Dalan, author of camper stories, wonders after buying a campervan. "Is the reduced, sometimes spartan life in the mobile home a step backwards - or a step forward?" His answer reflects the feelings and thoughts of many others who do the same. People who all want to get off the treadmill somehow, who want to be independent and go outside: "I have," says Dalan, "won a new life." Even after deducting all the exuberance, the bottom line is: being outside and on the go - that's something !
The fact is: New registrations of the smaller, compact campervans suitable for everyday use (e.g. Fiat Ducato) increased by leaps and bounds. For the first time, the number of motorhomes overtook that of caravans, both groups together now come to almost 1.5 million (with a total of almost 60 million motor vehicles). There are currently delivery bottlenecks due to disruptions in global supply chains, and there is a lack of chassis. But the demand remains high, according to the CIVD (Caravaning Industry Association). And what is happening in this country is also happening in other European countries.
And new questions arise: Where do they all want to stay when they go on tour? Everyone in the green? Everyone on the campsites?
There are around 5,000 specially designed pitches for mobile homes in Germany. They are privately or publicly operated, some are also funded with EU funds if mobile home tourism is regionally useful, such as in Idar-Oberstein on the edge of the Hunsrück National Park. Some tourist routes, such as the German Half-Timbered Road, have been relying on the mobile clientele for some time. Thermal baths have also increasingly set up parking spaces and in this way offer not only inexpensive accommodation but also enough space for sociable campers who like to tour from spa to spa. Nevertheless, it has become very crowded on many pitches.
parking space search In addition to the classics from ADAC and Promobil, user-based apps such as park4night have become increasingly interesting. The universal app iOverlander is popular among world travelers. Both are particularly suitable for the spontaneous search for accommodation in a certain area, including overnight accommodation in parking lots or outdoor spaces.
France Passion 30 years ago, in France, the concept of private pitches was established on farms and especially on wineries. It has successfully developed in other European countries under their own names. In Germany it is "Country Pleasure". The offers range from the small organic farm with direct marketing to the popular country inn. Info on the network www.fefi.eu
online platforms Private individuals offer accommodation here on their own property, be it secluded in the woods and fields or directly with the host in their own garden. For example Hinterland, Pop-up Camps (Campspace), Roadsurfer Spots, Vanlife Location, 1nite Tent, My Cabin, Alpaca Camping and some more.
Be careful when wild camping
Like Cologne on the Rhine. When we arrive in the afternoon after a long drive, everything is occupied, the campers are close together. A parking lot ambience that many find it takes some getting used to and that camper haters like to have fun with. But there is also the proximity to the river, you are standing here on the banks of the Rhine, quiet and protected. And it's not far to Cologne Cathedral, it's a nice walk along the Rhine promenade. This combination is awesome. Luckily the groundsman is friendly. "Pull over to the right, I think someone else wants to leave today," he says. And soon after, the space that has become free, including the power connection for the refrigerator, for cell phones and tablets, is ours. We can relax. The lesson of this place: We should have reserved in advance, because large German cities still have some catching up to do when it comes to parking spaces.
Of course we would have found other solutions. Maybe we would have spent a night on the side of the road, in the middle of city life and without electricity. Or would have found a parking space where occasionally travelers, migrant workers or homeless people spend the night in cars.
But legally this is a gray area. Wild camping is also prohibited in Germany, as in almost all European countries. In Germany, staying overnight in a mobile home is generally permitted where it is not expressly forbidden, officially to restore driving ability. Any designated parking space may be used for this purpose. How long this can last is not certain, it could be 8 or 12 hours. However, you have to be careful not to show camping-like behavior, i.e. don't put out any furniture and fire up the grill or maybe drain gray water or empty the toilet in the sewer. That would then be "wild camping" and could be fined.
Vans under 6 meters in length have practically no problem, with appropriate consideration you remain as inconspicuous as other small vans. Clever apps such as "park4night" are showing more and more user tips, including detailed descriptions, photos and comments, on how to get through the night as comfortably as possible.
The trend towards van life
And not only in cities, but above all outside, where there may be a secluded place in the open countryside and beautiful surroundings, perhaps a hiking car park or a stand area by a body of water. Everything is reported.
Idyllic nature attracts many who appreciate eco and organic and are attracted by the promise of individuality and an authentic experience of nature. Because there are more and more, there is also friction. And they tend to restrict freedom on four wheels again: signs prohibiting campers from camping are appearing more and more frequently, and side streets and private land are blocked by chains.
About 10 years ago "van life" as a deceleration idea in urban US milieus that aimed for a modern work-life balance. Pioneers were above all freelancers with an affinity for technology, media and design, whose work equipment is the laptop. The reasoning is why not use the van as a home office if you can also do your day-to-day work while on the go. The most beautiful places in the world awaited these new campers. And if a video conference was due, you could present a real sea view as the background instead of a boring wall of books.
There is an age stigma attached to campers. Euphemisms, such as "silverbirds", only poorly conceal the image of mobile homes as a geriatric pastime. Added to this is the strong European orientation. In fact, many campers, especially older ones, are happy with Europe simply because they can travel through countries, beaches and landscapes, world heritage sites and cultural assets without passport controls and without any real threats, let alone war, and can even spend the winter in the south.
The tipsters
As if there had never been resentment towards campers, a generation of grandchildren has now become infatuated with Womos and campervans. Suddenly everything happened very quickly. Book tables were flooded with titles like "Hit the Road", "Off the Road", "Bulli Challenge", "Camper Hacks", "The new Outsiders", "Vanlife Adventure", "Bulli! Freedom on four wheels", "Van Girls: Strong women and their free lives in campervans"... The tenor: here is the alternative! No vanlife travel blog can do without self-assembly instructions for the interior design of the van, on social media influencers mobilize and promote community building.
Today's most important tipsters are still yesterday's top dogs. ADAC and Promobil, for example, reliably map the European camping and parking space infrastructure, but no longer just on paper, but today with the help of informative apps. They can hardly be replaced when looking for a place, because campers are usually dependent on supply and disposal stations that offer them the official places. And also on electricity. Not every van is self-sufficient thanks to its own solar panel.
And the Womoverlag still publishes rock-solid tour guides in book form that open up all attractive travel regions in Europe for campers. A timeless travel guide model.
But the online platforms of young start-ups are becoming increasingly attractive for the new van-life attitude. And new business models based on the principle "from private for private" or "Airbnb for campers". "Hinterland", for example, a nice result of the lockdown break, has cultivated the idea of ​​enclosing wild nature campers. The team advertises as "close, sustainable and close to nature" and, according to their own statements, arranges over 1,500 bookable places from the North Sea to the Allgäu. The specialty are secluded places on private estates where you are undisturbed at all times. For example on the edge of a Christmas tree plantation and in the company of sheep on the Vogelsberg, where you can also make a campfire yourself. You should not necessarily count on electricity and sanitary facilities on the "Hinterland" pitches. And also not with the fact that the booked place is always cheap.
At least a handful of platforms are currently recommended and can be easily found with an Internet search using relevant keywords. One must not forget that this concept is short-lived. Some platforms cooperate with one of the well-known motorhome manufacturers.
In any case, you have to pre-register for each place. Spontaneity is not the order of the day here.
Farm shop included
When we click "country pleasure" We were lucky again on site. "Go there, you're even better off than here... we'll be right behind you," said the friends we were visiting. A little outside of Witzenhausen/Northern Hesse - a charming landscape and cherry region - there is "Kindervatter", the Kirschenhof, with plenty of space for a few mobile homes a little off in the green of the thriving gastronomy and the well-stocked farm shop. It's an address that everyone in the region knows. The tourism authorities have created cherry routes for hikers and cyclists, and this farm, better: this traditional excursion restaurant is right in the middle. We experienced a long, wonderful evening and a restful night.
Farms like "Kindervatter", but above all agricultural businesses with shops, wineries, beekeepers, breweries, cheese dairies, shepherds, bakeries, rose growers, monastery estates, asparagus farms and many others make up the wide range of "country pleasures". 1,300 rural hosts are currently participating. The concept provides for the purchase of a parking space guide including a vignette (and activation of the app), it is valid for one year and entitles you to a one-time free overnight stay at each of the farms you visit.
It is the oldest of the alternative pitch concepts and an import from the camping-friendly neighboring country France, where it has been known for 30 years as "France Passion" draws ever larger circles. In the meantime, providers from 10 European countries have come together to form the FEFI association, and the parking space guides from neighboring countries can also be purchased via "Landvergnügen". It is green tourism at its best. Especially in organic farming, it generates additional income, an extra income that many urgently need.