The-xx musician Oliver Sim: The unreliable narrator
Oliver Sim, part of London pop trio The xx, releases his debut solo album of queer Torch songs, Hideous Bastard.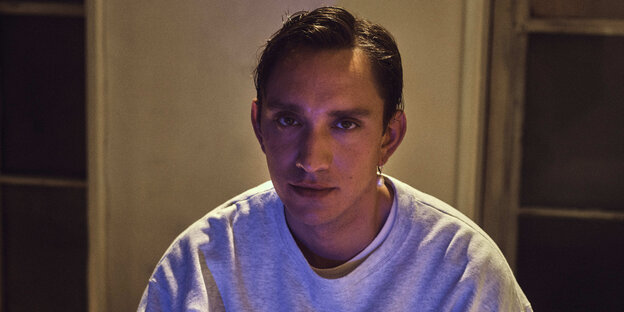 I am ugly are the first words on Oliver Sim's debut solo album Hideous Bastard. In the run-up to the release, a promotional short film premiered in Cannes: a 20-minute XXL video clip in which director Yann Gonzalez illustrated four of the work's songs.
Jimmy Somerville has a guest appearance in it, the boyish former singer of the band Bronski Beat, who released the ultimate liberation anthem not only for young gay men in 1984 with "Smalltown Boy". In Oliver Sim's film, Somerville appears in a monk's habit made of brown latex, face and bald head made up with silver glitter, a kind of living disco ball, a figure of light.
Somerville sings the redeeming words in his falsetto: "Be brave. have faith Be ready to be loved." And Oliver Sim sings back: "I've lived with HIV since I was 17. Am I repulsive?
"Releasing my own album and getting reactions to my music means a lot to me," Sim explains to the taz. "But working on it was a big part of the healing process. The lyrics are about the shame and fear that caused me to go into hiding. Making a song like 'Hideous' has sparked so many conversations that I desperately needed. I hardly notice physically that I have HIV, but the infection has led to severe psychological side effects."
He's not ugly
Oliver Sim is sitting in a Berlin hotel room during the zoom interview. He wears an oversized suit, a wide-open striped shirt, both a delightful contrast to his bony frame. The face with the big brown eyes looks open, the big mouth smiles a lot. There's no sign of fear or shame, and the thought creeps in: how can this pop star seriously ask himself if he's ugly.
"In the song 'Fruit' I sing 'you can dress it away, talk it away'. I have found that I speak in a different voice depending on where I am and with whom. For example, when I'm in a cab, I lower my voice and cut out anything that sounds gay in my voice. A small detail, but I'm sending myself the signal right now: It's not okay to be who I am."
In the short film, too, which is based on a talk show, he sings the synth pop song in such a way that he fully lives out his crooner qualities. In the film we see a little boy watching this on TV. When his mother walks in, he says to her, "Look, that's me." There's a French kiss at the end with the talk show host, played by actor Fehinti Balogun.
"A lot of these compulsive behaviors that I use today in response to the environment stem from my childhood," Sim has unsurprisingly observed. But how he uses this film to send a message to his former self is touching. The boy in his pajamas beams with the TV when the lips of the two men touch. "If I had seen that kiss on TV as a kid, it would have meant so much to me. Something like that would have occupied my imagination for months."
Female role models on TV
Young Oliver had to watch a lot of TV in the 1990s to find something to orient himself. He has found mostly female role models, such as Sigourney Weaver in Alien, Jamie Lee Curtis in Halloween, and the TV series Buffy the Vampire Slayer. "They were beautiful and feminine, but: angry! Angry and strong, a combination I've rarely seen in men. That's how I wanted to be."
Sim doesn't sound angry on Hideous Bastard. He completed the album with his bandmate and good friend jamie xx produced. That's why many of the songs sound similarly fragmented to the music of The xx: the beats and the singing are playfully hopping, and the overall mood is somber and nocturnal.
But where The xx always sound a bit cold and scratchy, Oliver Sim's songs are warm and light as a down comforter, supported by a large sound bed that seems to penetrate to the last pore of the body. As a singer, Sim lives up to all pitches here, without Romy Madley Croft as a duet partner. Sometimes he artificially pitches his voice so low that it's another parody of masculinity.
Only a few tracks scream for dance floor, like "Romance with a Memory" - these confession songs absolutely belong in the clubs. A few dance remixes have already been released. Otherwise impressed how much itself jamie xx put here in the service of his friend and bandmate and created multi-layered, almost expressionistic themed paintings. There is a lot to discover while you let yourself be carried away to other spheres by the beguilingly ultra-clean sound of The xx.
Enter new worlds
It is very surprising that Sim had to be over 30 to realize his own project. In terms of content, in particular, he enters worlds that hardly play a role in The xx, but all the more so in Sim's life: queer worlds of experience, horror films, soft pop like that of the Beach Boys, from which Sim used a harmony vocal sample that he in his song "GMT", has cost a lot.
"The collaboration was very different from The xx, where we decide everything together. Jamie really got into my sound world, I think that's extremely generous and cool of him."
As open-hearted as Oliver Sim is in conversation, as intimate as his confessional songs sound, there is still a break in all of this. In the short film, Sim transforms into a beast, culminating in a B-movie horror satire. There is also room for word jokes, "The Beauty and the Beast" becomes "The Beauty and the Fist", followed by an implied fistfuck scene. The confession does not come without the following "maybe I mean it all completely differently". That's why Sim put "The Unreliable Narrator" in fifth place of the ten songs.
"The unreliable narrator is myself. The song is inspired by a scene from the film adaptation of 'American Psycho.' While the protagonist Patrick Bateman does his morning facial care, he holds a monologue about the human facade, about our maskness. He says, 'Shake my hand, it's warm and it feels like it's me, but I'm actually not there.'"
Identifying with the psychopath
When Sim then adds that he is not a psychopath but can definitely identify with this character, he has to laugh about it. "The song marks the turning point before you turn the record. And of course there's something psychotic about suddenly saying in the middle of the album that you're unreliable as a narrator. Not that I'm a liar, but it was important to note at one point that my own version of the story might be a bit skewed."
That's why Sim also emphasizes that he only did his HIV outing for himself and doesn't want to ask anyone to do the same. Wouldn't he at least like to encourage people to open up and take off their masks?
"Oh god, I don't think I'm a good fit for a life coach, too many other musicians do that already. I've composed songs about shame and fear, but I still feel a lot of both, I'm far from the end of my path. The only advice I can give is: Don't ask the unreliable narrator for advice."