The home visit: its present for the future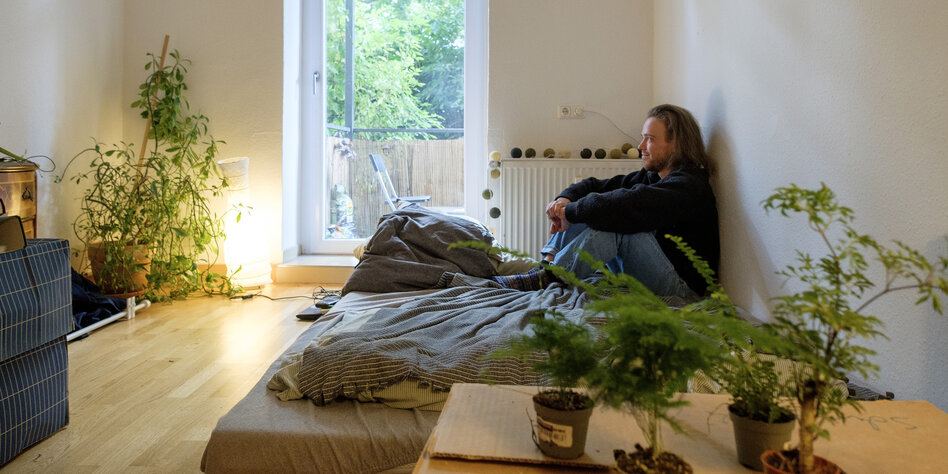 Jakob Beyer belongs to the action group "Last Generation". He wants to save the planet and is willing to do civil disobedience to do so.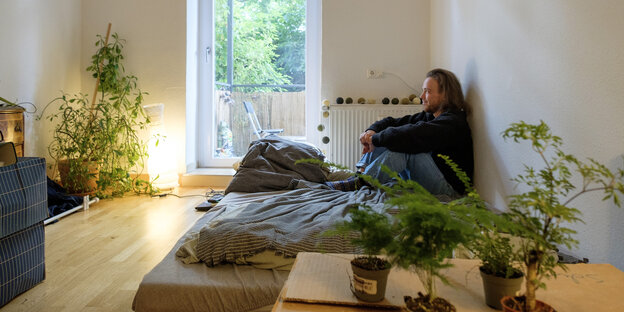 For Jakob Beyer it is clear: Nothing makes sense if global warming is not stopped. That's why he broke off his training and is active around the clock in the "Last Generation" action group.
Outside: A quiet street near Leipzig Central Station. The chimney sweep guild, a coin shop and a bridal shop are also located between residential buildings. Jakob Beyer lives here with two activists from the climate protection movement.
Inside: Boxes are stacked up in the hallway of the old apartment, and unwashed plates and cups in the unfurnished kitchen. Beyer waves us into his room, which, apart from boxes, a mattress, an antique chest of drawers and a stool, only contains plants: "We just moved in and weren't here much."
Community: They initially considered living functionally: "A study, a bedroom and so on." Then they decided against it. "But we use the room of one flatmate as a study and the doors are all open. We're dependent on each other anyway."
Activism: Beyer says he's wanted to get involved for a long time: "I was with Fridays for Future, but I never delved deeper." Generation" know: "I thought, they must have a kitchen, so I'll help chop." Instead, he ended up in action support straight away.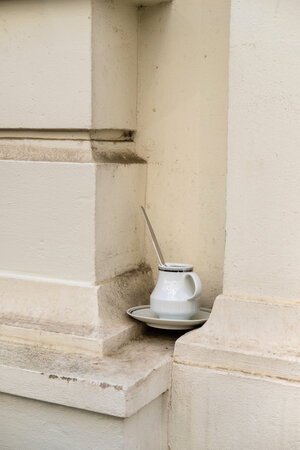 Education: At the same time, he began an apprenticeship as a carpenter: "It was really fun too." Being able to build an entire house yourself with sustainable materials is still a dream. But the training was full-time: "I came home at 5 p.m. and was then on the computer in video conferences for the 'Last Generation' until night". At some point it became clear: the two cannot be reconciled for long.
3 year window: Beyer did not take the decision to drop out of training lightly. It is questionable whether he will still have a chance at an apprenticeship in a few years: "I was the oldest at the age of 29." But the more he dealt with climate issues, the clearer he became aware of the urgency to act: "I I saw no point in investing three years in an apprenticeship when there were only three years left to avoid the worst."
horror scenarios: "If the tipping points are not prevented in the next three years, in 20 to 30 years we may have nothing to eat, no roof over our heads. Dead zones will emerge around the equator, zones in which no livable conditions exist. This in turn will lead to flight movements. And we've already seen what social dynamite that is."
Participation: At the end of January, the "Last Generation" started blocking the streets: "I was responsible for the coordination." Beyer is currently helping as part of the "Legal Team" with process preparations. But he also lends a hand himself. Most recently, he blocked an oil pipeline: "It was amazingly simple: You can turn off the pumping stations manually." on success."
Prevention paradox: The climate catastrophe is still too abstract for most people to act: "Because the effects are not yet so visible." This summer, however, there was even a fire in Berlin – with global warming of 1.5 degrees: "If we reach a tipping point now , it is over."
Last generation: "The name does not mean that we are the last generation that will live. But the last one that can still do something for the climate," explains Beyer. They are not against reproduction: "We do everything to ensure that there are still resources in the next generation." But he himself cannot imagine children, "for fear that one day they will have existential needs".
no alternative: "The blockades seem to be the last resort." Everything else has been tried in recent years: "Never before have there been more people on the streets in Germany than at Fridays for Future. The result is a climate protection package that the Federal Constitutional Court believes is unconstitutional because it does not protect future generations." He is open to criticism and alternative suggestions: "I ask everyone: 'What would you do?'" As soon as someone has a better idea have, be off the street.
Childhood: The environment has always been his theme. "I went on cycling holidays and learned in wilderness camps how to make fire and eat wild herbs." He didn't consciously see his parents as political, but his mother was involved in the peace movement, his father lived in a flat for a long time, in which the homeless and refugees also found accommodation again and again. That probably influenced him: "I've always had a strong sense of justice."
Values: In addition to the principle of standing by your actions with your name and face, non-violence is the utmost maxim: "We are always cooperative, give the police our personal details, and also stand up for what we do in court."
Criticism: For the accidents of cyclists who cause traffic obstructions oil spilled on the roadway If they were out of balance, they would have apologized: "We have learned from that." He rejects the accusation that blockades are also blocking the way for ambulances: "We always make a rescue lane possible: Two of us are never stuck. "
Blackmail accusation: The climate activists are often accused of blackmail: "But it would be blackmail if we did the actions out of personal self-interest. Turning off pipelines, blocking freeways or going on a hunger strike for climate demands does not give us any personal advantage."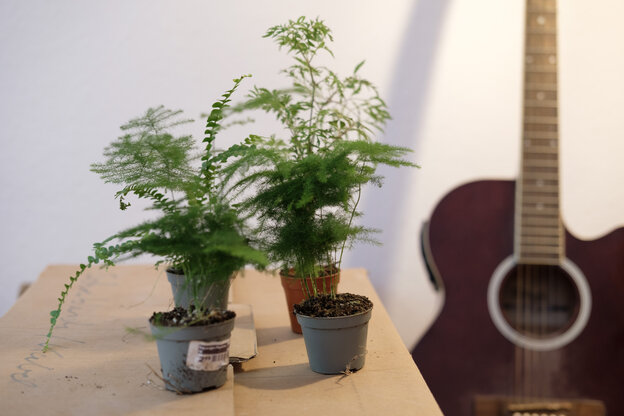 Coercion: Most recently, an activist was warned of coercion after a sticking action: "We refer to the state of emergency due to the climate catastrophe." But establishing the direct connection between the actions and the state of emergency legally is difficult: "It says: Now you're sitting here on the street . How do you want to stop the climate catastrophe with that?" They would wait for a court to defend civil disobedience under Article 20 of the Basic Law. Paragraph 4 states: "All Germans have the right to resist anyone who undertakes to abolish this order if no other remedy is possible." In contrast to the emergency regulations, the article on resistance is expressly aimed at citizens .
Responsibility: "The narrative that everyone should start with themselves is a deliberate form of distraction." Not everyone can afford sustainability. The "last generation" sees politics as responsible. Change must begin with the abolition of fossil fuels: "The federal government must commit itself to no longer drilling for oil in the Wadden Sea."

Nurse Niels Högel killed at least 89 patients. Now his superiors were also on trial – and were acquitted. You can read why the process was still important in the taz on the weekend of 29./30. October. Also: On Sunday it will be decided who will rule Brazil in the future. A detailed look at a divided country. And: At home with a climate activist of the "last generation". From Saturday at the kiosk, im eKioskin practical terms weekend subscription and around the clock Facebook and Twitter.
Mashed potatoes: That the climate report does not cause an outcry, Mashed potatoes on art but yes, be absurd. "Climate change will affect all areas of society: there will be no art on a dead planet. Cultural assets will have no relevance if we have to fight over the basic resources." That is why the "last generation" wants to generate attention in all areas of society: "Even if it's in the museum through mashed potatoes." Thanks to the glass pane, the painting has none damaged.
Hope: The "last generation" wants to remain non-violent. "We continue to rely on road blockades. In January there were 30 people blocking roads." Jakob Beyer is convinced: "If the disruption is so great that it can no longer be tolerated, if nothing works on the A 100 for days, politicians are forced to act ."