The home visit: activist with a 30-hour week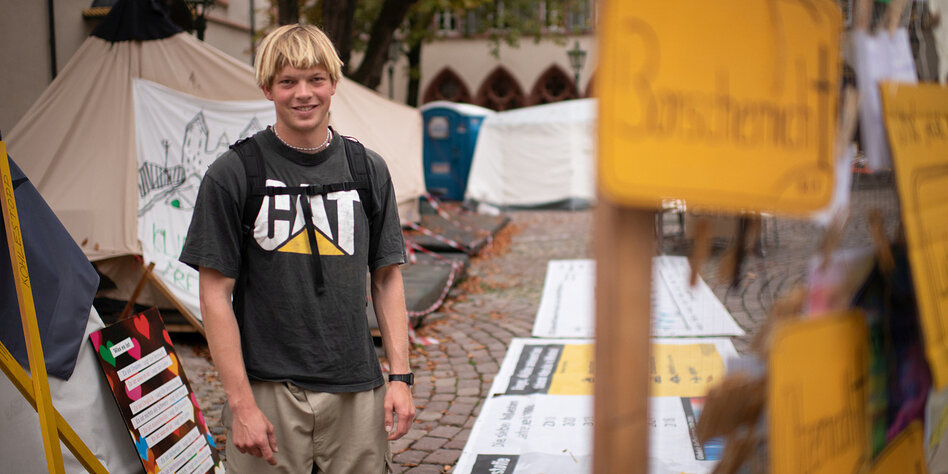 The residents of the climate camp on Freiburg's town hall square are protesting against lignite and much more. Lucas Zander is one of them.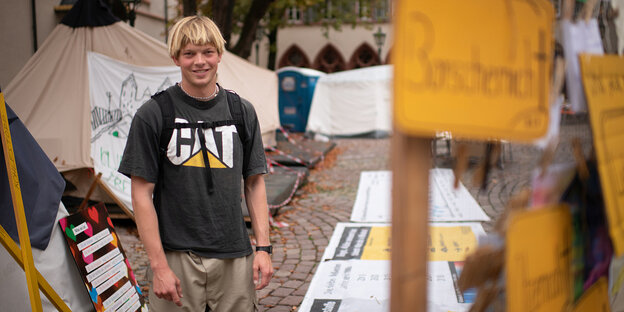 He wants to be a doctor, but right now he's learning the importance of civil disobedience. Lucas Zander is constantly working to improve climate policy.
Outside: The day at the Freiburg climate camp begins routinely. In front of the three large camping tents, someone has put coffee on with an aluminum solar cooker and thus lured activists out of the sleeping tent. A few people are sitting at the information table on the town hall square next to the tents. There is a display board between the pedestrian zone and the paved trees. Posters provide details about the expansion of the A 5 motorway, about the deforestation of the Dietenbach forest in Freiburg and about the North Rhine-Westphalian village of Lützerathwhich RWE's lignite excavators are currently threatening – "a symbol of the failed climate policy," as a cardboard sign says.
Inside: A look into the material tent reveals orderly chaos. If you don't know your way around, you won't find anything and sometimes nothing again. Boxes and shelves are labeled with cardboard signs. Used dishes are stored in a box; Technology and action material are stacked in others. A sign hangs on a tent pole: "Rules" is written on it. Next door is the sleeping tent. Lucas Zander often spends the night there – even now, in the colder months of the year. Then he beds himself down in his sleeping bag on one of the two large mattresses that are covered with wipeable sheets. "They get changed once a week. Because of the risk of scabies," says Zander. He knows about diseases.
Priorities: Because Zander is actually studying medicine in his third semester. But currently climate activism has priority – up to 6 hours a day. A 30-hour week, unpaid. "Of course you can't party there every night." Zander can still combine studies, social life and activism. "Many of my friends do activism." From time to time, his parents still worry about their son's sleep and studies. "They fear that I'll lose myself in activism," says Zander. Just like last semester. "But somehow everything worked out in the end."
Tasks: Zander networks with activists from other climate camps, writes press releases, offers passers-by a climate-political view of local building projects, takes part in local protests such as those against the demolition of the town of Lützerath. Volunteering to save the world quickly is exhausting, especially when the mobilization for major campaigns is pending. Then the arrival and departure for many people must also be coordinated.
Requirements: Lucas Zander and his comrades-in-arms are demanding, among other things, the expansion of local solar systems and national wind power, a reorganization of EU agricultural subsidies and a ban on short-haul flights. Your claim: You have come to stay – until 2035. According to the ideas of political utopians, Germany will be climate-neutral by then. According to Zander, this will not succeed without immense efforts from politics, business and civil society.
Family: The son becomes a doctor like his parents. Conversely, climate change has reached our living rooms. Telephone calls and personal conversations revolve around the question of Zander's average amount of sleep, environmental protection, emissions, planned or past actions and the associated risks. "At first my parents weren't too enthusiastic about it." However, since the son continues to prioritize the climate, the parents finally give the climate a place on their list of priorities. Now they too are volunteering in political groups. "They have started to become fully politicized," says Zander. He's a little proud of that.
Brown coal: Zander grew up in North Rhine-Westphalia, in Bonn. From there, the Rhenish lignite mine Garzweiler is only an hour's drive away: "My parents live right next door." The demolition and leveling of entire villages heated up and heated up tempers, destroyed nature and places that people call home. There have been and are protests. When the current campaigns began, Zander wasn't there yet. "I heard the discussions, but I wasn't aware of the urgency," he says. Only when he was already living in Freiburg did he stand at the open-cast mine. It was then that he felt uneasy. "The pits stretched to the horizon."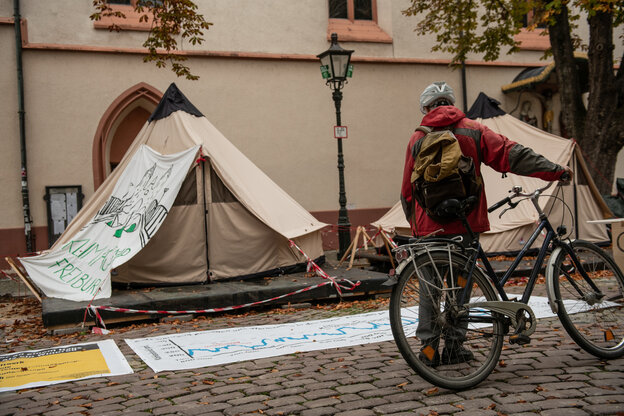 Protest tools: In Freiburg, Zander discovers the bandwidth of the activist toolbox – plenary sessions, consensus, mood pictures. Reference and working groups are added. He learns a new activist vocabulary and new forms of protest. With the local group Students for Future, he organizes a bicycle demonstration, some of which is supposed to run over the A5 autobahn, but is not approved by the city of Freiburg. When a lecture hall is occupied, he is one of the driving forces and demands that the university management declare a socio-ecological emergency. "It was an intense week." In addition, the follow-up to the discussions that have taken place still has to be done. If all else fails, civil disobedience is a way for him to achieve goals, says Zander. This also means that some refuse reveal their identity.
repressions: It's "perfectly fair when people do that with denial of identity," says Zander. He alludes to the woman who took part in the protests in the Lusatia lignite opencast mine and was recently sentenced to two months in prison. The court does not know her name. He doesn't do that himself, but wants to "always stand behind things with his full name and accepting the repressions". Once Zander collected community service due to a sit-in. "At the food meeting, a kind of table." He hasn't completed the hours yet, but that's coming up soon. Non-violent civil disobedience is considered a form of political opinion and decision-making in Germany. "It's a privilege," says Zander. In particular, since there is usually no danger to life. A maximum of "you sit in a cell with underfloor heating for 24 hours". And he was a man – a white man. Then less happens on the part of the police.

This text is from the weekly. Our weekly newspaper from the left! Every week in the Wochentaz, the world is about how it is – and how it could be. A left-wing weekly newspaper with a voice, attitude and the special taz view of the world. Every Saturday new at the kiosk and of course by subscription.
Opponent: Said police check the presence of the activists several times a day. Because as soon as fewer than two people look after the camp, the assembly can be dissolved. This also applies to the night. In the meantime, the staffing of the shifts is sometimes tight, but it has always worked. "The police are very worried about us," says Zander. There are also opponents on the municipal council. "The AfD and the Free Voters write angry letters to the mayor and want to get rid of us," says Zander.
local politics: Freiburg calls itself a "Green City", but is sleepy in terms of climate policy, says Zander. And Freiburg's city politics still seems a bit strange to local climate activism – too the independent mayor of Freiburg, Martin Horn. "He rides his bike past Rathausplatz every morning," says Zander. At a citizens' meeting last autumn, there were first approaches. After the event, Zander and another activist spoke to the mayor and arranged a meeting for this month. Zander would like "politics not to ignore us" – the discussion at the municipal level could be an introduction. Maybe this time it will work with the demand on the city of Freiburg to declare a social-ecological emergency.
Politicization: Zander's activist beginning dates back two years. At that time he was 18, still a student and with friends at his first Fridays for Future demonstration. "It wasn't really climate activism yet. We just went along with it." His awareness of "the whole thing" only arose later, he says, meaning the climate emergency, the extinction of species and the threat of missing the target of limiting global warming to 1.5 degrees Celsius by 2035. "If we haven't managed to do that by then, it will be too late," says Zander. "The consequences of climate change are not only linked to forest fires or ocean acidification, but also to flight, hunger and water shortages in the Global South."
Coordination: Suddenly Zander stops; his smartphone rings. "May I answer it for a moment?" he asks. It's about speakers, technology, connections and electricity. "I'll send you the number of the one who has electricity," says Zander into the phone. He hangs up. "This is a different action this afternoon in front of the university canteen. For a car-free zone." He will stop by there afterwards. But only briefly, then he has to go to a lecture. He's still studying, by the way.