The end of China's "zero Covid" policy: Painful exit plan for China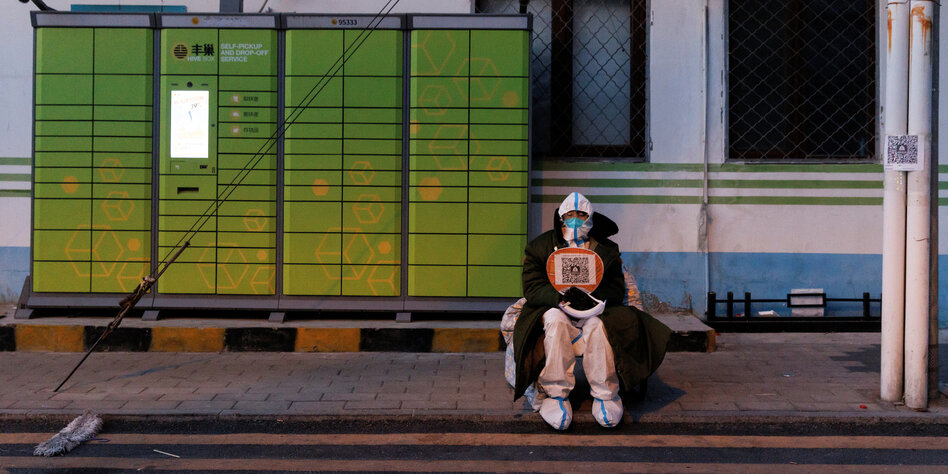 The People's Republic is gradually rehearsing easing for "living with Covid". But vaccination rates among the elderly are too low.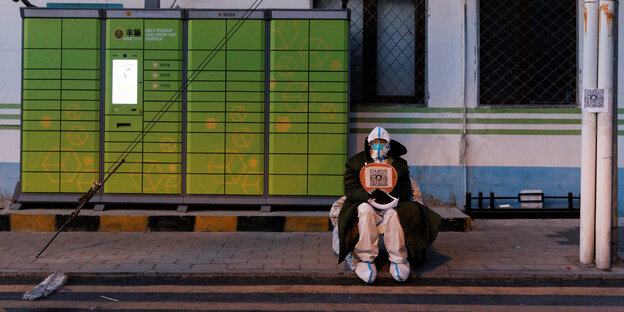 BEIJING taz | In Beijing, the signs of change are visible to the naked eye: a number of PCR test stations were dismantled over the weekend, gates in front of housing developments were reopened and shops opened up. In some cases, those infected with corona in the capital are spared the forced quarantine in the hospital: they can now cure their viral disease in their own four walls. The deep sigh of relief of many capital city dwellers can be clearly felt.
Practically three years after the first corona patient was identified in Wuhan, China's government has now started to correct the pandemic course. If she "Zero Covid" policy will now be completely adopted or only implemented more flexibly, as the official narrative says, remains to be seen. But it seems more than obvious that the People's Republic wants to mentally prepare its population for "living with the virus".
The propaganda apparatus is already setting the course for this. "Chinese scientists have proven that the pathogenicity of omicron has decreased significantly compared to earlier variants!" reads a headline in the party newspaper Global Times. What is no news to the rest of the world must be presented as "breaking news" in China, lest any of the 1.4 billion suspect that Xi Jinping's prestige "Zero Covid" project may have failed.
The opening that has now been initiated takes place less from inner conviction than from external pressure: The protest movement of the last few weeks has shown Beijing that after more than two and a half years of "zero Covid" people's patience is at an end. In the coming weeks, the population will face major challenges. Because the local governments have spent their money mainly on daily mass tests or the construction of quarantine centers for two years, and as a result investments in emergency beds have been neglected.
The slow expansion of the health system is now likely to take revenge: there are several forecasts circulating about how many lives an uncontrolled virus outbreak could cost. All of them are sobering: The London-based company "Airfinity" assumes between 1.3 and 2.1 million deaths. A recent study by the infection control authority in Guangxi, southeast China, assumes that more than two million people have died and up to 233 million have been infected. A similar opening has previously taken place in Hong Kong.
No approval for foreign vaccines
The health policy damage could only be reduced by a higher vaccination rate. But this is far too low for the older generations of all people: only 40 percent of those over 80 have received a booster vaccination so far. The goal is now, according to the magazine Caixin, achieve a 90 percent booster rate in this age group by the end of January. However, how this is to be achieved is still completely open.
The low vaccination rate is mainly due to the widespread skepticism about science among seniors, who prefer to trust traditional Chinese medicine. In addition, the state has less leverage than other generations to exert social pressure. The vaccination campaign ultimately ran primarily through party institutions, employers and schools. So far, Beijing has at least shied away from compulsory vaccination.
The Mrna vaccines from Biontech and Moderna, which are superior to the Chinese dead vaccines in terms of their effectiveness, could also help a little. But Chinese President Xi Jinping is not ready to accept Western vaccines any time soon.
No foreign vaccine has been approved in China to date. This is commonly explained with nationalistic pride. But "it's also the paranoid belief that relying on Western vaccines is a national security risk," comments on Twitter Tong Zhao, who is currently doing research at US Princeton University.
The Chinese are left with one success: Compared to most other countries, the deadly wave of the Delta variant survived with almost no virus deaths.