The CDU in the opposition: "We are state-supporting"
After 16 years in government, the CDU has to find its way in the opposition. Jens Spahn also had "re-parking in his head".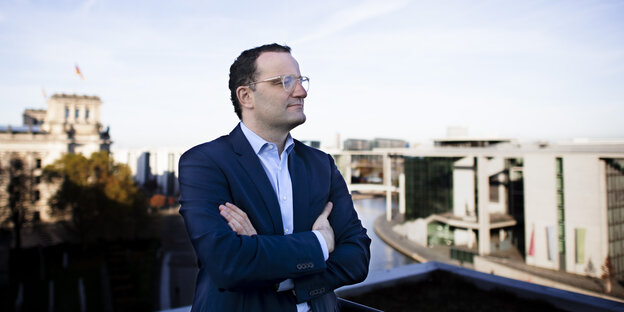 Wochentaz: Mr. Spahn, the CDU has been in opposition for a year. Remember how to write Small Requests?
Jens Spahn: Yes. I wrote quite a few of these from 2002 to 2005. And learned in the process that this is the opposition's strongest weapon. Now we have already gained actionable insights, such as how much CO2 could be saved if nuclear power plants ran longer. But I also know that you can paralyze a ministry with inquiries. We do not do that.
As health minister, you were at the center of public attention during the pandemic, now you are one of twelve deputies of parliamentary group leader Friedrich Merz. How do you deal with such a great loss of power and attention?
I didn't read any news for four weeks and did a corona detox. It no longer mattered whether I knew the incidence. The re-parking in the head took a little longer.
Have you thought about leaving politics?
I checked whether I wanted to continue doing politics in my early 40s, I've been in the German Bundestag for 20 years and was in the government for seven years. I realized: I'm still burning. I want to help us rule again.
Jens Spahn, 42, is a trained banker and studied political science. He has been a member of the Bundestag since 2002. From 2015 to 2018 he was State Secretary in the Ministry of Finance and then Federal Minister of Health until 2021.
They were long considered the hope of the Young Union, conservatives and economic liberals in the Union. When it came to the oath, most were for Merz. How did you put that away?
I've been around long enough to know that gratitude isn't a category in politics. That sounds a little tougher than I mean. But I don't quarrel with that and stand by Johann Strauss' "Fledermaus": "Happy is he who forgets what can no longer be changed."
Do you still want to be chancellor?
Contrary to what is sometimes assumed, I don't wake up in the morning and think: How do I become chancellor now?
And later in the day?
Not even then. I ran for the presidency of the CDU in 2018. You have to at least trust yourself to do that. A lot has happened since then. I want the Union to rule again.
Alexander Dobrindt says like a mantra "Opposition is Opportunity". Is there an opportunity in this?
There is also the sentence: opposition is rubbish. The truth lies somewhere in between. We now have the opportunity to do what we failed to do after three years of open leadership and self-preoccupation as a party. So develop program work and campaign capability, clarify how we will become more digital and how the Union will remain present across the board.
How is the Union doing in opposition?
You have to see where we come from. There was a bitter, completely unnecessary defeat.
Unnecessary because self-inflicted?
To a large extent yes. In 2021 the mood wasn't that it was enough after 16 years. But at least people wanted a good reason to vote for us. We didn't deliver it. There was a split between membership, constituency and leadership. And the accusation: you put up the wrong candidate. It was therefore a success that the members of the Union voted for Friedrich Merz with a large majority. That healed a lot.
And how is the Union doing in opposition?
In the crisis we are both: supporting the state, but not supporting the government. This is sometimes not an easy balancing act.
The Union supports the Bundeswehr special fund, then Merz attacks Ukrainian refugees as social tourists and the CSU is talking about one Air Conditioning RAF. where is the concept
The traffic light implements almost everything that we are asking for, such as the elimination of the gas surcharge, a gas price cap of 12 cents and longer runtimes for nuclear energy, for example. But she does it too late and half-heartedly. There must be criticism in the Bundestag, also in pointed language. That's part of democracy.
Parts of the Union are increasingly working themselves on gender and identity politics away. Is that important – or a side issue?
I can't spend an hour on Winnetou. But the debate reveals deeper problems. According to Allensbach, half of Germans feel they can no longer say what they think politically. If, from the point of view of so many citizens, the space for discourse is restricted, it is fatal for a plural, open democracy. The Union must give the silent majority a voice more often.
The AfD also argues that way. How do you differentiate yourself?
We don't think that because of the AfD. The division of society into victim groups contradicts our Christian image of man and the idea of ​​personal responsibility. We reject the way left and right-wing parties only focus on individual groups and combine this with victim rhetoric. I was already concerned with the question of what a reactionary Islam means for a free society when Alexander Gauland had zero interest in Islam.
At that time, Gauland was still in the CDU.
We won't let the AfD narrow our space for discourse. But we have to differentiate between resentment and the description of the problem, also in terms of language. That's our job. It makes a difference whether one speaks of conservative-reactionary Islam or of to the Islam and the talks to Muslims. We cannot leave the problem of uncontrolled migration to the AfD or the left. Then the middle is speechless.
Due to the war in Ukraine and the energy crisis, society is under high tension. Shouldn't the Union be more cautious?
Rather, the government must act more cautiously. If the SPD chairman to those like us have a different opinion on citizen income accused of fake news and Trumpism, he is poisoning the climate. And very consciously.
We are not asking Lars Klingbeil about his responsibility, but you.
The traffic light delayed gas and electricity price decisions for months and unsettled millions of families and businesses. This has created more radicalization and a loss of confidence in our democracy than any word from the Union ever could.
The Union has claimed that those who do not work get more money than someone with minimum wage. And used wrong numbers.
Haven't the taz ever included wrong numbers? It wasn't deliberately miscalculated. The CSU quoted figures from a respected economic research institute.
Wouldn't that be an apology?
It's a question of whether work is worth it or not. We must have this debate. The numbers weren't correct, but the problem remains: is it enough that someone who gets up regularly at 6 a.m. only has 200 or 300 euros more per month than someone who doesn't work? Our common prosperity does not increase if we do not work or work less. So we have to ask: Are the incentives right?
This question also goes to the Union. You were skeptical about the introduction of the general minimum wage, but you did not agree to the increase to 12 euros at the time.
We abstained in the Bundestag.
How does that fit into your narrative of "performance must be worthwhile"?
We are skeptical about state wages and the effects on the labor market. When the universal minimum wage was introduced with our votes, the economy continued to grow year after year. Now, in the recession, the wage structure is coming under massive pressure.

This text comes from the Wochentaz. Our weekly newspaper from the left! Every week in the Wochentaz, the world is about how it is – and how it could be. A left-wing weekly newspaper with a voice, attitude and the special taz view of the world. Every Saturday new at the kiosk and of course by subscription.
The SPD also won the Bundestag election with a minimum wage of 12 euros. The Union, on the other hand, seems socially cold. Where's your social idea?
Our idea is: What creates work is social. This is timely, in the face of a recession, possible deindustrialization of our country and the threat of job losses. That would mean less prosperity for everyone. If we lose jobs, for example in the chemical industry with an average income of 60 to 70,000 euros, then we can hardly continue to finance the pension and health insurance. These jobs finance the social security systems. There is basic confidence that when the Union governs, jobs will be created and prosperity will increase for all.
That trust is broken. As Economics Minister, Peter Altmaier did not understand that economic and climate policy are one and the same, he choked off the expansion of renewables.
I do not share the finding. We are leaders in the expansion of renewables among the industrialized countries.
Not because of the CDU.
We have too often given the impression that we are only in a bad mood to agree to the promotion of renewables, that's true. That was a mistake.
And why should one now trust the Union to dovetail climate and economy?
Because we are realists and see what works and what doesn't. After this energy crisis, we have to readjust security of supply, affordability and climate neutrality. We cannot simply continue with the energy transition as planned.
So the expansion of renewables has to go faster?
Yes, but that is not enough as long as we cannot store them sufficiently. More than 70 gigawatts of electricity must be continuously available. More gas power plants than bridges were intended for this. But who in this situation builds gas power plants? So we have to re-answer the question of how to secure both the base load and the peak load.
And how?
Under these circumstances, I do not see how the traffic light 2030 wants to phase out coal while ensuring security of supply. That worries me. Germany needs a new energy concept.