Tenants' association on social housing: "This is a design flaw"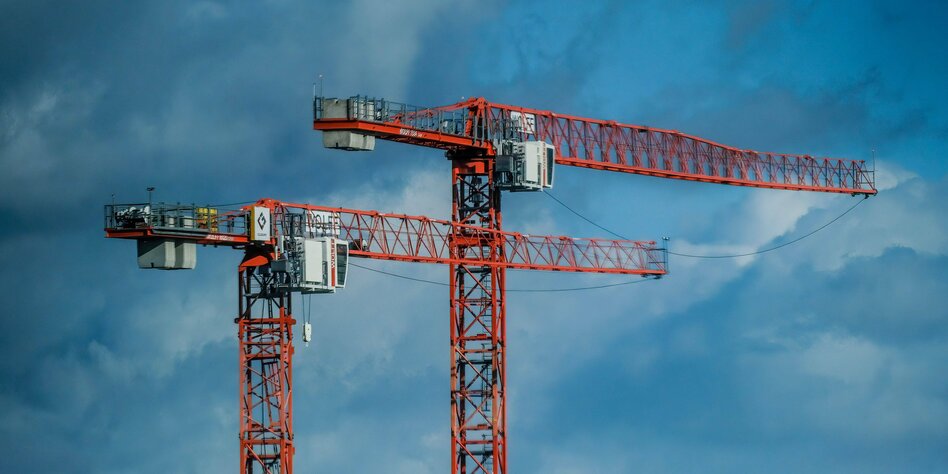 Ulrike Hamann from the Berlin Tenants' Association criticizes the subsidy system for social housing. The general public must benefit in the long term.
taz: Ms. Hamann, loud a new study the federal government will miss its goal of creating 100,000 new social housing units per year. How do you rate that?
Ulrike Hamann: The study underscores the lack of affordable housing. But even if the federal government follows our call for a special fund, it is important to learn from old mistakes.
What do you mean?
So far, the subsidy system has worked like this: Private owners receive subsidies from the state for the fact that built apartments are temporarily tied to occupancy. This means that the apartments are given to people with a residence entitlement certificate and the rents are relatively cheap. But this social bond is limited in time and can also be terminated prematurely if the owners repay their loans earlier. In Berlin, the social commitment is 30 years, the duration varies in the individual federal states. After that, the apartments can be rented according to the rules of the free market. That's a design flaw.
Ulrike Hamann has been on the management board of the Berlin Tenants' Association since June 2022. The social scientist was previously a member of the board of directors of the Berliner Wohnungsversorgung AöR and active in tenant initiatives such as Kotti & Co and the tenant referendum. In 2016 she co-edited the booklet "The Legend of Social Housing".
Which causes it less and less social housing are. In 2007 there were still over 2 million social housing units in Germany, in 2020 there were only 1.1 million. More social housing falls out of service than new ones are created. Why is social housing limited in time at all?
The state-owned housing companies do not have enough building capacity, so they wanted to motivate the private owners to build. Only these are not interested in taking permanently low rents, so the occupancy commitment is limited in time.
You are co-editor of the booklet "The Legend of Social Housing". Isn't social housing really that social?
It is a state property promotion for private individuals, funds and companies with a social interim use. The general public does not benefit from this in the long term. In fact, the promotion of social housing was always designed for "broad sections of the population", i.e. also for people with middle incomes who could not afford to build their own house. It was only later, from the 1960s, that funding for larger apartment buildings was expanded.
So the aim of social housing was not to create affordable living space?
Yes, that too. But in the Federal Republic of Germany, the task of creating affordable living space was also outsourced to private individuals with the construction of social housing. It was different in the GDR. There were government housing programs and the housing was built either by cooperatives or by municipal companies.
Do we have so little social housing because the old non-profit housing scheme was abolished in 1990?
That came with it. With the abolition of the old non-profit housing scheme, a whole section of the housing market that was not profit-oriented was abolished. In addition, support for social housing was reduced more and more, also because there was criticism of the large housing estates that arose with social housing. They have been discredited as "congested neighborhoods".
The traffic light wants to decide on a new non-profit housing scheme: Housing construction companies that focus on the common good and create permanently affordable housing will then receive tax advantages. A turning point?
A first draft should be available in the spring. The goal is to rebuild a not-for-profit sector that offers long-term relationships and affordable housing. This is urgently needed, especially in times of skyrocketing rents, because housing is part of the public service.
Aren't we dependent on private builders too?
This is indeed a problem. The state-owned housing associations are not in a position to build so much themselves. That means that at the moment we can't get past the private construction industry. But a trend reversal can be observed in the private real estate industry: In view of the rising interest rates and uncertainties, social housing is becoming more attractive again. After all, it guarantees a smaller return over a long period of time.
Is this a good trend?
Depends on. In Berlin, a commitment period of 30 years still applies. In Hamburg, land owned by the state can no longer be sold, but can only be leased out under the condition that a certain proportion of social housing is built on it with a commitment period of one hundred years. Hamburg has shown that almost permanent bonds are possible with social housing.
So it's just a political decision how long these ties last?
Yes, but the housing industry naturally has an element of extortion. She can say: We won't build if the conditions you offer us are unattractive. For the Hamburg model, which has now become known, there was also a lot of scolding from the real estate industry.
There is also a lot of complaint that building is almost impossible given the rising construction costs and projects are therefore on hold. Does this particularly affect social housing?
The real estate industry wants the funding conditions to be adjusted now, so they want more government money. But the question is: What obligations do they have in return? In Berlin, the funding conditions were adjusted in consultation with the housing industry. With the result that there is now funding from the state of Berlin, but it no longer has to be built for low incomes, it is also possible for the middle price segment. Specifically: the social rent in Kreuzberg is currently 6.74 euros. The new subsidy guarantees a "social rent" of 9.00 euros. So it is again built past the need