Tel in 4th place: The youngest goal scorers in Bundesliga history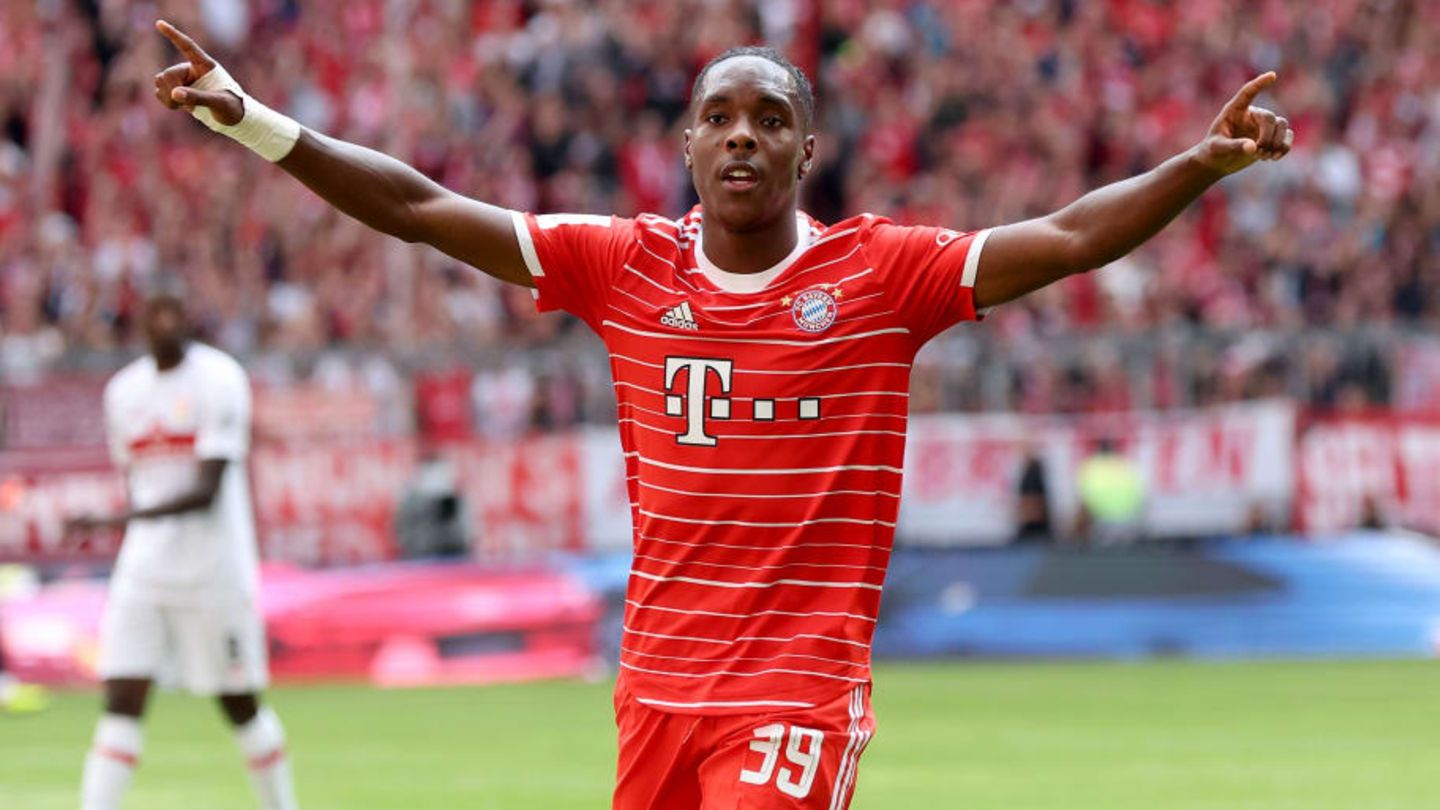 Tel in 4th place: The youngest goal scorers in Bundesliga history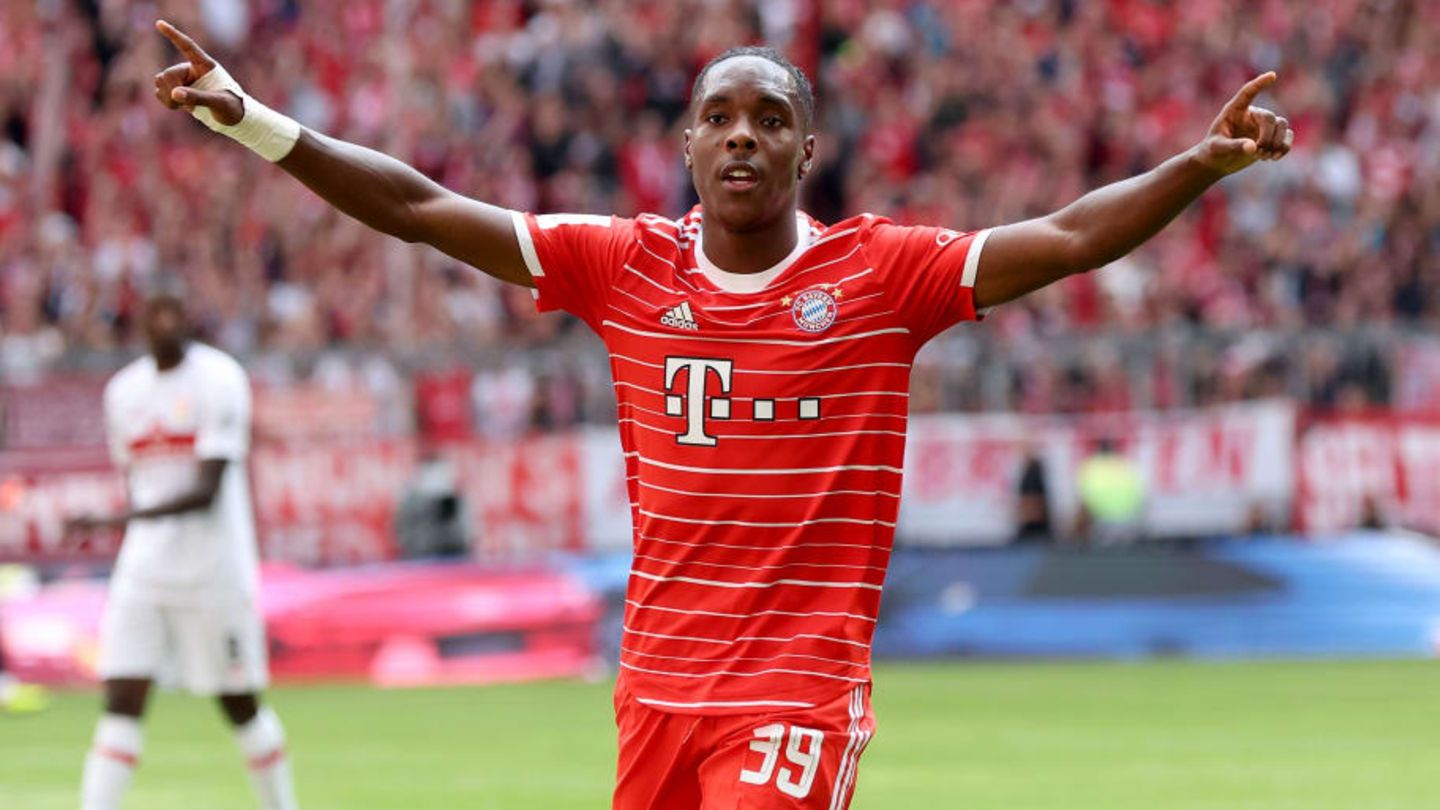 The youngest goalscorer in Bundesliga history: Mathys Tel is fourth after his goal against Stuttgart.
Mathys Tel has his first game against VfB Stuttgart Bundesligagoal, replacing Jamal Musiala as Bayern's youngest goalscorer in history. All in all, the young Frenchman only manages fourth place because other players - mostly from BVB - also started taking pictures very early. We take a look at the top 10.
1. Youssoufa Moukoko (Borussia Dortmund)

Age at first goal: 16 years, 28 days
BVB storm jewel Youssoufa Moukoko was ahead of his age in the junior divisions and has scored an incredible number of goals year after year. The center forward made his Bundesliga debut shortly after his 16th birthday and it took him less than a month to score his first goal. On December 18, 2020 at 1: 2 at Union Berlin the time had come. A record for eternity?
2. Florian Wirtz (Bayer 04 Leverkusen)

Age at first goal: 17 years, 1 month, 3 days
Florian Wirtz comes in second in the rankings, scored his first goal in the 2: 4 against Bayern (June 6, 2020), but is a good year older than Moukoko. On the other hand, the Leverkusen player was able to establish himself directly in the Bundesliga and enchants the fans with his technique and creativity. In Leverkusen one can hardly wait for the top talent to return after his cruciate ligament rupture.
3. Nuri Sahin (Borussia Dortmund)

Age at first goal: 17 years, 2 months, 21 days
Third place goes to another BVB player. Nuri Sahin made it into the professional team from his own youth and played so well that Real Madrid bought him. It's a shame that his career didn't go quite so well. With his debut goal against 1. FC Nürnberg on November 26, 2005, he was the youngest Bundesliga goalscorer of all time at the time. Otherwise, Sahin shone more as a strategist in central midfield.
4. Mathys Tel (Bayern)

Age at first goal: 17 years, 4 months, 14 days
Mathys Tel hasn't received that many Bundesliga minutes yet, but promptly scored in his first start against VfB Stuttgart. Munich signed the top French talent for a lot of money in the summer and hope that he will mature into a world-class striker. The start is already promising.
5. Tom Rothe (BVB)

Age at first goal: 17 years, 5 months, 18 days
Tom Rothe has only played 94 minutes in the Bundesliga, but has already scored a goal. The BVB player scored a goal in the 6-1 win against VfL Wolfsburg (April 2022), but currently doesn't really play a major role in the professional team. After all, the left-back is the best defender in this ranking.
6. Julian Draxler (Schalke 04)

Age at first goal: 17 years, 6 months, 12 days
Draxler already showed in his first appearances that he has enormous potential and was able to assert himself straight away. The attacking midfielder scored for the first time in the 2-0 win against St. Pauli on April 1, 2011. A world career seemed to be inevitable early on. However, Draxler was not quite able to meet the high expectations.
7. Timo Werner (VfB Stuttgart)

Age at first goal: 17 years, 6 months, 16 days
The attacker caused a sensation early on with his speed and his desire to score. Although he was only able to establish himself as a top striker in Leipzig, he also showed himself in the VfB Stuttgart already great approaches. This was also the case with his first goal in the 1-1 draw against Frankfurt in September 2013.
8. Jamal Musiala (Bayern)

Age at first goal: 17 years, 6 months, 23 years
Musiala refutes the belief that when FC Bayern cannot assert itself as a young talent. The attacking midfielder shone right from the start with his great technique and was just as dangerous in goals. Musiala scored his first goal in the 8-0 win over Schalke 04 on matchday one of the 2020/21 season. Other booths should follow quickly.
9. Christian Pulisic (Borussia Dortmund)

Age at first goal: 17 years, 6 months, 30 days
Christian Pulisic is the fourth Dortmunder to appear in this ranking. The tricky American winger scored his first goal in April 2016 in the 3-0 win against Hamburg. The offensive player is currently playing for Chelsea FC, but it is difficult for him to play there regularly.
10. Lars Ricken (Borussia Dortmund)

Age at first goal: 17 years, 8 months, 1 day
Lars Ricken is always associated with his famous Champions League final goal. He also showed great performances in other games at a young age. For example on March 11, 1994, when he scored in the 2-1 win over Duisburg. At this point, Ricken was the youngest Bundesliga goalscorer in history. Today he makes sure that 50 percent of the top 10 consists of Dortmunders.
This article was originally published on 90min.com/de as Tel in 4th place: The youngest goal scorers in Bundesliga history released.
goal