Sweden's Prime Minister in Ankara: Erdoğan expects concrete steps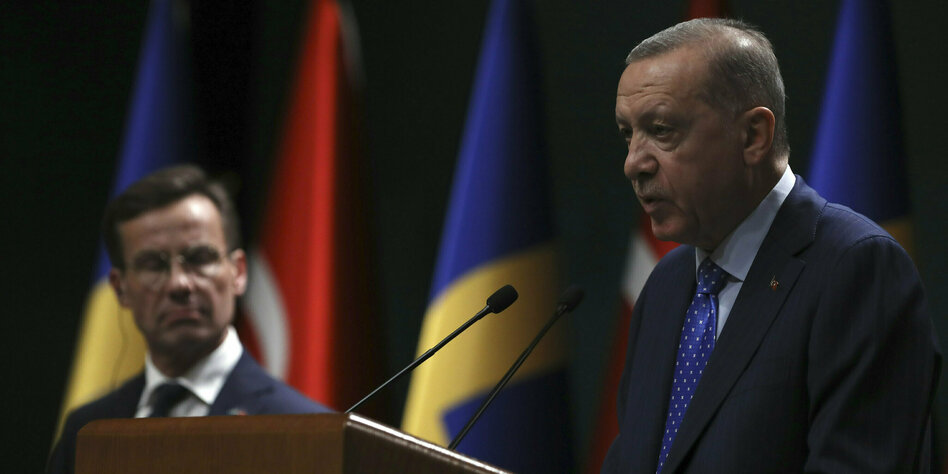 Even after his state visit, the Turkish President has not yet approved Sweden's NATO membership. The fight against terrorism remains controversial.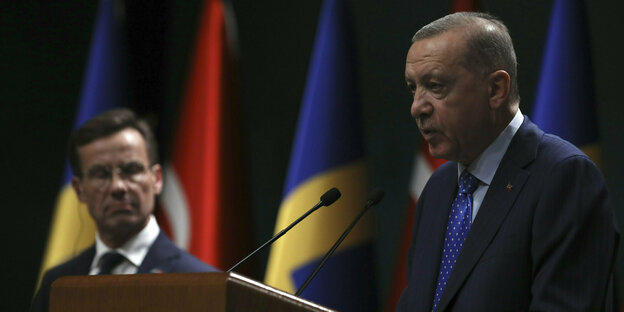 ISTANBUL taz | The direction is good, but it is not enough. This is how the attitude of the Turkish government to the NATO accession of Sweden and Finland can be summed up. Even after a personal conversation with Turkish President Recep Tayyip Erdoğan on Tuesday evening in Ankara the new Swedish Prime Minister Ulf Kristersson have not yet given the go-ahead for Sweden and Finland to join NATO.
"We still expect concrete steps to combat terrorism," Erdoğan said after the meeting with Kristersson. The speaker of the Turkish parliament, Mustafa Sentop, also told Kristersson after a meeting that there were many steps to be taken before parliament could ratify the two Scandinavian countries' accession to NATO.
The Agreement Sweden and Finland joining NATO has now passed through all the parliaments of the member countries, only Turkey and Hungary are still hesitating. But while Stockholm expects that Hungary will also have agreed by the end of the year, Ankara's yes is still uncertain.
During the last NATO summit in summer in Spain, Turkey, Sweden and Finland had signed a trilateral agreement, on the basis of which Erdoğan had provisionally agreed to the accession of both countries and which Turkey is now insisting on implementing. The Scandinavians have actually moved significantly towards Turkey.
First, the arms export ban for Turkey was lifted under the Social Democratic government, then the foreign minister of the new right-wing Swedish government announced that the Kurds in Syria would no longer be supported in the future. The Kurdish organization DYP that dominates there and its military wing YPG are, as Turkey has always said, far too closely linked to the PKK, said Foreign Minister Tobis Billstrom. Prime Minister Ulf Kristersson has now even announced a constitutional amendment to "better combat terrorism" and accused his previous Social Democratic government of disregarding Turkey's security.
But that's not enough for Erdoğan. In connection with the Madrid Agreement, a long list of alleged terrorists had been submitted to Stockholm and Helsinki, who had fled to Sweden and Finland and some had been living there for years. Erdoğan wants to have extradited these so-called terrorists. These are mainly people who are said to belong to the environment of the PKK or the Gülen sect, which is blamed for the attempted coup in 2016.
Erdoğan, who is used to the judiciary doing what he expects, does not want to accept that the new Swedish government is unlikely to be able to extradite refugees who have long been granted asylum or other protection status.
Decisive Turkey elections in spring 2023
Even if he is hardly bothered by the protests of Swedish civil society, which is already mobilizing against possible extraditions, it will still be difficult for Kristersson to implement the "concrete steps" that Erdoğan is calling for.
Accordingly, Turkey will stall the Scandinavians. Erdoğan faces an election next spring, which is likely to be the most difficult for him since he took office. Inflation is over 100 percent in Turkey, and people are battling rising food and energy prices. The approval ratings for Erdoğan and his AKP are correspondingly low. The fight against the PKK that Erdoğan is now fighting with Sweden is popular and distracts from the economic misery. Everything speaks in favor of extending it even further.
In addition, from Erdoğan's point of view, the approval of Sweden and Finland for NATO membership is part of a larger package that is intended in particular to fulfill the NATO supremacy USA. Turkey has felt badly treated by the US for a long time. It was pushed out of the program to build and acquire the most modern F-35 fighter aircraft and now wants to push through at least one modernization of its F-16 fighter squadron. Approval for this depends on Congress and should not become any easier after the elections in the USA. This is one of the reasons why Erdoğan is still holding back the approval for Sweden and Finland.