Study on caring for relatives: "Caring makes you poor"
When relatives become in need of care, it is often a financial burden. The social association VdK calls for more state support.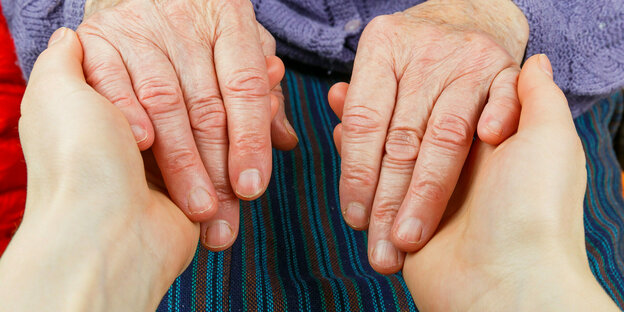 BERLIN taz | Reports on the blatant overhaul, physical stress and the general state of emergency of nursing staff in homes and hospitals are more common. But out of around four million people in need of care in Germany, around three million people are cared for at home. Although this work is less visible, it is no less strenuous and stressful for the carers – also in financial terms. It is often taken on by relatives – mostly by women.
A survey by the nursing scientist Andreas Büscher from the Osnabrück University of Applied Sciences and a new study of the German Institute for Economic Research Berlin (DIW Berlin) show: One in five carers is at risk of poverty. The number is even higher for female caregivers. That's about every fourth person. The survey of relatives and the DIW study was commissioned by the social association VdK and the figures were presented on Tuesday in Berlin. Have flowed into the Online survey by the nursing scientist Andreas Büscher the responses of more than 27,000 caregivers – 72 percent women, 28 percent men. "The data show very clearly: care still makes poor and makes women poor in particular," said VdK President Verena Bentele on Tuesday in Berlin.
"God's reward" is not enough
The numbers show that people who have a care for relatives, are significantly more likely to be at risk of poverty than the average in Germany. The number of social benefit recipients in caring households is also seven percent higher than in the general population.
"We as VDK demand financial security for all caregivers at home," says Bentele. "This performance must be significantly higher than the so-called 'God's reward', so a 'thank you'". The VdK advocates a salary for carers, since according to the survey by the social association, around 49 percent of all caring relatives had to reduce their working hours. As a result, they not only lose salary, but also pension points.
"The amount of the salary should be based on the cost of care," said Bentele in Berlin. According to the DIW, such a salary would particularly help women who have already reduced their work or given up completely, as well as parents of children in need of care. On behalf of the VdK, Johannes Geyer from DIW Berlin calculated that both wage replacement and a fixed wage for caring relatives can significantly reduce the risk of poverty. To pay a wage replacement benefit to family carers, as required by the Traffic light coalition in the coalition agreement formulated in the style of parental allowance, the VdK President rejected it.
The parental allowance is based on the previous income, according to Bentele. This puts caring women at a disadvantage again because they earn less than men and often work part-time. The VdK President named this as a positive example of nursing wages Model project in Burgenland in Austria. There, caring relatives received the minimum wage for 20 hours at care level 3, 30 hours at care level 4 and 40 hours at care level 5. That would significantly reduce the risk of poverty.
In Büscher's online survey, it became clear that the financial burden plays a major role for caregiving relatives. More than 64 percent of all respondents stated that it would help them "to have more money available for meals." 40.4 percent of all respondents would also like "special advice on financial issues related to care."
Almost 29 percent of all those surveyed did not use the opportunity to be released from their own work to care for the reason because their "loss of income would be too great." to take advantage of because they would have to pay too much. Bentele said: "It is shocking to see that professional support and relief is being dispensed with out of financial concerns." (with epd, dpa)