Ska Keller resigns: Europe Greens are looking for a new boss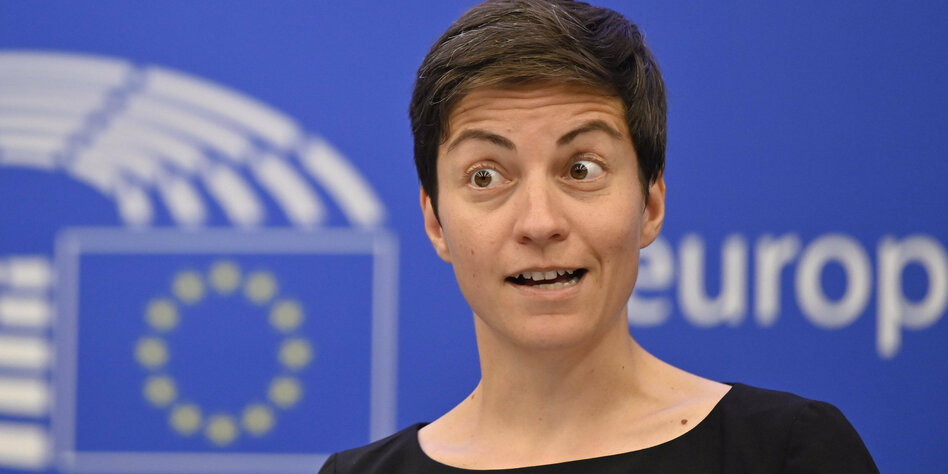 After the announced withdrawal of Ska Keller from the EU Parliament, the parliamentary group wants to clarify the successor in October. A German is an option.
Strasbourg dpa/taz | The co-chair of the Green Group in the European Parliament, Ska Keller, resigns. The German announced on Wednesday evening in Strasbourg. The background to the decision is that, after years at the head of the parliamentary group, she wants to make room for a new generation, the 40-year-old told journalists. In addition, the group should be given enough time to position itself well for the 2024 European elections.
As she went on to say, potential successor candidates now have the opportunity to apply. A vote is scheduled for October. Until a successor is found, the group will be headed by Belgian Philippe Lamberts. Previously, Keller and Lamberts had done so as a duo. Although Keller wants to keep her seat as a Member of Parliament, she does not want to run again in the next European elections.
The exact reasons for the withdrawal after 13 years in Brussels and Strasbourg are unclear. The parliamentary group says that after many years of exhausting work, Keller is looking for a new challenge. She made the decision herself, so her resignation was not due to a lack of support in the parliamentary group, as reported by the Europe.Table newsletter. There was no confirmation on Thursday that Keller wanted to run as a top candidate for the state elections in Brandenburg in 2024.
Born in 1981 in Guben on the Polish border, Keller was as the lead candidate in the 2019 European elections started for the parliamentary group and has been chairwoman of the Greens/EFA parliamentary group since the end of 2016. The former state chair of the Greens in Brandenburg moved into the European Parliament in 2009.
Due to the Greens' quota system, only women are eligible to succeed Keller as parliamentary group leader. There are no nominations yet. One of the most renowned Green MEPs in the European Parliament is the former Swedish Minister for Democracy, Alice Kuhnke.
However, it is also quite possible that a German parliamentary group leader will again be in office. The Green Group currently has 72 of the 705 MEPs in the European Parliament, 21 of whom are from Germany. Since 2002, German MPs have been represented at the top, ahead of Keller in the person of Rebecca Harms and Daniel Cohn-Bendit. If it stays that way, Terry Reintke from North Rhine-Westphalia would probably have the best cards: she was elected by the parliamentary group in 2019 as one of the seven deputy chairmen.