Sex tourism in Morocco: In locked hotel rooms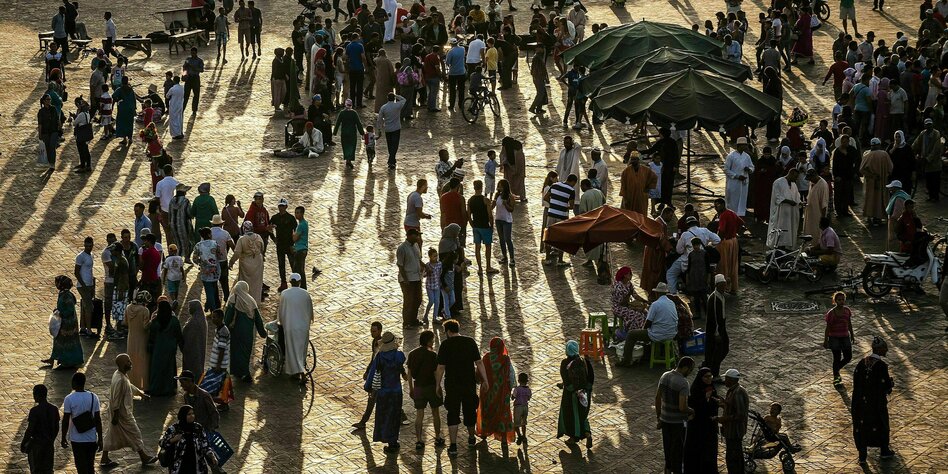 In cities like Marrakech, sex tourism is part of the program for many foreigners. This often leads to sexualised violence against children.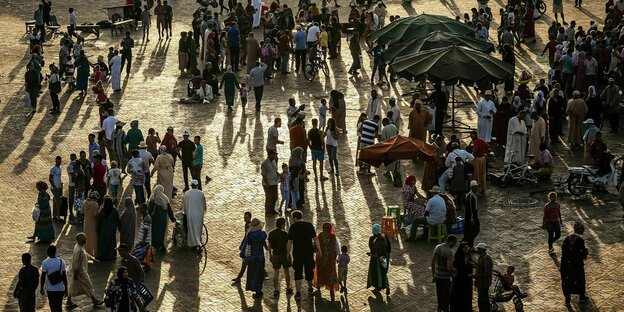 If you look closely at the Moroccan tourist attractions in cities like Agadir or Tangier, you will make a disturbing observation: sex tourism is part of the standard repertoire for many tourists here and there. That in itself is good for professional sex workers. But mainly from Europe, men travel to North Africa to abuse the most vulnerable of all groups: minors.
In the Moroccan tourism capital of Marrakech in particular, a market has established itself that fills the planes of low-cost airlines from Paris, Milan and Berlin with criminals. In the central square, the Djemaa el Fna, or in the new town of Gueliz, men are looking for cheap sex and, above all, sex workers who will fulfill their every wish.
In Neustadt it is a branch of the US coffee house chain Starbucks, which has established itself as a hotspot for sex tourism. French, Italian or German tourists in shorts, sandals – and sometimes with the typical sunburn on their faces – take a seat and don't have to wait long before they are approached by women or queers. Telephone numbers are exchanged, negotiations and appointments mostly take place via chats. A night costs 30 to 80 euros, depending on how well the men negotiate.
With theCorona crisis and the lack of tourism, prices have tended to fall in recent years. While it is officially forbidden for Moroccan citizens to share rooms with foreigners in hotels, most hostels turn a blind eye to escorted white tourists entering the lobby.
At the reception desks of many hotels in Morocco there are often posters informing them that foreign minors are not tolerated in the rooms and that violations will be punished. However, some of the men in Starbucks in Gueliz and other public prostitution exchanges are specifically looking for girls and boys who are well under 18 years of age and are sometimes actively looking for customers themselves. According to human rights organizations such as Touche pas à mon enfant (Don't touch my child), these are often street children who have come from villages to the city to support their families financially.
All of Morocco's problems culminate in the pedosexual exploitation of young people: the urban-rural divide, lack of opportunities for advancement through education, youth unemployment and a state that allows things to happen. The prostitution exchanges are usually only a stone's throw away from the police stations. Everyone knows what is happening, no one intervenes.
Social workers and child protection organizations describe that the number of European sex tourists in North Africa has always been high, especially in Morocco and Egypt. But the problem in the Maghreb after the 2004 century tsunami increased by leaps and bounds. At that time, more than 230,000 people died thousands of kilometers away in Southeast Asian countries. After that, tourism in Indonesia and Thailand – like the sex tourism that was flourishing there – lay idle.
Many European sex tourists oriented themselves towards North Africa and have been coming back again and again since then: the Maghreb is closer and therefore cheaper, white tourists enjoy quasi freedom of fools, and men in Agadir or Sharm al-Sheikh get everything on offer. And with all also includes exploitative practices up to and including child abuse.
"I didn't understand what was happening at first"
Soufiane Hennani is a Moroccan author and activist. He deals with the effects of sex tourism on his country. "In the meantime, even in smaller towns, it is visible in the public space that there are more and more tourists who want to buy sex. Many pimps have specialized in the demands of foreigners and offer everything: women, queers and unfortunately also children," says Hennani. He reports on some cases in which the police intervened. Tourists are rarely prosecuted, while sex workers are arrested. That is why corruption payments to police officers are widespread so that the market can continue to function.
"Those affected are left in the lurch. In Morocco we don't talk about the problems that sex tourism brings with it at all. Not at all about the protection of children from the criminal tourists from abroad," says Henanni. This exploitation threatens the lives of many young people in the country.
In a Report by the TV channel France24 one of the young prostitutes from Marrakech speaks anonymously about his fate. He calls himself Samir and says that he slipped into the scene because a European tourist offered him money in a café. As a youth from a poor background, he naively followed the foreigner. "In the beginning I didn't understand what was happening at all," says Samir. At that time he only worked, he only had the money in mind.
His parents would not have questioned how he suddenly earned the upkeep for the family. "The Europeans are rich, we have nothing." Now he just feels empty. Samir is now an adult, but the abuse will haunt him for life: psychologically and physically. He says he contracted HIV while having sex with a European.
In an office of an AIDS aid organization in Casablanca you meet many Samirs. They all want to remain anonymous, it's actually a protected space. Journalists are normally not allowed in. A friendly employee greets you at reception and explains that the self-help group for HIV-positive sex workers will soon be closing time. HIV/Aids in itself is not an absolute taboo subject in Morocco, as a huge benefit gala for HIV-positive people takes place every year on state television. Sex tourism and violence against young people, on the other hand, is not an issue that is publicly discussed.
In Arabic – a language that usually has several terms for each thing – there is no direct translation for the word pedophilia. There are no official statistics or reliable figures for the problem of violent foreigners. And so all sex workers wave it off. They would talk to the reporter about HIV/AIDS, but not about their work and exploitation. Among the ten affected that day are many who have only recently come of age.
Rich Gulf Arabs don't go to Starbucks
From time to time, cases appear in the Moroccan tabloids that stir up the whole country. For example, an imam who abused six wards in a mosque near Tangier made headlines in 2020.
So far, however, it has mainly been foreigners who have attracted the attention of pedophiles: As the famous case of a Spaniard shows, who drove thousands of Moroccans onto the streets around ten years ago. He had sexually abused several children in the coastal town of Kénitra on the Atlantic and filmed his crimes. In 2013, he was sentenced to thirty years in prison by a local court.
Shortly thereafter, he was from the Moroccan King Mohammed VI. pardoned at the personal request of the then Spanish king Juan Carlos. The perpetrator was allowed to travel to Spain. Shortly afterwards, thanks to a broad social media campaign, protests against the pardon took place across Morocco.
The king of Morocco, an absolute and infallible monarch, protested a few hours after the protests that he allegedly knew nothing about the Spaniard's crimes. The king apologized to the families of the loved ones and revised his pardon. The Spanish sex offender was then arrested again in the Spanish city of Murcia on the basis of an international arrest warrant issued by the Moroccan authorities and has since been imprisoned in a Spanish prison.
But another group of perpetrators never really appears in public space in their search for exploitative gratification: sex tourists from the Gulf. It is mostly wealthy men from Saudi Arabia, Qatar or the United Arab Emirates who let their imaginations run wild in Egypt or Morocco. This abuse usually takes place in exclusive properties behind high walls. Rich Gulf Arabs don't go to Starbucks to find their victims. They order their victims to their luxurious holiday residences through intermediaries, as human rights organizations record in their reports.
According to the 2014 "Trafficking in Persons Report", the organized gangs in question are not content with just the fact that their customers arrive. An export of children's bodies can also be organized on request. Girls from the age of six are trafficked to the Middle East, but also to Europe. In catalogues, the rich men in the Global North and the Arabian Gulf can choose whom to "deliver" to them.
According to one Yale University report more and more underage African refugees have been integrated into the market in recent years. On their way from their countries of origin Cameroon, Ivory Coast or Senegal to Europe, they are often stuck for years in Morocco or Egypt due to the insurmountable EU external borders. Sexualised violence seeks out the weakest as victims.