Scotland's SNP elects new leader: Sturgeon leaves a hole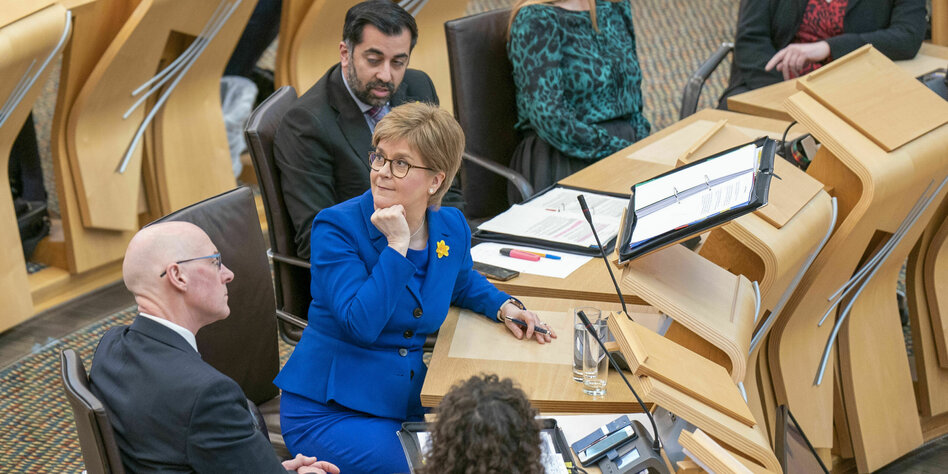 On Monday, the result of the ballot will be known who succeeds Nicola Sturgeon at the head of the party and government. There is no candidate like her.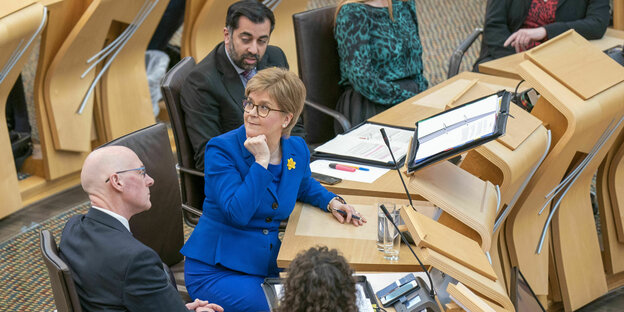 DUBLINtaz | The Scottish National Party (SNP) is getting a new party leadership today, Monday – and Scotland is getting a new head of government. Two women and one man applied after party and government leader Nicola Sturgeon last month had announced his resignation. In the past two weeks, SNP members have been able to cast their votes.
"None of the three people is particularly impressive," says election researcher John Curtice, professor at Strathclyde University in Glasgow, to the taz. "The party needs to find someone with the same powers of persuasion to make independence palatable to the people. Sturgeon had them. The candidates don't have them."
Just last week, almost a third of the party members surveyed were undecided. All we know is who won't: Ash Regan, who resigned from the Scottish Cabinet in October over new gender legislation designed to make it easier to change official gender registration, is a distant last-place in polls.
Scotland's Finance and Business Minister Kate Forbes comes to 25 percent among party members, Health Minister Humza Yousaf is ahead with 31 percent. The situation is different if you ask the general public. She has doubts about Yousaf's competence and prefers Forbes.
How many people are actually party members?
"The problem with her," Curtice says of Forbes, "is that she's popular with those who would never vote for her party." Forbes, an evangelical Christian, is opposed to same-sex marriage, and she thinks it's wrong to allow illegitimate children into marriage to set world. There is a strong conservative wing in the supposedly left-wing SNP. Significantly more SNP members than Labor or Liberal Democrats want tougher penalties for criminals and the reintroduction of the death penalty.
There is a strong conservative wing in the supposedly left-wing SNP
Last week there was an uproar during the election campaign because the SNP management did not want to reveal how many party members who are eligible to vote actually exist. Finally, it emerged that the SNP had lost 30,000 members in the past two years, almost a third. Although it still has more members than all other Scottish parties combined, as Sturgeon pointed out, SNP CEO Peter Murrell was forced to resign. He is Sturgeon's husband.
All candidates are for Scottish independence. With Sturgeon's resignation, however, the independence movement lost its biggest driving force, says the director of the polling institute Ipsos Mori, Keiran Pedley: "This gives unionism the biggest boost since 2014, when the independence referendum failed."
Curtice believes Sturgeon is leaving because she has lost control of the independence strategy. After Britain's Supreme Court ruled in November that Scotland's regional parliament did not have the power to call a new referendum on its own, Sturgeon wanted to make the next general election, which is likely to be held in 2024, a de facto referendum. This met with resistance in her party. "By resigning, I am clearing the way for the SNP to choose the strategy it sees fit without having to worry about the possible consequences for me as party leader," she said.
Danger for the SNP: Labor recovery in England
In addition, she appears to be suffering from burnout. Sturgeon says she's been considering resigning since late last year. "When I New Zealand Prime Minister Jacinda Arder resignsn heard it on TV," she says, "I wish that was me." But she leaves her party in a strong position: "I, or rather my party, won eight elections in the eight years that I was party leader ."
Recently, however, Labor in Scotland has regained strength. While the left-wing opposition force was 26 percentage points behind the SNP in the 2019 elections, it is now only 14. "The danger for the SNP is not the upturn in Labor in Scotland, but in England," analyzes election researcher Curtice, pointing out that that Labor is well ahead in all-British polls and can expect to win the next election in 2024. "If these projections are correct, Labor will not depend on the SNP to form a majority and will not have to agree to a referendum."
Last Thursday, Sturgeon was last interviewed at the regional parliament in Edinburgh. It was an emotional farewell. Curtice believes: "Following in their footsteps will not be easy. She's still the most popular politician in the UK."