School bans for girls in Afghanistan: Further learning is strictly forbidden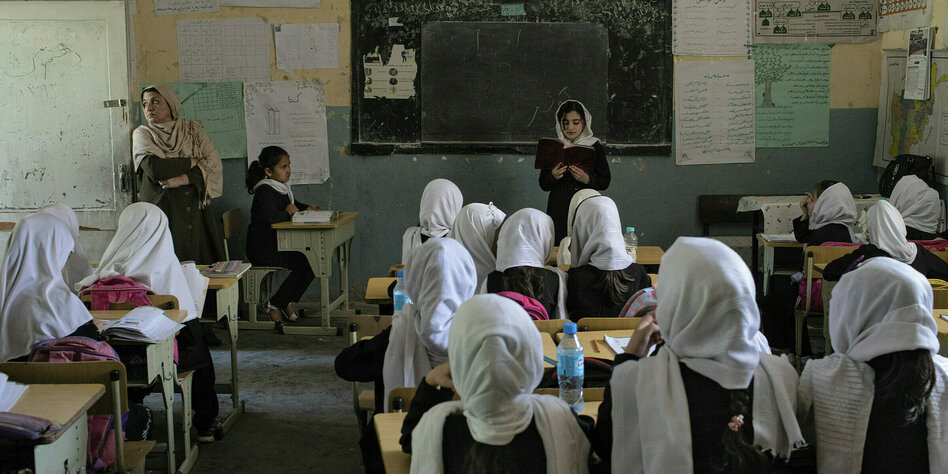 Girls in Afghanistan are no longer allowed to attend secondary schools. Brave ones like 16-year-old Marwa Hamidi take illegal online lessons.
Marwa Hamidi still remembers March 23, 2022. It was a bright morning, the sun heralded spring. For Hamidi, the day should bring back a piece of freedom. For seven months, the Taliban had girls' secondary schools in almost all parts of Afghanistan kept closed. They should reopen on March 23rd.
Marwa Hamidi, 16 years old, put on her old school uniform that morning: a knee-length black coat over trousers, a white headscarf. She went to her old school, a secondary school in Kabul. She was full of hope, she says five months later on the phone. She wanted to finish 11th grade, graduate a year later, study, become an astronaut. Her certificates show that she was a very good student before that Taliban Kabul conquered.
When she got there, she knew she was wrong. "Taliban were waiting for us at the school gate. They carried Kalashnikovs over their shoulders and whips in their hands." The men pointed their guns at the girls and shouted for them to go home. Girls have no place in schools.
Hamidi talks in a thin voice. "I felt like a kid building a sandcastle. Suddenly someone comes with heavy shoes, tramples the castle and is happy about the sadness of the child.
Since that day, Marwa Hamidi has been sitting at home waiting for the schools to open. She lives with her mother and two older siblings in a small apartment in the center of Kabul. Her father, a former soldier, fled to Iran.
3 million girls are not in school
Since the Taliban seized power in Afghanistan in August 2021, they have prevented girls in particular from attending secondary schools. Boys between the first and twelfth grades are allowed to go back to school. Little girls can attend elementary schools up to the sixth grade, and under strict conditions female students are allowed to return to the universities separately from male students. Those in between, adolescent girls, sit at home in large parts of the country and wait.
The Taliban leadership has publicly proclaimed again and again that these girls will soon be able to attend secondary school again. "We don't want to stop them from studying," said Zabiullah Mujahid, a spokesman for the Taliban, at a conference in Turkey. One is in the process of adapting the curricula to Islamic law. However, no one knows when the schools will reopen.
The UN children's fund Unicef ​​estimates that around three million Afghan girls are currently not allowed to attend secondary school. For human rights organizations, this is not just a question of justice. The United Nations also fears that if girls continue to be excluded from secondary education, Afghanistan's economic crisis will worsen, increasing insecurity, poverty and isolation.
One of the few exceptions is the region around Mazar-e-Sharif. In the northern Afghan city, secondary schools were strictly segregated between boys and girls, but remained largely open. Anita Qahar is a teacher in Mazar-e-Sharif. Her name is different, for security reasons she wears a pseudonym here. Qahar teaches geography and history. Before the Taliban took power, she taught boys and girls. Now she's no longer allowed to teach the boys, but she does it secretly, she says on the phone.
"Our schools are still open, but extremely restricted. We female teachers and the students have to follow strict rules," she says. The Taliban had redesigned the curriculum with Islamist and extremist content, and teachers were no longer allowed to deal with the topics of democracy and participation. Taliban representatives showed up unannounced in class and checked the content.
Protests for the right to school
"They come armed and bring terror to the schools," she says. If the men caught a teacher or student not wearing their veil properly, they would yell at them and send them home."
Right from the start of their rule, the Taliban stipulated new school uniforms for girls: a long black skirt; a veil that completely covers the face, only the eyes are exposed. This is a big burden for the girls, especially in the summer months, when it gets extremely hot in the region. "Not only does that make it difficult for them to learn, it also robs them of their identity."
Even though many girls in large parts of the country submit to the ban on going to school, protests keep flaring up. In September, after schools opened for five days and then closed again in the eastern province of Paktia, hundreds of schoolgirls in school uniforms protested for their right to an education.
The Taliban sometimes acted ruthlessly against the protesters. At an official press conference, the Taliban Minister of Education said Afghan parents do not want their daughters to go to school.
In early October, women took to the streets in Kabul, Balkh, Herat and Bamyan provinces for several days after a suicide bomber blew up next to a private school in Kabul. 53 students have died. Between January and June 2022 alone, UNICEF counted 56 attacks on schools, many children were injured or killed.
Wais Barakza wants to give a face to the girls who are desperately waiting for school. Barakza, 32, is one of Afghanistan's most well-known influencers. He has more than 1.5 million followers on Facebook – although he acts differently than many social media stars. Hardly anyone knows what he looks like, he never shows his face. He is considered one of the most important journalists and activists in Afghanistan, and many appreciate the calm way in which he reports about his country. He has been repeatedly threatened for this and has lived in Germany since September 2022.
Curse of being a girl
For his recent online campaign, he asked girls to send him videos and tell them why they want schools to reopen. He has received hundreds of videos, he says in an interview with the taz. He published some. "The world should see what it means for them that they are not allowed to go to school."
There is, for example, the video of the teenager Samia that went viral. She angrily spoke into the camera: "It's a curse to be a girl in this country. We have always been punished for being women. Do we also have to watch our hands wrinkle while they wait to finally be able to exercise their right to education?" Addressing the Taliban, she says: "If you deny us education for a thousand years, we will be just as long fight for our right to it."
Before the Taliban took over Kabul, almost half of Afghan children went to school. In larger cities, girls were often able to attend secondary schools. Recently, the number of young people who could read had risen. More and more of the children who started school were able to complete the school.
The situation has always been more difficult in rural areas. School security there has long been unstable due to the Taliban. School staff are repeatedly threatened, schoolgirls have been poisoned and some school buildings have been burned down.
After almost a year of waiting and despair, Marwa Hamidi has now found a way to improvise at least a little school. She takes online courses. Twice a week she gets English lessons, literature and Dari via a zoom link.
The courses are offered by the small initiative Shamama. Shamama is mainly financed by Afghans from all over the world. For the children who learn there, the offer is free of charge. The teachers who teach there are mostly Afghans who have left the country themselves.
Taliban daughters go abroad
"It's good that it exists, but it's only a small consolation," says Hamidi. The Internet connection is often bad or there is no electricity again. The courses are therefore not reliable teaching.
On the internet, Marwa Hamidi read about a traveling high school, the Think Global School: a non-profit project by two Americans, where students from all over the world can graduate. "I can't lose any more time," says Hamidi. "I need to find a way to continue studying and pursue my dream of becoming an astronaut."
Hamidi told the director of her former schools about her idea and asked her if she would write her a recommendation for this school. She was shocked: Under the Taliban, it was forbidden to issue official documents to schoolgirls.
She wrote this to the principal of the traveling high school and received an understanding reply. If she wants to go to school, a way will be found.
Hamidi cannot really be happy about the answer. "Even if I get accepted into the school, how am I supposed to travel there? The Taliban don't let women leave the country alone." It's different when it comes to their own daughters. Several Taliban leaders have sent their daughters to schools and universities abroad, in Doha or Pakistan. For Marwa Hamidid, this is unimaginable, at least as long as the Taliban rule Afghanistan.
Translated from English: Anne Fromm