Russia's Response to Leopard Pledge: 'These Tanks Will Burn'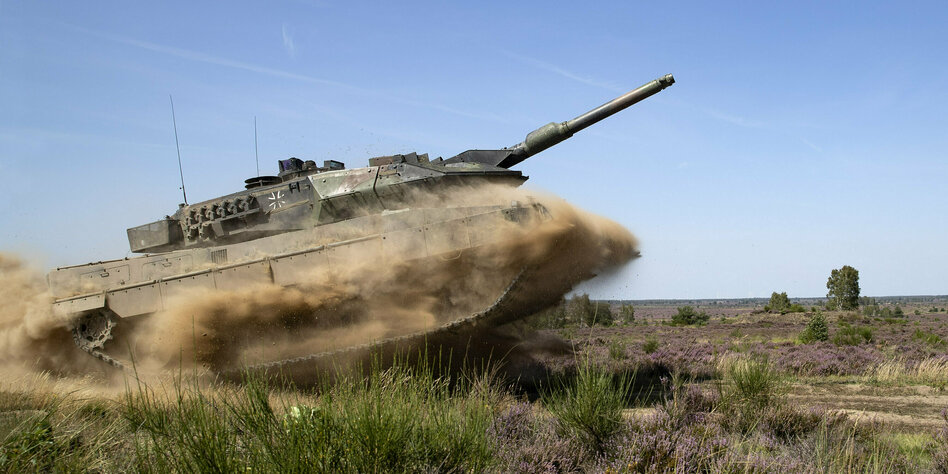 Russia's propagandists are beside themselves. After the German promise of Leopard tanks to the Ukraine, Germany should now be denazified.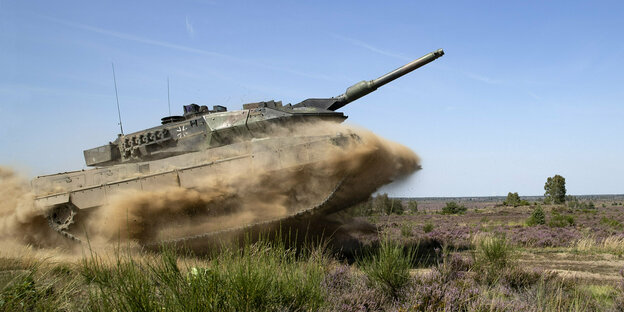 MOSCOW taz | Vladimir Solovyov can't stop roaring. "Scholz!" he shouts. "Baerbock! Pistorius! You new Nazis! You European Pharisees, you! Nazi scum!" In his Tuesday evening program, shortly after the first reports about the German commitment of Leopard tanks make the rounds to Ukraine, snorts Moderator Solovyov with anger and, as he has done many times before, calls loudly once more for revenge.
It is above all the symbolism that allows the Russian agitators to draw on the full when it comes to Germany. "You shouldn't at least not paint over the swastikas," says RT boss Margarita Simonyan and isn't too bad about further gaffes. "After the US whips, they supply the tanks. Deliveries of gas chambers are expected towards the summer," she writes on her Telegram channel. In his live broadcast on Wednesday, Solovyov speaks of the "denazification" of Germany.
The word Russian President Vladimir Putin used "denazification" on February 24to justify the attack on Ukraine. It stands for the devastating blows by the Russian army.
The Kremlin criticizes the planned tank deliveries as militarily useless but politically extremely dangerous. "These tanks will burn like all the others," said Kremlin spokesman Dmitry Peskov. There is no longer any "substantial dialogue" between Germany, the EU and NATO, he said. However, there has been no dialogue since the beginning of the war. Moscow is now speaking of a "low point" in relations.
Russia thinks it is in World War II
The Foreign Ministry spokeswoman Maria Zakharova – in her choice of words as shrill as the propagandists* on Russian state TV – sees the USA as the main culprit and considers the Europeans naive. This is Moscow's standard official narrative. "Doesn't Germany understand that the USA is dragging Europe into a major war? Europe should wake up from its lethargic sleep as soon as possible," she advises.
The head of the Russian parliament, Vyacheslav Volodin, like the Kremlin-loving cynic Solovyov, threatens with the nuclear strike. He praises the "superiority of Russian weapons" and appeals to the "sense of responsibility for humanity". Attempts to "take our territories," Volodin writes in his Telegram channel, would entail countermeasures with more powerful weapons. "Everyone must understand: it will end in a tragedy that will devastate the countries that make such decisions," it said.
Moscow officially sees itself as continuing its struggle in World War II. The meaning of the "Patriotic War" is the only thing that society across all ages and social classes can agree on. The Kremlin abuses the Soviet Union's victory over Nazi Germany and likes to downplay Allied involvement. Accordingly, the Germans are still Nazis today, from whom Ukrainians* learned. Solovyov also says in his live broadcast that the fight in Ukraine is the "rerun of the Second World War".