Russia wants to snatch parts of its territory from Ukraine
RDespite massive international criticism, usa is heading towards sham referendums on the annexation of the occupied Ukrainian territories. Key Kremlin propagandists suggested that President Wladimir Putin will comment on this. On Tuesday evening, a television speech by Putin announced by several Russian media did not materialize.
The President of Ukraine Volodymyr Zelenskyy reacted calmly to the announcement of referendums in Donetsk, Luhansk, Cherson and Zaporizhia. There's nothing new about that. "Our position does not change with noise or any announcements," he said in his video address on Tuesday. "We are defending Ukraine, we are liberating our country, and most importantly, we are not showing any weakness."
Zelenskyj gets the opportunity on Wednesday to position the Ukraine to clarify in the UN General Assembly. He is connected there by video, Putin is represented in New York by Foreign Minister Sergey Lavrov. The escalation sought by Moscow in the war of aggression that has been going on for almost seven months is overshadowing the UN general debate, at which US President Joe Biden is also scheduled to speak. For Ukraine, Wednesday marks the 210th day of war since the start of the February 24 Russian invasion.
Ukraine receives solidarity addresses from many Western partners
Zelenskyj thanked the unanimous condemnation of the Russian plans by many countries and organizations. "We have the full support of our partners," he said in Kyiv. Among other things have biden, Chancellor Olaf Scholz, French President Emmanuel Macron and EU foreign policy chief Josep Borrell criticized the Moscow initiative. The Organization for Security and Cooperation in Europe (OSCE) called the voting illegal and a violation of international law.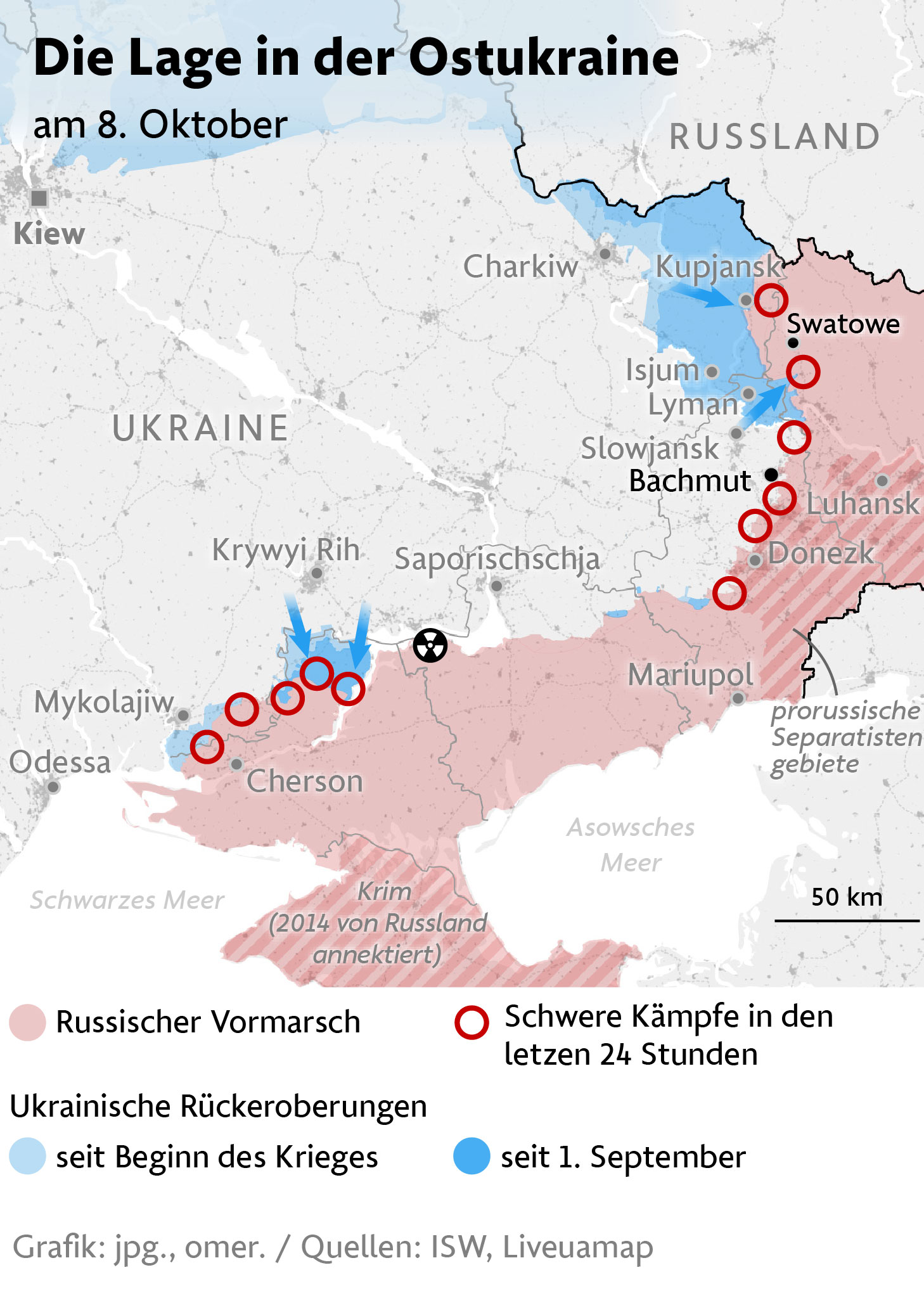 Federal Foreign Minister Annalena Bärbock condemned the announced votes as a mockery of Ukraine and the United Nations. "With all caution, with all the responsibility that we have, we must not let ourselves be fooled by this renewed provocation, but we must now continue to support Ukraine with full responsibility for peace in Europe," said the Greens politician the ARD "Daily Topics". Weapons deliveries should continue "because it saves lives".
Occupied territories ask Putin for help
The Moscow-backed separatist regions of Donetsk and Luhansk, as well as the Donetsk and Zaporizhia regions captured in the war, are planning referendums from September 23-27. They announced this on Tuesday. The simultaneous sham referendums without the consent of Ukraine and without any control are running towards a quick connection Russia out of here. They are seen as Moscow's reaction to the successful Ukrainian counter-offensive in the east. In 2014, Russia annexed the Ukrainian peninsula of Crimea and tried to underpin this with an internationally unrecognized referendum.
As if in a script for Putin's appearance, the heads of administration turned to Donetsk and Cherson directly to the President in the Kremlin on Tuesday. They asked him to support joining Russia. "This event will restore historical justice," said Donetsk separatist leader Denis Puschilin.
How many people are in the of Moscow controlled parts of Ukraine can hardly be said. The population there has been severely decimated since February through death, flight or deportation to Russia. According to estimates, Moscow still occupies more than a sixth of Ukraine's territory, including Crimea, despite the Ukrainian counter-offensive.
An annexation of the areas would mean for Moscow that it could present the possible recapture by Ukraine as an attack on its own territory. This would also make it easier to announce partial or general mobilization in Russia. Quickly crammed through law changes in the Russian parliament on Tuesday seem to point in this direction. However, Defense Committee Chairman Andrei Kartapalov denied that general mobilization was planned.
The media group RBK and the state broadcaster RT announced a speech by Putin for Tuesday evening, which was not given. After several hours of waiting, RT boss Margarita Simonyan wrote on Telegram "Go to sleep!". TV propagandist Vladimir Solovyov wrote simply: "Tomorrow".
US wants to help solve war crimes
The US wants to give Ukraine more help in solving Russian war crimes. US Attorney General Merrick Garland and the Ukrainian Attorney General Andriy Kostin signed a corresponding declaration of intent on Tuesday in Washington.
The US wanted Kyiv to help identify, apprehend and prosecute people involved in war crimes and other atrocities in Ukraine," Garland said. It is about giving the victims a certain degree of justice, Kostin emphasized.
As in the spring near the capital Kyiv, the Ukrainian authorities have now come across mass graves after the liberation of the Kharkiv region. According to Ukrainian sources, many of the bodies show signs of a violent death, which raises the suspicion of Russian war crimes.
That will be important on Wednesday
Ukrainian President Zelenskyy will not only address the UN General Assembly on Wednesday. He also gives a speech to representatives of the US defense industry - also via video link. The United States is Ukraine's most important arms supplier. Defense Minister Oleksiy Reznikov is also scheduled to speak at the NDIA meeting.