Right-wing protest before Brazil's elections: playing with the coup idea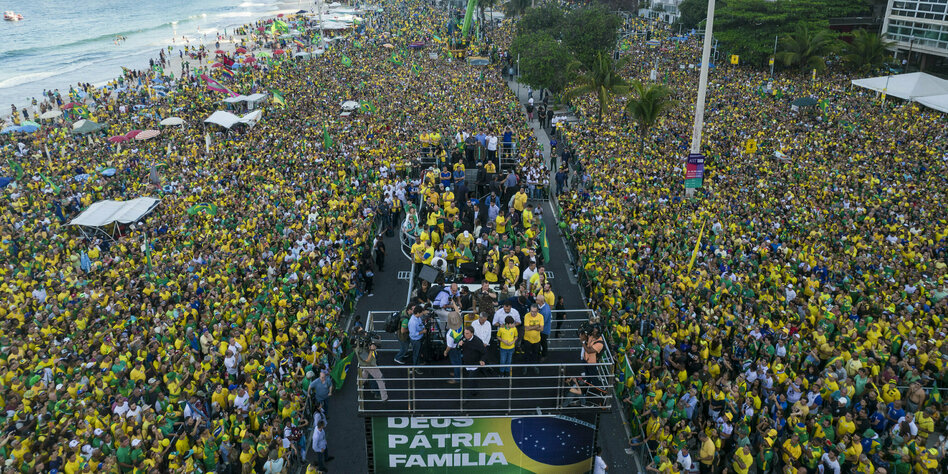 A few weeks before the elections in Brazil, right-wing President Bolsonaro called his supporters onto the streets. It is questionable whether this is of use to him.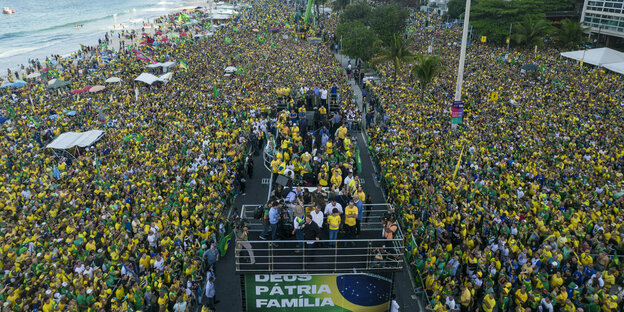 BERLIN taz | Many cities in Brazil were like a sea of ​​yellow and green on Wednesday. Tens of thousands of Brazilians, mostly dressed in the national colors, took to the streets during right-wing protests on National Day. It was a colorful mix of evangelicals, farmers, activists and truck drivers. What united everyone: Support for President Jair Bolsonaro.
In addition to right-wing extremist protests, military parades took place every year on September 7th, when the independence from Portugal was celebrated 200 years ago. Bolsonaro, himself a captain in the reserve, let himself be celebrated frenetically there and turned the celebrations into a big campaign show.
Already in the past year Bolsonaro supporters took to the streets on September 7th. At the time, some were blatantly calling for military intervention, others for the closure of Parliament. This year, the protests were even more explosive – because the elections will be held on October 2nd.
In all polls, incumbent Bolsonaro is currently well behind his social democratic challenger Luiz Inácio da Silva, better known as Lula. And so Bolsonaro has been sowing for months doubt on the electronic voting system. He had repeatedly stated that only God could remove him from the presidency. Many fear that in the event of an election defeat, Bolsonaro will do whatever it takes to stay in power.
Despite threats of violence, it remained peaceful
Bolsonaro also made it clear on Wednesday where he stands. In his first speech of the day, the far-right president in the capital, Brasília, listed the dates of important events, including the 1964 military coup, and declared: "History can repeat itself."
In the afternoon, Bolsonaro spoke on the world-famous Copacabana Beach in Rio de Janeiro. There he attacked the Supreme Court, as well as his challenger Lula. But overall, Bolsonaro was more tame than last year, when he verbally abused judges and declared that he no longer wanted to accept Supreme Court rulings – for many a clear threat of a coup.
In the run-up to the protests, many feared images like those on January 6, 2021 in Washington. That day, radicalized supporters of former US President Donald Trump stormed the Capitol. On social media, Bolsonaro supporters urged their comrades to prepare for "a war."
And in several cities there were huge posters with the inscription: "Now or never – September 7th". Many anti-democratic banners were also seen at the protests, with some protesters openly calling for the intervention of the armed forces. But it remained largely peaceful.
Only those who voted for Bolsonaro anyway were on the street
Bolsonaro had promised to get millions of people onto the streets – he couldn't do it. But there were more followers than last year. This is important for Bolsonaro: he wanted to send a sign of strength in times of crisis and produce images that show that "the people" are behind him.
But it was above all his radical base of voters who protested – those Brazilians who will vote for him in the October 2nd election anyway. It is questionable whether he will win new voters through the protests.
While Bolsonaro is fond of threatening coups and flirting with authoritarianism, most analysts believe there is no support for an authoritarian break. The vast majority of the population is against it, the media are now reporting extremely critically and the democratic institutions are repeatedly putting Bolsonaro in his place.
Bolsonaro is not without controversy in the military either: although he has many supporters, especially in the lower ranks, it is unlikely that the generals will embark on an anti-democratic adventure. And this despite the fact that Bolsonaro has endowed them with power and influential posts in government. Constitutional judge Gilmar Mendes also commented on these discussions on Wednesday. "They don't see the possibility of a coup," he says. "Democracy has great support in Brazil."