Right threatening series "NSU 2.0": A verdict with gaps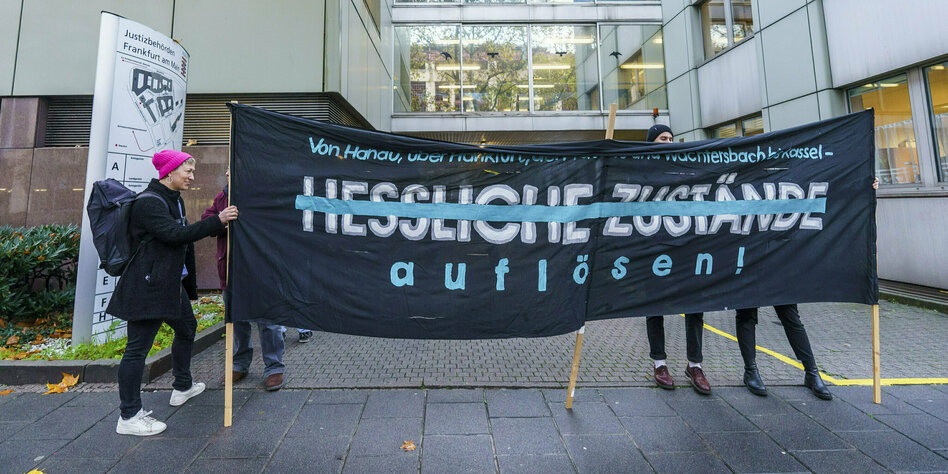 Alexander M. is said to have sent threatening letters for years. He is now in prison for almost six years. One question remains: were police officers involved?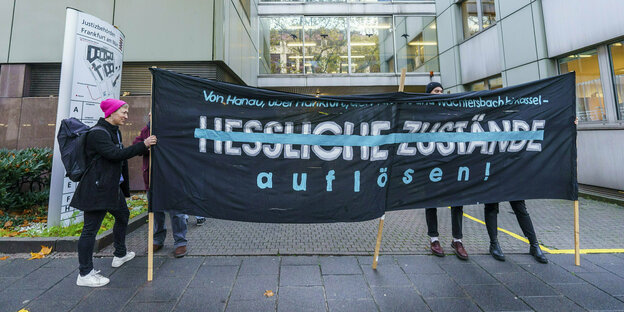 FRANKFURT/MAIN taz | And then is Alexander M just calm down. He had intervened throughout the trial, ignored his lawyers, barked at witnesses, demanded his acquittal. But now, when judge Corinna Distler announces the verdict against him, he just folds his arms behind his back and raises his eyebrows. Five years and ten months imprisonment. That fits.
It is the temporary end of a series of threats, which occupied the Federal Republic for almost three years – and to this day places serious suspicions on the police. From 2018 to 2021, letters of an "NSU 2.0" reached mainly prominent people committed against racism – Left Party leader Janine Wissler, the NSU victim lawyer Seda Başay-Yıldız, taz columnist Hengameh Yaghoobifarah or comedian Jan Böhmermann.
The more than 100 letters, accompanied by death threats, said they were "shitty Turks" or "spoilts of the people". And, the explosive thing: sometimes with private data that was previously accessed at police stations in Frankfurt/Main, Wiesbaden or Berlin – addresses, cell phone numbers, names of relatives. Until Alexander M. was arrested in Berlin in May 2021. A convicted, long-term unemployed, single computer scientist.
For those affected, the suspicion that police officers were also involved in the series of threats has not been eliminated
Since February, the 54-year-old has been tried before the Frankfurt/Main district court. Alexander M. denied the allegations, again on Thursday, in a closing statement that lasted almost an hour and a half. In no case would the allegations against him have been confirmed, he reads in Berlin from a stack of papers, over dozens of pages.
He was only part of a darknet group from which the letters were sent. But he didn't send any himself and was thrown out of the group early on. He apologizes for being a member of the group, "I'll never do something like that again". He also apologizes to Başay-Yıldız, but cheaply: unlike others, she has "not made any hate tirades against Germany". But the threats were never meant seriously, claims M.. "I can rule out a threat." But how does he know that? He accuses the public prosecutor's office of "outrageous lies" that they want to "finish him at any price". She endures it stoically. She later announces that she will initiate proceedings for insults.
There is no doubt about the accused's guilt
Judge Distler has no doubt that Alexander M. is behind the letter. And she first reminds you of Article 1 of the Basic Law: Human dignity is inviolable. But the "NSU 2.0" series hurt exactly that. It is hard to imagine what the threats would have done to those affected, explains Distler. Especially when violence against their children was threatened. "You have increased the suffering of those affected with every new letter," she says to Alexander M. He listens with folded arms and yawns.
Then Distler lists all the evidence against M. again. Fragments of some threatening letters on his PC, search queries about the threatened or access files to the Yandex email account from which the letters were sent – ​​and a response to a taz request was sent in which authorship for the series was granted, as Distler recalls . In addition, there was the "accented personality" of the accused, his style of writing, which coincided with the threats, the contradictory statements in the process. "It all fits together."
With the amount of the sentence, Distler remained below the demands of the prosecutor, who had even demanded seven and a half years in prison. Alexander M. is now being convicted of insult, threat, attempted coercion or incitement to hatred, as well as resisting officials when he was arrested.
For Alexander M. these are well-known crimes. He had previously been imprisoned for similar offenses for several years. This time, investigators found out about him via a chess portal: a user there had used wording similar to "NSU 2.0", unencrypted. The IP address led to Alexander M. He also denied this in the process. He also only copied the threatening letters from the Darknet. Distler doesn't believe him. Rather, she explains that he would have preferred, following his threatening letters, as a "steadfast German man" to confess to the deeds. That might have helped the victims. "But you didn't take that chance."
Two of those affected by the series of threats, the left-wing politicians Janine Wissler and Martina Renner, are also sitting in the hall. The latter had taken part in the process with Başay-Yıldız as joint plaintiffs. During the trial, the women described what the threatening letters did to them. Başay-Yıldız said she received many threats. The "NSU 2.0" were different. The first letter reached her on August 2, 2018, by fax. "Better fuck off as long as you get out of here alive, you pig," it said. And that their then two-year-old daughter would be "slaughtered". That's when she first filed a complaint.
Başay-Yıldız hesitantly reported what followed when the threats went further and further than hers after her move new, secret address appeared on the dark web with a call to kill her. She canceled mandates and public appointments, received police protection, had her house secured for 50,000 euros, shielded her daughter on the playground, on the way to daycare. To this day, she doesn't lose sight of this "not for a second".
Other people who were threatened also reported how they were unsettled by the threats and how they sought psychological help. The ARD journalist Anja Reschke described how she was threatened by an unknown person in 2015. A call was then received by the police. It was recorded and played in court: It sounded like Alexander M.'s voice. When the world journalist Deniz Yücel, who was also affected, asked the accused whether M. was also sending other letters that were not accused, he threatened back that he would " completely different things" if he could. It sounded treacherous after the series' threats.
Unanswered questions
After the verdict, Wissler and Renner are before the court, and Başay-Yıldız is also there. They agree that the verdict is an important signal that hate speech has consequences. Also for other, less prominent victims. But all three make it clear that one suspicion has not been dispelled for them: that too Police officers at the threat series were involved.
Başay-Yıldız recalls the data retrievals at the police stations and the appearance of her new, blocked address. Above all, she remembers her first threatening fax of August 2, 2018. At that time, a search was made for six minutes in the 1st Frankfurt district with 17 queries on three databases – for her address, the people reported there or criminal records. For no official reason. An hour and a half later, the lawyer received the threatening fax. Başay-Yıldız believes that police officers specifically wanted to find out something about her – and possibly put her data on the dark web afterwards.
Başay-Yıldız therefore demanded an acquittal for Alexander M. for the first threatening letter and named another suspect: police officer Johannes S., who was in the infirmary at the time of the crime and part of a right-wing extremist chat group there called "Itiotentreff". Who googled "Yildiz in Frankfurt" and was an expert in Tor encryption. And where chats were found saying "I'll rip your head off and shit down your throat" – like in the threatening letters.
Further investigation required
In fact, the public prosecutor's office also investigated Johannes S., and proceedings against him for betrayal of secrets are still ongoing today. When he was summoned as a witness in the trial, he refused to testify. In the process, however, the public prosecutor's office rejected the accusation: All letters went to Alexander M. The police data was obtained by phone calls in which he pretended to be a representative of the authorities – as he had done in the past.
Judge Distler admits that the first threatening fax gave the court "a headache". However, it is assumed that Alexander M. also sent this. The letters are "from a single source", and the first one fits in with it. "Very likely" he came to the police data via the fake calls. But: That could not be finally clarified.
Immediately after the arrest of Alexander M., Hesse's Interior Minister Peter Beuth (CDU) declared the police to be relieved. Even before the verdict was announced, the Hessian police union complained again about the "unspeakable allegations": There is no right-wing network in the police force. Basay-Yildiz isn't sure. Even after the verdict, "key questions" remained unanswered. She still does not know whether she is also in danger from the police. "Therefore, further investigations must be carried out."
Alexander M. also claimed that police officers were involved in the Darknet group and the threatening letters – but he did not name names until the end. That would only bring him disadvantages, said the accused. And so in the end, apart from the policeman Johannes S., only one suspect remained: himself. And the finding that the "NSU 2.0" series of threats from the Yandex address came to an end after his arrest.