Response to falling customer numbers: breaking taboos at Netflix
For the first time in ten years, Netflix is ​​losing customers. Now the streaming service wants to charge for shared subscriptions and introduce advertising.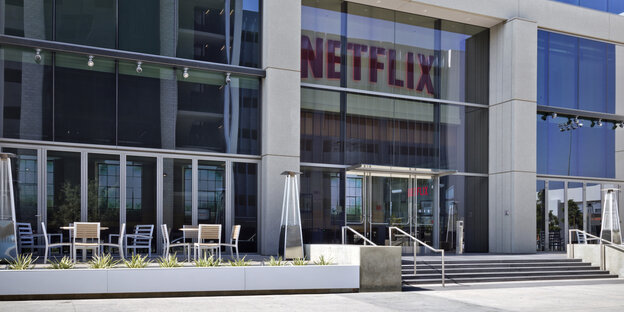 BERLIN dpa | In view of the declining number of customers, Netflix wants to crack down on users who share their access data. There are also signs of breaking a taboo: the streaming market leader is working on a cheaper version with advertising. Investors are skeptical: the share fell by around a quarter in pre-market trading on Wednesday.
For Netflix, it was the first quarter of subscriber attrition in more than a decade. In the three months to the end of March, around 200,000 paid subscriptions were lost. One reason for this was the stop of business in Russia after the invasion of Ukraine, which lost 700,000 customers in one fell swoop. But even with the growth of 500,000 subscribers, Netflix would have fallen far short of its own forecast of 2.5 million. Worse still: For the current quarter, the service expects the loss of around two million customers. Netflix has new episodes of Hit series like "Stranger Things" and films with top-class casts such as "The Gray Man" with Hollywood star Ryan Gosling are starting strong productions.
Overall, the number of customers worldwide fell to 221.6 million at the end of the quarter. How did that happen? The management around founder and co-boss Reed Hastings referred to "factors beyond our control" such as the slower increase in the share of smart TVs with Internet connections, Russia's war in Ukraine and inflation, among other things.
Above all, Netflix is ​​a thorn in the side of customers who share their login data with others. The service estimates that more than 100 million households are free riders. When growth was still high, people turned a blind eye, Hastings said. But now Netflix no longer wants to sit idly by.
More money for shared subscriptions
"For example, if you have a sister who lives in another city and you want to share her Netflix subscription with her, that's great. We're not trying to stop that," said Product Director Greg Peters. "But we will ask them to pay a little more for it." For example, Netflix can use IP addresses to determine where users are accessing the service from. Peters said it could take a year before the system was up and running and used worldwide.
At the beginning of the corona pandemic, Netflix was still considered one of the big winners of the crisis, with the number of customers increasing by 37 million in 2020 alone. But now it is said that the boost has clouded the view.
More and more competition
As a pioneer, Netflix was initially able to gain almost unhindered land in the video streaming business. But now there is more and more competition – including Disney, Amazon, Apple and Warner's HBO Max. A few years ago, Hastings, with a touch of arrogance, named the online game "Fortnite" as the fiercest competitor, he now admits that the competition "brought out some very good films and series".
Industry observers also see a problem with Netflix's strategy of flooding the program with a deluge of content, sometimes sacrificing quality. A rival like Disney, on the other hand, relies on a few, lavishly produced series based on popular characters from the worlds of "Star Wars" and Marvel, which bind customers over a longer period of time with one episode per week.
Cheaper offer with advertising
In order to restart growth, Netflix is ​​even willing to shake one of its biggest taboos and introduce a cheaper subscription with interspersed commercials. Netflix has never seen anything like it – Hastings hasn't given it much thought. While he's still a fan of subscription simplicity, "I'm even more of a fan of giving consumers choice," he said. Netflix is ​​now open to the advertising model. "We're looking at it and trying to get it sorted out in a year or two." Details such as personalizing the advertising can also be left to others.
The last time Netflix had a quarter of declining subscribers was in October 2011. Despite the decline, Netflix remains well ahead of its competition. For comparison: The big rival Disney+ had almost 130 million customers at the end of 2021. But Netflix also had to cut back on profits in the past quarter. The surplus fell compared to the previous year by about six percent to 1.6 billion dollars (1.5 billion euros). Although sales increased by around ten percent to $7.9 billion, they still just missed analysts' expectations. Netflix stock has already fallen more than 40 percent since the beginning of the year. The quarterly report also affected the prices of other streaming providers.