Research on the Erlangen double murder: silent murderers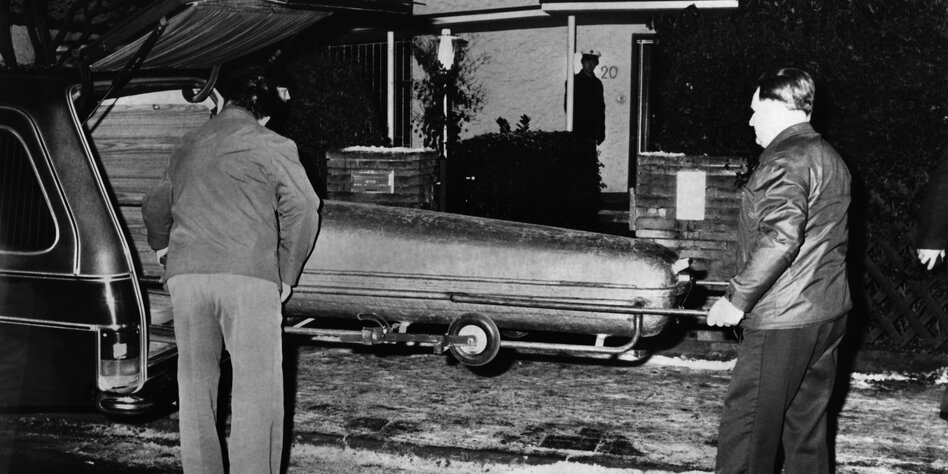 The historian Uffa Jensen reconstructs the murders of the right-wing extremist military sports group Hoffmann. It shows how right-wing terrorism is played down.
In the archive of the ARD magazine "Panaroma" there is a highly interesting contemporary document from 1974. It takes place in the countryside of Upper Franconia.
Not only a handful of very young paramilitary recruits have their say in detail. They provide insights into their political and personal motivation to devote themselves voluntarily and with relish to their own drill and the preparation for the coming day. Their leader, Karl-Heinz Hoffmann, is also given plenty of space to portray himself as a quick-witted fascist.
In his office at Ermreuth Castle, Hoffmann "holds a puma instead of a shepherd dog," comments the narrator with a mixture of critical irony and amazement at this eccentric preference. Hoffmann explains smugly: "It would be quite simply foolish to deny that Adolf Hitler was a genius and that he undoubtedly did a great many things here that we are slowly beginning to do again today."
The program also gives an idea of ​​how easy it is to get involved in the media staging of right-wing extremist manor owners.
Wehrsportgruppe Hoffmann
At the beginning of 1980, the "Wehrsportgruppe Hoffmann" (WSG) was banned nationwide because of its anti-constitutional nature. But its members were still considered bizarre but harmless cranks in many places. The Bavarian Prime Minister and chancellor candidate Franz-Josef Strauss said: "My God, if someone enjoys walking through the grounds on Sunday with a backpack and in combat gear with a belt buckle, you should leave them alone."
In the same year, a right-wing extremist associated with the WSG carried out the Oktoberfest attack in Munich; in Erlangen, a leading WSG member committed an anti-Semitic double murder.
Shlomo Lewin and his non-Jewish wife Frida Poeschke were shot dead in their house on December 19, 1980. Born in Jerusalem in 1911, Lewin grew up in Posen and Breslau. In 1935 he fled first to France and later to Palestine.
Shlomo Lewin and Frida Poeschke
In the mid-1950s, Lewin immigrated to Germany, where he ran a Jewish publishing house and was active as chairman of the Jewish community in Nuremberg and the local society for Christian-Jewish cooperation. Lewin took a public and visible position against anti-Semitism, Holocaust denial, but also directly against the WSG.
The murder of Lewin and Poeschke is a central event in the history of right-wing terrorism in the Federal Republic – but today it is almost forgotten. For years, right-wing violence became "aggressive and […] consistently suppressed and suppressed," writes historian Uffa Jensen in his new book.
In fact, left-wing terrorism has largely overshadowed it in politics, the media, culture and personal memories to this day. Making that part of the story better known is a core political concern of Jensen's readable, multifaceted study.
"An anti-Semitic double murder" moves back and forth between different strands of content: Jensen meticulously and source-critically reconstructs the murder in Erlangen, its anti-Semitic motives, the network that made it possible and the court proceedings against WSG members on various charges.
In addition, Jensen provides an almost encyclopedia-like description of the right-wing extremist scene in the Federal Republic and how the authorities dealt with it up to 1980. Unfortunately, the sometimes extensive contextualizations are not always conducive to the flow of reading.
anti-Semitic character
Jensen also addresses how right-wing terrorism is dealt with by politicians, the judiciary, security authorities and local media. With regard to the murder of Lewin and Poeschke, he works out how little they succeeded in getting a look at its anti-Semitic character.
Initially, investigations focused primarily on the personal environment of the victims, Lewin was portrayed as a dubious character, and rumors were even spread that he worked as an agent for the Israeli foreign intelligence service Mossad. Again and again, narratives that had been put into the world reinforced each other.
After its ban in early 1980, the WSG found shelter in a military training camp run by the Palestine Liberation Organization (PLO). Jensen describes the interesting but also tense relationship between the German right-wing extremists and the radical Palestinians in a very differentiated way.
Military sports group in Lebanon
In Lebanon, the WSG members ultimately tore themselves to pieces: they are treading water, and in addition to a strong group-internal hierarchy and merciless drill, there was a brutal desire to torture scapegoats and renegades from their own ranks.
Hoffmann himself lived a privileged life in palatial accommodation in Beirut and commuted to Ermreuth Castle again and again. Arrested at Frankfurt Airport in June 1981, Hoffmann was finally sentenced to several years in prison in 1986, after a long and late trial, for various offences.
In the Erlangen double murder, however, the judiciary had identified WSG member Uwe Behrendt as the perpetrator. Hoffmann himself accused him of being a lone perpetrator acting independently of him, but he had already committed suicide in Lebanon in September 1981.
Absurdly, anti-Semitism as a motive played no part in the final court verdict; nor the WSG as a network with Hoffmann as its undisputed leader, who demonstrably, together with Behrendt, made a model of the murder weapon operational shortly before the crime, built a silencer and even tested it in his own basement.
Not accomplices, just accomplices?
Hoffmann admitted in court that he "covered up after the fact" for Behrendt, but "did not instigate" him. Hoffmann himself is therefore not an accomplice, but merely a subsequent accomplice in an act carried out autonomously by Behrendt.
Jensen partly justified his doubts about this previously valid version of the Erlangen double murder with findings that were not known to the court at the time. The deconstruction of the fatal narrowing of the crime to the type of apolitical individual perpetrator in the judiciary, politics and the media is a further strand in his important study; a narrowing that, as Jensen emphasizes, is reminiscent of how later right-wing terrorist acts were dealt with.