Reconstruction in Bucha: almost no ruins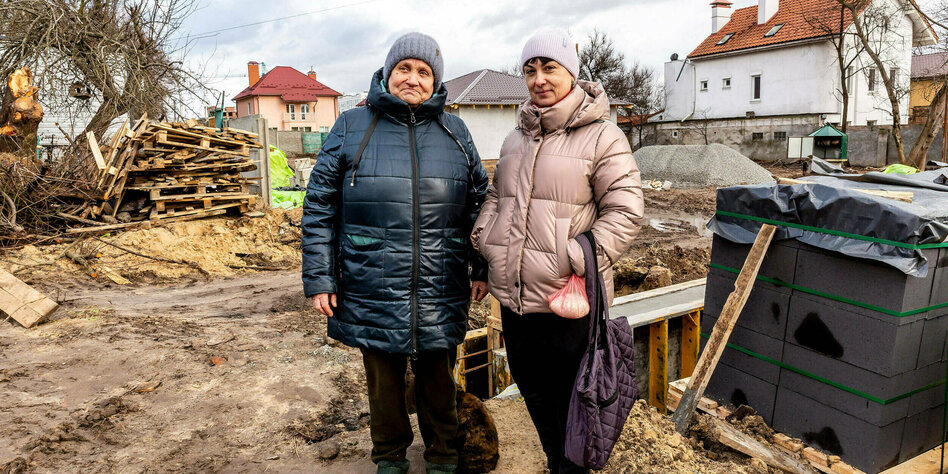 A year ago, Bucha, a suburb of Kyiv, became the first symbol of atrocious Russian war crimes. Now there is a spirit of optimism.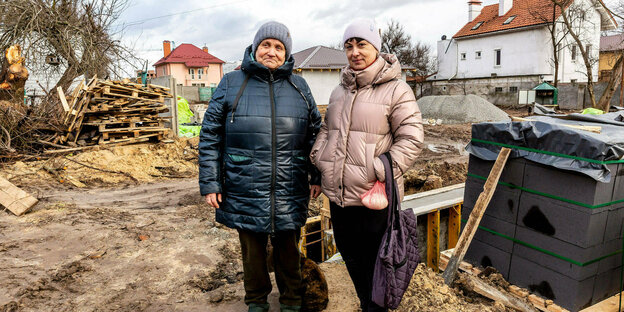 BUCHA taz | Voksalna Street in Kyiv's Bucha suburb is just 30 minutes' drive from the Ukrainian capital. Almost nothing here is reminiscent of the pictures that went around the world almost exactly a year ago, shortly after the withdrawal of the Russian troops. Charred, wrecked Russian tanks and other war vehicles—the remnants of a 30-kilometre-long column that would advance to Kyiv—were lined up alongside houses that had been burned to the ground.
Today it seems as if the street has risen almost entirely from the ruins. Rubble and stones are still piling up in front of a few properties. Many buildings have been repaired or newly built. Even now, shortly before nightfall, people are hammering, plastering and painting everywhere. Several men are standing on scaffolding and are working on a shell. One of them is crouching on the ground with a cigarette.
He and his colleagues belonged to a construction crew from western Ukraine and have been here for a month, he says. A large poster identifies the non-governmental Global Empowerment Mission (GEM), an organization headquartered in the USA, as the financer of the reconstruction. A total of 110 houses in Woksalna should be ready for occupancy by the end of spring.
A few minutes' walk away, Woksalna Street crosses Jablunska Street. This, too, has become notorious: in March last year, corpses were lying everywhere here, some with their hands tied behind their backs, their bicycles next to them and their shopping bags torn open – all of them silent witnesses to barbaric war crimes. In April 2022, in the courtyard of a multi-storey apartment building, a few days after the liberation of Bucha, Wooden crosses with holy images from two temporary graves. But that's in the past now. Here, too, it seems to have started long ago: life afterwards.
Number of victims and the question of why?
According to Bucha city government, 458 people died during the 33-day Russian occupation, including 12 children. But this count is from last summer, the data is constantly changing because bodies are still being found and recovered. The preliminary statistics of the horror can also be found in the recently published book "Die Heldenstädte Bucha, Irpin and Hostomel' by Ukrainian journalist Yevhenia Podobna. Below the dreadful numbers is the sentence: "The most important question we will probably never get an answer to is: Why?"
Bucha City Hall is located at number 12, in the central Energetikiv Street. The long, three-story building survived the occupation almost unscathed. A premiere takes place there on a morning in mid-March, two weeks before the first anniversary of the liberation. The deputy mayor Mychailyna Skorik-Schkarivska asked representatives of non-governmental organizations and initiatives to a first networking meeting. The meeting room is filled to the last seat. A good 40 pairs of eyes look expectantly in the direction of the Deputy Mayor.
Reconstruction despite financial difficulties
Skorik-Shkarivska rose to greet them and apologized for the 10-minute delay due to an air raid alarm. She urges guests to stock up on hot drinks and appetizers, which are set out on a table in the corner. Then the presentation begins. It can be seen that the war damage amounted to the equivalent of around 178.4 million euros. This is offset by a municipal budget of 35.5 million euros for 2023. "We don't have enough money to rebuild everything," the 43-year-old summarizes the situation.
In the past year, the municipality lived mainly on aid payments from abroad. One reason for this: the region lost its largest employer due to the destruction of the Antonow military airport in Hostomel, 7 kilometers from Bucha. Before the start of the war, 53,000 people lived in the city of Bucha and 75,000 in the entire commune. Since then, the population has almost halved. But: At least 5,220 people have moved back since the end of the Russian occupation, some from other regions, as internally displaced Ukrainians.
The meeting goes into the next round, the participants are asked to briefly introduce themselves and their organizations. Scientists, doctors, psychologists and media and cultural workers have come, but also representatives of small and medium-sized businesses, tourism agencies and women's groups. A man says he is a refugee from Mariupol and has worked there in digitization projects. He now wants to let Butscha benefit from his experience.
Russian troops held Mariupol, once a thriving port city on the Sea of ​​Azov, last year during months of fighting bombed to rubble and ash – of 90 percent of the buildings there is almost nothing left. Last week, Russian President Vladimir Putin paid his first visit to occupied Mariupol, at night, in the dark, to inquire about the progress of reconstruction work, as Russian media put it.
In the meeting room in Butscha, those present have now formed small groups, and the informal part of the event begins – time for a short conversation with Mychailyna Skorik-Schkarivska. She studied journalism and is the mother of a son. Her husband was killed in a combat operation in Donbass in 2014.
Despite everything, an optimistic view of the future
She is a member of the city parliament of Irpin and has also held the position of deputy mayor of Bucha since May 2022. There are many problems, she says. So far, 800 of the 3,000 destroyed objects have been rebuilt. She is particularly concerned that many young families with children have not yet returned to Butscha. But despite everything, people were optimistic about the futureshe emphasizes.
Even before the war there was a committed civil society in the city and in the municipality. Around 30 to 50 non-governmental organizations are currently active. The need is increasing, especially for psychological support. Many only gradually realized what had happened. But giving up is not an option. "Who wants to live in a place of tragedy like Chernobyl. We are fighting to be able to live normally again here and we want to make the Butscha project a success. A repaired roof is not enough for that," says Skorik-Schkarivska.
What is able to move civic engagement can be seen just a stone's throw away from the city administration at number 3 Energetikiv Street. "Co-working – workplaces, business meetings, talks, interviews," promises a sign in a shop window. In a bright room with a counter for serving drinks, four girls are sitting at a large table, bent over drawing pads, with pens, paint and ink boxes in front of them. An elderly lady sits there as a supporter. Twelve brightly colored children's drawings hang on one wall – hardly any of them that don't show soldiers with weapons and tanks. The place has become a second living room for many. There are courses, concerts, readings, but also space for individual activities.
The journalist Irina Sadova also works here. She has lived in Butscha since 2012 and runs the web portal Bucha.life, a platform for news and information of all kinds from and about Butscha. Many bloggers are active there. Now Sadowa would like to optimize the portal, if possible in cooperation with NGOs. "We don't want strong verticals like in Russia, where information is passed on from top to bottom, we want to expand horizontally," says the 58-year-old with determination.
Mychailyna Skorik-Shkarivska, Deputy Mayor
"Who wants to live in a place of tragedy like Chernobyl?"
She herself left Butscha on March 9, 2022 and only returned six months later, last September. "When this all started, it was clear that the earth was going to burn. And that we would defend Ukraine. Nobody would submit. Putin didn't understand that," says Sadova. And now? People have learned to appreciate what they have – but nobody wants a return to the pre-war situation. Everyone would now have the desire to build a whole new city. Her son is currently in the military, the journalist says, adding: "I'm terribly afraid for him."
Not far from the building are several posters with stars, an angel and Santa Claus in a row at a distance – best wishes from the Butscha municipality for the residents at the turn of the year 2021/22. The slogan in green letters reads: "2022 – now everything is just beginning."