Racism in Australia: Almost Broken
Indigenous star journalist Stan Grant quits. Racism and discrimination in the workplace have become unbearable.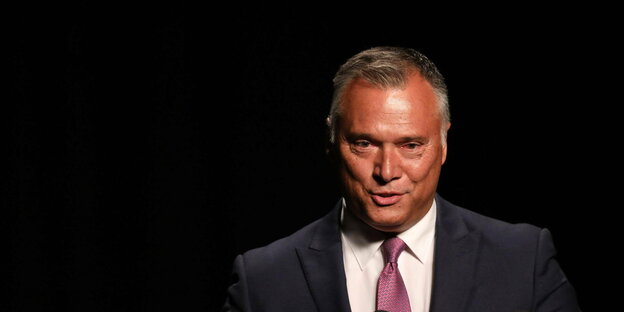 SYDNEY taz | It was a farewell speech that left no dry eye. Except probably for those who hate Stan Grant enough to wish him dead. "To those whose aim was to harm me, I say: you have achieved your aim," Grant said at the end of his last live television broadcast.
He and his family lived through hell: daily staccatos of insulting and demeaning tweets, emails and other forms of Internet communication. He will now take a break. Colleagues fear he could turn his back on the job that had been his calling for 30 years.
Stan Grant, 59, is by far Australia's best-known and most successful Indigenous journalist. He belongs to the Wiradjuri Aboriginal people and grew up in poor conditions. "I remember being the only Aboriginal child sitting in the white primary school class in a soiled sweater and feeling embarrassed," he recalled.
The shy boy became a foreign correspondent in war and crisis zones, then a well-known presenter at the American television station CNN. A few years ago, Grant returned to his native Australia. He quickly became a superstar on the public broadcaster ABC. Specials, commentary – Stan Grant was everywhere. Finally, he moderated a discussion program. But the constant racism on the internet put so much strain on his psyche that it threatened to break him.
Post-Traumatic Stress Syndrome
He's not the only one, says media professor Faith Valencia-Forrester. Psychological problems, even post-traumatic stress syndrome as a result of racist, homophobic, transphobic and xenophobic hostilities on the Internet are almost endemic among Australian journalists who do not correspond to the typical image of a white, male reporter of Anglo-Saxon origin.
The academic has written a study about such journalists – homosexuals, trans people, members of other ethnic groups, disabled and especially indigenous people. Her conclusion is devastating: "Many media workers with diverse backgrounds often suffer daily from racist comments and abuse on the Internet," she explains. 85 percent of all respondents were affected by abuse on Twitter and Facebook. But the attacks dragged down to emails that reporters received at work. Death threats or threats of sexual violence are also commonplace.
The academic Valencia-Forrester concludes that the criminal profile is almost always the same. "Research shows that it is predominantly white men who post such abuse and insults online."
The last straw for Grant was his station's coverage of the coronation of King Charles III. In a special, the journalist commented that the Crown's colonization of Australia had contributed significantly to the suffering of the indigenous peoples.
flood of hate speech
This was followed by a veritable barrage of hate speech. Stan Grant has no right to express his opinion on such a holiday – not least because ABC is a public broadcaster. This is incorrect, says Valencia-Forrester. "If Stan is invited to comment, he has the right to comment. Also a comment on behalf of his people. In doing so, he contributes to the debate".
An informed debate would be particularly important ahead of the referendum for an Aboriginal 'vote' in Parliament planned later in the year. such a body The social-democratic government proposes that politicians should in future advise on questions that are particularly important for Aboriginal people.
But a campaign by the conservative parties in close cooperation with the conservative media of the American Rupert Murdoch, which is dominant in Australia, threatens to let the plan fail. The media – all media – is Grant's greatest criticism. All too often they are "the poison in the bloodstream of society".
Grant said he was "disappointed" that his employer ABC hadn't stood up for him for days. His colleague Osman Faruki is not surprised by the lack of support from the station's hierarchy. As an Australian of Muslim descent, he was warned years ago not to work for a broadcaster that treats its white and non-white employees very differently.
The question remains: Is Australia a racist country? Academic Faith Valencia-Forrester believes that the answer can be found by analyzing who is in power and making the important decisions in Australia. "Whether in the media, in politics or in companies, the conclusion is clear. Australia is still a white country, a male-dominated country."