Queerbaiting Singer Harry Styles: Not a Queer Icon
Rainbow flags, glittery dresses, nail polish: singer Harry Styles plays with gender and sexuality. Why this is a form of queerbaiting.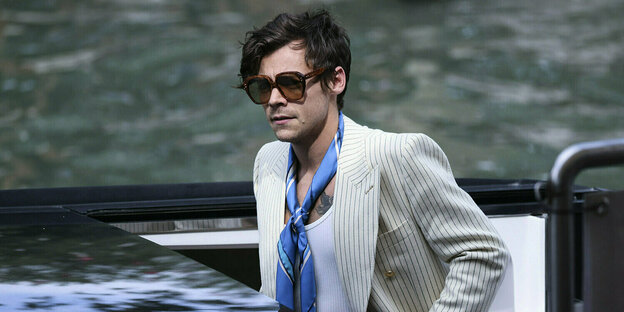 Harry Styles is everywhere. He's on a world tour, adorns magazine covers, you can hardly escape his music on TikTok, two of his films, "Don't Worry Darling" and "My Policeman", will be released in the next few weeks, and the press dates at the Venice Film Festival also recently produced a bunch of awesome meme stuff.
For years, Harry Styles was considered the music industry's golden boy who couldn't seem to do anything wrong. Recently, however, critical voices have become louder, accusing him of engage in queerbaiting – a supposed representation of queerness (e.g. through clothing or performance) that is intended to inspire certain people while remaining so superficial that it does not deter others.
In other words: you try to attract queer audiences (and allies) without losing those who don't get it. Harry Styles is considered a queer icon. This is an attribution, because not only has he never come out, he has also only been with normal women like Olivia Wilde, Taylor Swift or Kendall Jenner.
One Direction fans have always had the homoerotic conspiracy theory that he and Louis Tomlinson had a secret romance. That was never confirmed. Now, of course, you shouldn't pressure people to come out. Until Styles positions himself clearly, he remains a cishet man who likes to wear colorful, glittery clothes.
White Privilege
The fact that he attracts so much attention with his style is also White Privilege, because neither Billy Porter nor Lil Nas X, both gay black entertainers with flashy clothes, are as present in the media. In addition, he is not a pioneer, David Bowie, Freddie Mercury and Kurt Cobain already wore clothing and nail polish with female connotations. So Harry Styles' ambivalent portrayal of gender fluidity and sexual identity is not new.
On the one hand, one can argue that it's great when cishet men (like Damiano von Måneskin or Timothée Chalamet) bring a queer style into the mainstream because it may open new doors for more normalization and acceptance.
But: in times of backlash against LGBTQ people (especially trans people) gender and sexuality are highly political. Flying a rainbow flag on stage is no longer an act of defiance today, as even Burger King, BP and the US Marines change their logo during Pride Month, but nothing more than rainbow capitalism.
It can be connected without really dealing with the negative sides of queer life, and is therefore apolitical. It's time to finally take the critical voices from the queer community seriously and stop stylizing Harry Styles as an LGBTQ icon. There are enough cool queer celebrities who deserve more.