Purge in China's Communist Party: Corruption and Dissent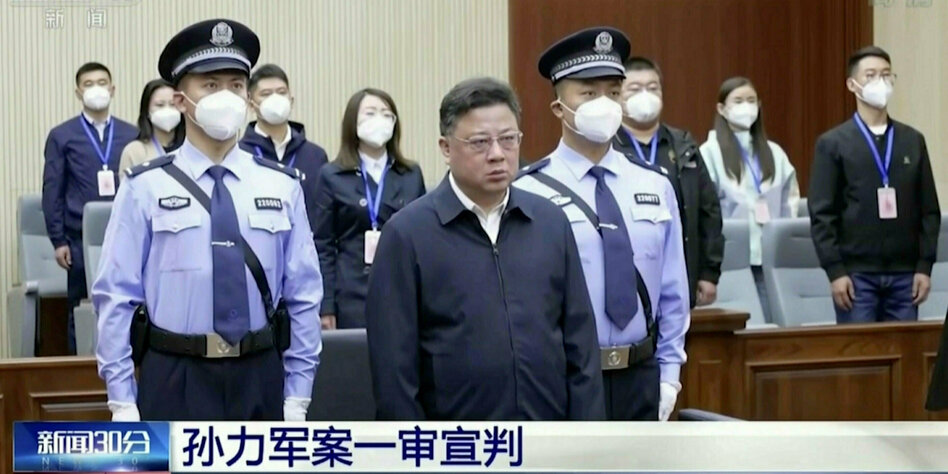 High-ranking cadres are sentenced to severe punishment for corruption. A warning to political opponents, a few weeks before the party congress.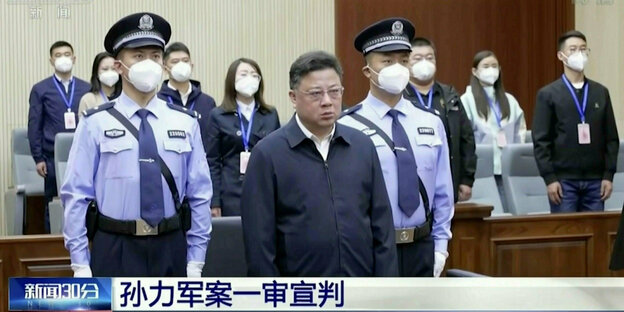 BEIJING taz | The biggest wave of purges within China's power apparatus in recent years came to a spectacular end on Friday: Sun Lijun, former Deputy Minister of Public Security, was sentenced to death, with the sentence suspended for two years and then commuted to life imprisonment target.
The court in northern China's Changchun has found it proven that the 53-year-old party official accepted bribes totaling almost 100 million euros throughout his political career. Furthermore, Sun is said to have manipulated stock prices and owned several firearms.
But his cause also has a political dimension above all: Sun is accused of having formed an opposition "clique" as the leading head, which has positioned itself against state and party leader Xi Jinping. Former Justice Minister Fu Zhenghua, who was also sentenced to life imprisonment for corruption on Thursday, is said to have belonged to the political clique.
Also similar are the cases of the police chiefs of Shanghai, Chongqing and Shanxi, who were sentenced to long prison terms this week. In total, six leading cadres from the Chinese security apparatus were hit this week alone.
The leadership decides who is pilloried as corrupt
The timing of the highly orchestrated purge is, of course, no coincidence. It comes just weeks before the historic 20th Party Congress in Beijing, during which Xi Jinping is expected to proclaim his third term in office - as the first head of state since Mao Zedong. Because after Mao's death, the leadership of the communist party even limited the head of state's term of office to two legislative periods. The fact that Xi is breaking with this convention and potentially proclaiming himself leader for life is likely to have sparked considerable controversy within the power apparatus.
Soon after taking power, the party leader, who has been in office since 2012, launched an unprecedented anti-corruption campaign that has put hundreds of thousands of government officials behind bars in recent years.
On the one hand, the 69-year-old was concerned with curbing the corruption that is actually rampant. The party apparatus was obviously morally degenerate at the time: quite a few local government officials proudly flaunted their mistresses and gold watches even to foreign journalists in those days. Accordingly, deep abysses have opened up during spectacular raids in recent years.
Prime-time arrests
But at the same time, Xi has always used his campaign to silence political competitors. Because observers noticed early on that his closest allies were spared the fight against corruption.
In addition, Xi's security apparatus has consistently taken action against investigative journalists, who were able to uncover a number of corrupt party cadres at the local level during the noughties. The message was clear: the party leadership decides who will be pilloried. The current verdicts are undoubtedly to be understood as a warning to potential adversaries.
The message of the wave of cleansing is likely to catch on among the population: the – presumably forced – confessions of the expelled party cadres were broadcast on state television at prime time and celebrated with martial slogans: "Sort out the harmful members from the herd!".