Pulmonary specialist on Long Covid: "Early help is important"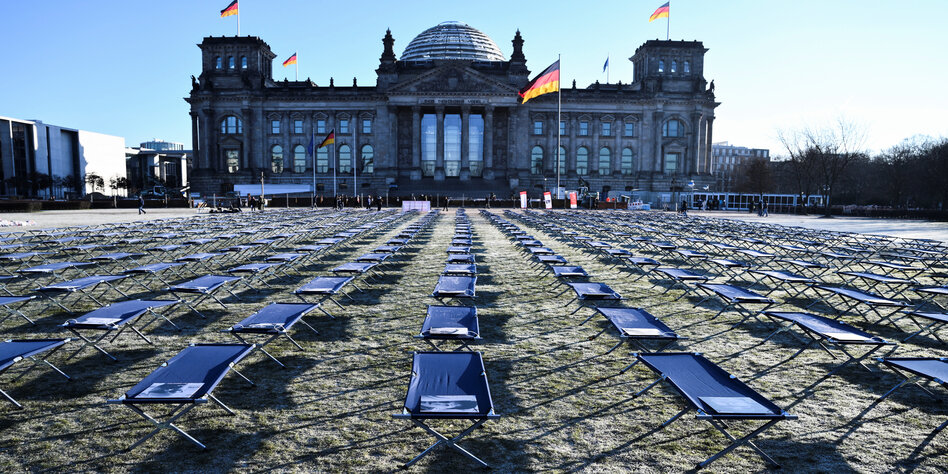 Jördis Frommhold founded Germany's first institute for advising those affected by long-Covid. The supply should not be postponed.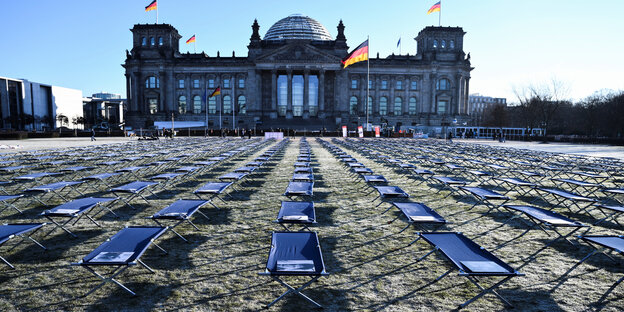 taz: Ms. Frommhold, there are people who have been fighting Long Covid for almost 3 years. What is the care of those affected like now?
Joerdis Frommhold: That is a big problem. We have an enormous number of chronically ill patients here who do not just need a diagnosis from a specialist or sick leave from their family doctor or some form of rehabilitation. These are people who have been on sick leave for months, but who often do not receive any further therapeutic help. We can't cure Long Covid yet, but early help is important. Before people can just lie in bed.
On Thursday, the Bundestag will discuss an application by the CDU/CSU parliamentary group to help those affected by the so-called fatigue syndrome. The debate is scheduled for 6 p.m.
the "Not Recovered" Initiative demonstrated on Thursday in Berlin with 400 camp beds in front of the Bundestag for more research on long-Covid and chronic fatigue syndrome. According to initiator Ricarda Piepenhagen, these should symbolize those affected who can no longer get up and be there themselves. In a petition, the initiative calls on the federal government to increase state funding for further clinical studies and therapy options to at least 100 million euros for two years. According to the initiative, the petition has already been signed by around 60,000 people. epd/dpa
At the beginning of the pandemic, there were many doctors who suspected that Long Covid was primarily a psychological problem. Has that changed?
Unfortunately, this camp still exists. Straight in young women even serious neurological symptoms are often dismissed. In fact, the clinical picture is too complex to be pigeonholed. There are patients who are more affected by exhaustion. The cause is probably autoimmune. Then there are long covid patients who have the biggest problem in the area of ​​respiratory mechanics. All examinations of the lungs and the heart are unremarkable, and yet the people cannot climb the stairs or have chest pains.
Then there are people who primarily have cognitive limitations. This could be a vascular problem. We don't fully understand the issues yet. But to say that it's all psychosomatic – people really make it too easy for themselves.
In the case of the fatigue syndrome ME/CFS, those affected felt this way for decades.
Unfortunately, this is a sad truth. We have known for a long time about post-infectious syndromes that could not only be explained psychosomatically: after the Epstein-Barr virus, after Lyme disease, after the Spanish flu, after influenza. Symptoms can also be intensified by previous psychosomatic illnesses, and it is no wonder that patients who have been left alone for months or years also develop mental problems.
founded the Long Covid Institute, funded by the state of Mecklenburg-Western Pomerania, in October 2022, which is intended to advise both patients and companies throughout Germany. Previously, as chief physician at the Heiligendamm rehabilitation clinic, she treated people affected by long-Covid.
There are probably hundreds of thousands of people affected. And now since January 1st, your institute for long-Covid sufferers here in Rostock.
The rush was huge even before the official opening. We look after patients from all over Germany and German-speaking countries, about half of them via video consultation. We see ourselves as a kind of pilot for the further therapeutic but also socio-medical procedure and thus establish a new form of care using the example of long Covid sufferers.
What can the therapeutic approach look like?
Depending on the diagnosis, there is the possibility of certain respiratory therapies, ergotherapeutic and behavioral therapy approaches, drug treatment. Experimental therapies are also possible. But if the patients don't have the structures on site or they wait months for appointments, that's a problem. We will now also hire a psychologist and a physiotherapist and work with teletherapy. We are also planning further institutes at other locations.
Paid you the federal government? Finally, in the coalition agreement, they promised nationwide care for those affected by long-Covid.
no We started with our own funds and received start-up financing from the state of Mecklenburg-Western Pomerania. The federal government is focusing on outpatient clinics for those affected by long-Covid, but as far as I know, they are mainly responsible for diagnostics, and those affected often have to wait months for appointments.
Of course, if I have chest pains, I have to rule out the possibility of a heart attack coming soon. Diagnostics are important. But then, if nothing organic is found, you can't just send people home and leave them alone.
Does your health insurance company pay for your patient consultation hours?
Not yet. We hope that this will change this quarter and that we will get our offer into standard care. At the moment, an initial consultation costs 60 to 80 euros.
Most therapies are chargeable.
That's right, and it's because it's all being used off-label. Basically, it is understandable that the health insurance companies do not pay for therapies that have not yet been sufficiently tested for the clinical picture. But we also cannot afford that another year and a half elapse for those affected.
Out of desperation, some spend up to 15,000 euros on procedures such as blood washing. Private providers make money from it and only those affected with money can afford the treatments. Isn't that a blatant form of class medicine?
It's a huge problem, I have to say. Our approach is to take a close look at which therapy makes sense for whom and then start with the least effort. Anyone who is familiar with the care of long Covid sufferers knows which symptom-oriented therapy options can also be used to save costs.
Someone with respiratory mechanics problems does not need dialysis. For someone with fatigue who has exhausted everything else, the procedure can be a last resort, weighing the risks. We give the patient recommendations to the general practitioner for further treatment so that no further costs are incurred.
And then they implement it?
Many yes, unfortunately not all. But those affected need constant care.
Many people with Long Covid were previously in the middle of their professional lives. If there is no cure right now, what does that mean for the world of work?
People want their lives back and go straight back to work 100 percent. Behind this is the pressure to perform in our society, but of course also the concern for one's own financial existence. And then there will be a ping-pong game between being overworked and going back to work, with the exhaustion continuing to solidify. In the worst case, people end up permanently disabled, bedridden or in a wheelchair.
What helps?
Advice must actually take place immediately here, and not just for those affected. The reintegration of long-Covid patients is a task for the entire field of occupational medicine. He has led a shadowy existence so far. Those affected often know for themselves what works for them if they are given the opportunity. There are people who can only work two hours a day at first, have to lie down for half an hour every two hours, need more home office or a day off every two days. We can forget the classic reintegration.
And should employers take part in this?
We recently had an event with the Chamber of Industry and Commerce, of course there are reservations. "My people have to give 100 percent when they get back to work," some employers say. But honestly, what do you want to do in view of the shortage of skilled workers? We cannot afford to have all of the Long Covid and ME/CFS sufferers who could still work become disabled. So we have to give them a working environment that works for them.