Protests in Iran: network blocked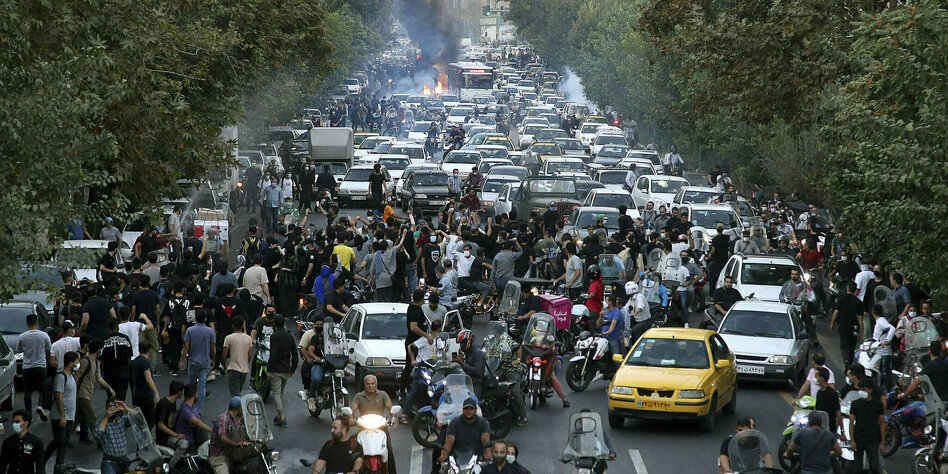 There are hardly any reliable reports from the protests in Iran. The Internet was apparently largely blocked on Wednesday evening.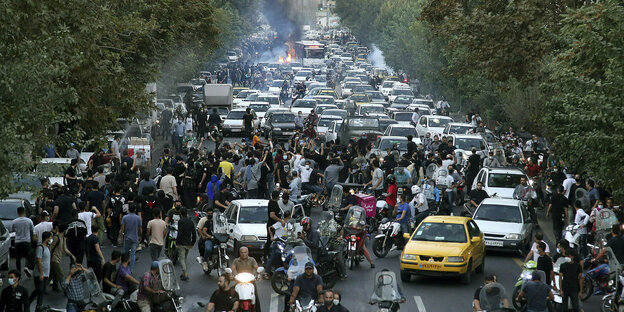 They still exist. Isolated videos of the people who have been demonstrating against the regime in Iran for days. Of propaganda posters set on fire. Of demonstrators rushing towards police forces. Or from Police officers relentlessly cracking down on protesters. But they have become fewer. Probably not because the protests have abated - but we don't even know exactly that.
Because obviously the Internet in the country has been largely blocked since Wednesday evening. This is reported by the organization Netblocks, which analyzes the flow of data in the global network. "Real-time network data shows a nationwide loss of connectivity," tweeted Netblocks. There are large-scale failures with the WhatsApp messenger service and the Instagram photo platform.
Netblocks had already observed massive network disruptions in western Iran on Monday. Kurds live there. One of them was 22-year-old Mahsa Amini, who was arrested by police in Tehran last week for wearing a headscarf that was not in accordance with Islam. A little later she was dead. Her case is what triggered the protests.
The new Internet blockades not only make communication within the protest movement more difficult. They also make it difficult to see from the outside. Because there are almost no reliable reports from the country. Independent authors would endanger themselves by sending reports abroad. And external observers lack access.
methods of verification
"There are hardly any international journalists left in Iran. And if they do, they're forbidden from filming the protests," said the ARD correspondent Natalie Amiri on Tuesday to the media magazine Zapp. Therefore, social media is the only weapon of the civilian population. By spreading videos, she creates worldwide attention. Amiri already knew what was going to happen, because unlike in previous protests, the Iranian telecom authority can now "throttle almost all Internet traffic at will."
However, global attention to the new wave of protests in Iran was already limited. For example, there are dozens of videos of protest actions from many cities in the country on Twitter. But the videos are usually only a few seconds long. They only show small excerpts. What is in the area remains unclear. The overall picture remains blurred, one must not overinterpret it.
It is also only rarely possible to see how large the crowd of demonstrators actually is. It is doubtful that they actually shape the cityscape, especially in a city with a population of more than one million like Tehran. In most cases, without precise local knowledge, it is not even possible to verify the place of origin. One is often dependent on the information provided by those who distribute the videos. Without precise local knowledge, these can only be verified in the rarest of cases.
But there are exceptions. For example, a widely shared scene shows how a water cannon first advances against demonstrators and then has to retreat again because of the fierce resistance. "Valiasr Square Today" is given as the location and time. The time cannot be checked. But you can find the place on Google Maps in Tehran. There is no street view of the Iranian capital. But there are links to photos taken there on the online map. One shows one of the house facades on the edge of the large roundaboutwhich can also be seen in the video.
Other tweets gain in probative value because there are several videos of a scene from different perspectives - for example by a womantaking part in protests in the city of Kerman demonstratively cutting off his hair. A third possibility is confirmation by independent observers from abroad, for example if an exiled Iranian can confirm location information, because the pictures were taken in his native town.
At best, all of these scenes reflect excerpts of the situation in Iran. But from the large number of videos, an overall picture emerges that points to a new quality of the protests - perhaps also pointing to them in the future.