Protests in Iran: Eleven defendants face the death penalty
Draconian punishments against protesters are being implemented in Iran. Nationwide protests against the leadership of the Islamic Republic continue.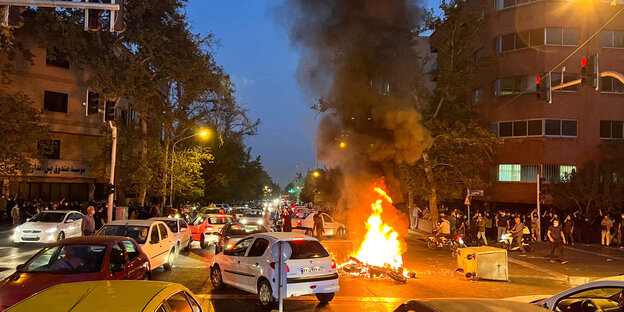 DUBAI rtr | The Iranian judiciary starts with the implementation of the draconian punishments threatened against anti-government protesters. Ten men and a woman have been charged with the killing of a member of the Basij militias during a rally near Tehran on November 3, the IRNA news agency reported on Saturday. You face the death penalty.
The militia, loyal to the clergy, was deployed to put down the protests after the death of 22-year-old Mahsa Amini. The Kurd died in police custody on September 16. The so-called vice police arrested her because she was said to have been dressed inappropriately.
Rallies against the leadership of the Islamic Republic that have been going on across the country for weeks Apparently they lasted over the weekend too. A video was published on the widely read Twitter account 1500tasvir that allegedly showed night-time protests in the coastal Caspian Sea town of Babolsar. Gasoline bombs are shown being dropped on a Basij base.
According to the US-based human rights organization HRANA, 336 demonstrators have been killed in the riots as of Friday, including 52 minors. 39 members of the security forces were also killed. So far, almost 15,100 people are because of the protests been arrestedit said.