Protests in France: Again riots in Paris
Nationwide protests against the pension reform took place on Saturday. It was passed by decision of President Macron. Refinery blockades continue.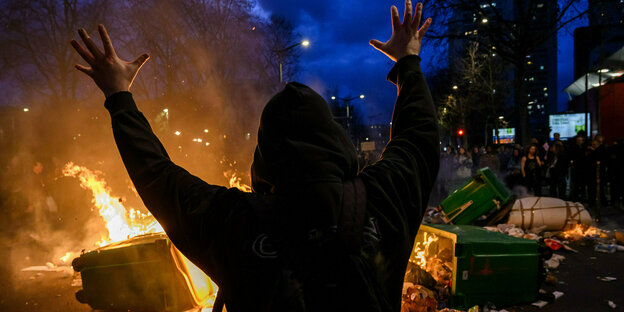 PARIS dpa | In Paris, riots broke out for the third time in a row at a spontaneous demonstration against the French government's pension reform measures on Saturday. How the news channel BFMTV citing police circles, 81 people were arrested during the riots between demonstrators and security forces. Around 4,000 demonstrators had gathered for the rally in the 13th arrondissement in the south of the French capital.
According to media reports, protesters set fire to garbage cans and tried to set up barricades. The police used water cannon and tear gas. Spontaneous protests also erupted in Nantes, Marseille and other French cities.
Since the government's decision on Thursdayto push through the controversial reform with the help of Special Article 49.3 without a vote in the National Assembly, the protests continue.
General strike called for next Thursday
Pension reform is considered the most important President Macron's reform project. This increases the retirement age from 62 to 64 years. At the last minute on Thursday, the government had concerns that not enough MPs would approve the reform and therefore resorted to Article 49.3 of the Constitution.
The trade unions have been fighting the reform project for weeks with strikes and mass demonstrations. A new day of strikes and protests is planned for next Thursday (March 23).