Protests for women's rights in Iran: Who's afraid of a free mind?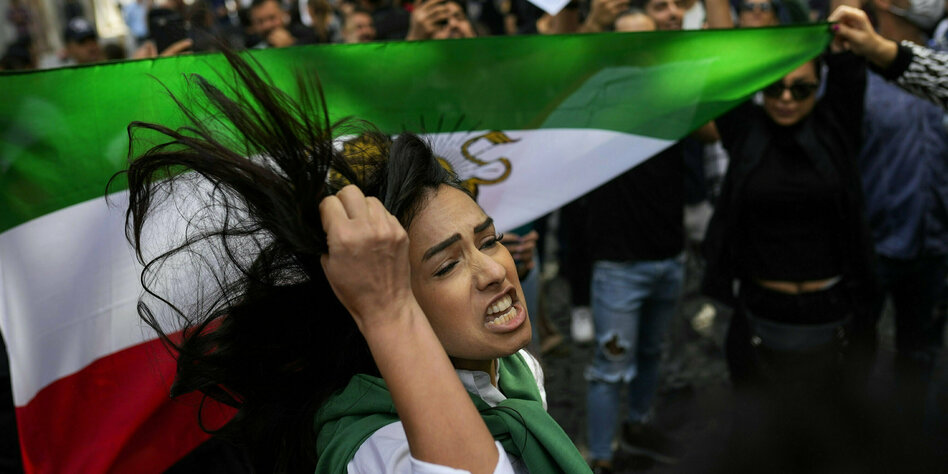 In Iran, women are protesting against the compulsory veil as a tool of oppression. The left should not hesitate to support her cause.
What a woman wears or doesn't wear on her head says little about what's going on in her head. There are women who cover themselves for religious reasons and there are women who do it because of social pressure and convention. Some women see their headscarf as a sign of self-determination, some wear it to protect themselves. I know women in Germany who lost jobs because they decided to wear the headscarf. There are women in Turkey who are ostracized if they take off their headscarves.
All these meanings and positions on the headscarf exist, there are countless more. And we can acknowledge this multiplicity of meanings and still state: the legal veil in Iran is a totalitarian tool of oppression. And just one of many. Since Death of 22-year-old Mahsa Zhina Amini headscarves were burning on the streets of Iran last week. And this sight should be perceived for what it is in this context, regardless of the many other meanings of this fabric: an act of feminist resistance. Amini was arrested and tortured by the so-called religious police for not wearing her headscarf "properly". There may have been a few strands of hair visible. After three days in a coma, the young woman died, most likely as a result of her mistreatment.
Since then, men and women in Iran have been protesting against the mullahs' regime every day, knowing full well that they will be arrested and, in the worst case, pay with their lives. In addition to the great uprising in the capital Tehran, there have been countless protests, especially in the Kurdish cities in the west, for a week now, which the police brutally suppressed and shot at. According to the human rights organization Hengaw are alone in Kurdistan until Thursday at least eight protesters have been killed by Iranian security forces, including two teenagers aged 15 and 16. At the same time, the government shut down the internet and blocked the last freely accessible social network in Iran, Instagram, in order to isolate the population from the outside world and from each other. Nevertheless, people continue to take to the streets.
Leftists must support the uprising
The 22-year-old Amini herself, who was arrested in Tehran on September 13, was visiting relatives. She actually came from the Kurdish city of Saqqez and bore the Kurdish name Zhina. On paper, her name was Mahsa, as Iranian authorities do not recognize Kurdish names. That too is a tool of state repression, also known from Turkey.
We should know from the past how brutally the Islamic Republic suppresses protests, so it is essential that we show solidarity with this popular uprising, that we don't let it fall into oblivion, especially as leftists. Because yes, it makes a difference whether a headscarf burns in the streets of Dresden or in Kurdistan. It makes a difference whether the right exploits this uprising or whether the left supports it and makes it heard.
Unfortunately, I notice how hesitant many supposed comrades are when it comes to condemning atrocities committed by an Islamist regime. That kills people because they demonstrate for very basic human rights. Establishing an institution for the sole purpose of regulating the appearance and life of women, using torture if necessary. That systematically persecutes minorities because they stand up for their self-determination. How emancipatory can a left call itself that looks the other way?