Promises of the CSU: Söder's cornucopia for the election campaign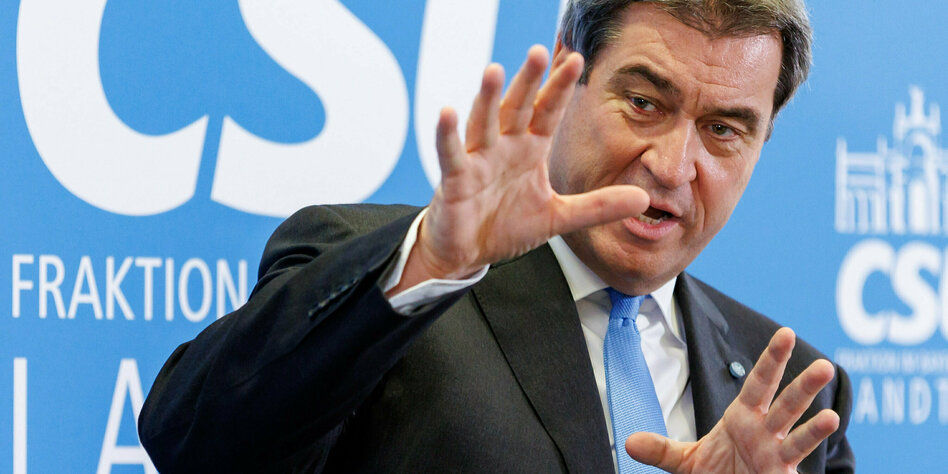 Free master training, lots of bike paths and nurses from the Balkans – in the election year, CSU boss Söder wants to dig deep into Bavaria's treasury.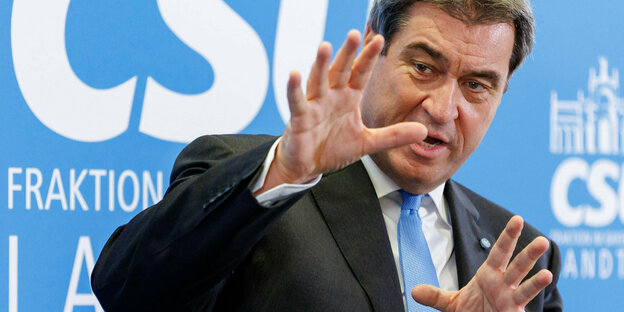 MUNICH taz | An exam in the election year is like the first game at a world championship, explains Markus Söder after his keynote address to the CSU state parliamentarians. And you can be sure that, from his point of view, this World Cup game is already won – at half-time. The closed conference in the Banz monastery in Upper Franconia will continue until noon tomorrow.
Announces a "marathon at full steam". the CSU chief when he appeared in front of the press together with parliamentary group leader Thomas Kreuzer after his speech. And that's just one of many announcements he's brought with him for the Free State. The prime minister unpacks a suitcase full of campaign promises in the monastery. His goal is not to campaign, but to govern well, he claims. The only question is whether government and campaigning are actually two separate issues here.
In any case, it is clear that Söder wants to present himself as a doer in the election year. In detail, he came up with the following: After 5,600 new teachers who had already been hired during the current legislature, there should be another 6,000 jobs over the next five years – plus 2,000 jobs for school staff such as administrators and school psychologists . In order to fill these positions, among other things, workers are to be recruited from other federal states. After all, teachers in Bavaria are better paid, and there is also a package for start-up and relocation assistance as a decision-making aid.
Söder wants to implement the legal entitlement to all-day care at the primary schools by 2028, and by then all Bavarian pupils should have received a laptop or tablet. Language day-care centers, which Federal Family Minister Lisa Paus (Greens) no longer wants to fund in the future, would continue in Bavaria. A 29-euro ticket will be available for students and trainees from the 2023/24 winter semester. Another expensive project: the master's degree should be free from next year, it costs the country 200 million euros a year.
Opposition speaks of window dressing
In order to counter the shortage of nursing staff, Söder wants to recruit staff abroad. Corresponding offices are to be opened in the Western Balkans. The CSU boss speaks of a "fast lane for care and support". In the future, this will also include easier recognition of relevant foreign professional qualifications.
In addition, the expansion of roads, but also of public transport, should come, by 2028 Söder wants to purchase 2,000 "climate buses" and build 15,000 kilometers of cycle paths. There should be a one-euro ticket for taking bikes on the S-Bahn and trains. He wants to take the wind out of the sails of an ongoing referendum for better cycling.
After the Prime Minister's full-bodied announcements, opposition leader Katharina Schulze from the Greens immediately spoke up from the state parliament: "The Söder government is once again announcing a lot – without presenting effective measures on how to keep the promises." For example, there was a lack of teachers throughout Germany, not only in Bavaria. The plan to poach them in other federal states is therefore "pure window dressing". Instead, simpler recognition procedures are needed for teachers from abroad.
Schulze supports the 29-euro ticket and the free master craftsman training, but also describes the measures as overdue: your party has been demanding both for a long time.
Söder hangs low
SPD leader Florian von Brunn makes a similar statement: "The announcement world champion Söder shovels even more on top of his big mountain of broken promises. Eight months before the election, he is announcing all the good deeds he had four and a half years to do. Whether he will implement them is of course in the stars." Von Brunn recalls 10,000 new apartments from the state housing association Bayernheim, which Söder promised Söder, a nursing place guarantee and the 365-euro ticket. None of this has been implemented.
Söder should not be concerned about the allegations from the Greens, who were 18 percent in the most recent "Bayern trend", and the SPD (9 percent), especially since his government is currently stable in all surveys. As a precaution, he sets the bar for his own result as low as possible: "More than 2018 would be nice", but he wants a stable majority, not a "percentage debate". In 2018, the CSU had reached a historic low with Söder as the top candidate with 37.2 percent of the vote.
And in any case, Söder seems to have had a new goal in mind for a long time: the 2028 state elections. At the beginning of his term in office, Söder had proposed a constitutional amendment with which he wanted to limit the term of office of the prime minister to two legislative periods, which at the time failed due to the opposition. That's why Söder no longer sees himself bound by the requirement: "It now applies to 10 plus."