Proceedings against ex-President Trump: forgery, fraud, conspiracy
Trump and three of his children are threatened with billions in fines and business bans. The Attorney General speaks of a "range of fraud".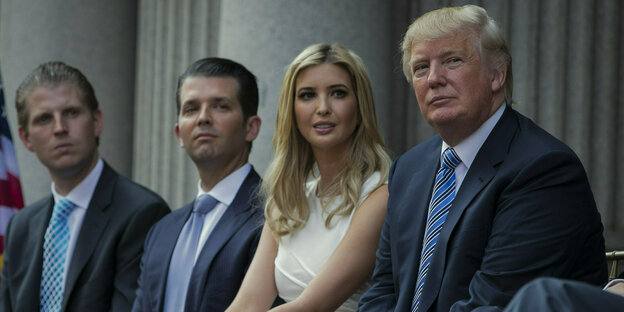 NEW YORK taz | The former US President is said to have inflated his fortune by "billions of dollars" in order to get better credit and cheaper insurance terms. One of his tricks is said to have included tripling the size of his New York penthouse apartment. That's how Letitia James, the attorney general and attorney general for the state of New York, described it in a press conference on Wednesday.
After three and a half years of investigating the Trump Organization's business practices, she plans to file a civil lawsuit for fraud and counterfeiting against Donald Trump and his three eldest children, Donald, Ivanka and Eric. If convicted, they risk a five-year ban from doing business in New York and a fine of up to $250 million. Because of their entrepreneurial machinations, they are also threatened with criminal proceedings.
James has summarized her investigations into the business practices of the Trump Organization on 222 pages. She describes events in New York City that precede the years of the Trump presidency. At her press conference, she spoke of an "amazing range of fraud". Referring to a book in which Trump described his business dealings, she said, "This is not the art of dealing, it is the art of stealing."
When James was summoned, Trump refused to testify a few weeks ago. He invoked the Fifth Amendment - the right not to incriminate oneself. On Wednesday evening he went in the right-wing Fox TV station in the counteroffensive. He denied all allegations and described in detail that his company was "great", the "best" and the "strongest".
Trump under legal pressure
For Trump, this Wednesday was a day of political and legal blows. For now, it's unclear if the trial James is seeking will actually materialize. But it is already certain that another trial against the Trump Organization will be opened in New York at the end of October. It is also about illegal business practices and tax evasion by the group.
Trump's former chief financial officer, Allen Weisselberg, who has benefited from multimillion-dollar undeclared grants for years, could become a liability for his former boss. Weisselberg has pleaded guilty to 15 criminal offenses in the hope of a light sentence. As part of the debt settlement, Trump's longtime and loyal collaborator must testify in the process. Weisselmann knew the machinations of the Trump Organization from the inside.
Trump is also coming under increasing legal and political pressure in the US capital and in the state of Georgia. After half a century as a businessman and four years as US President, he managed to intimidate and largely fend off investigators with threats and out-of-court settlements, but he is increasingly unable to do so.
In Washington, the Special Inquiry Committee hearings on January 6th move on. Trump's role is in the violent Storming the US Capitol in the foreground. The special committee can only condemn Trump politically, but not legally. But at the same time, the Justice Department in Washington is continuing to investigate Trump. After indicting hundreds of Capitol stormers, it is investigating whether Trump may be criminally responsible for the incident.
African American politicians vs. Trump
In another case against the ex-president, the US Department of Justice achieved a legal success on Wednesday. Trump had tried the evaluation of a house search in his Florida residence Mar-a-Lago seized documents to stop. A judge in Florida followed him and stopped the evaluation. But this Wednesday, three appeal judges ruled that the inspection of the documents, including thousands of secret documents, can continue immediately.
New York Democrat James is one of several African American politicians who are prosecuting Trump's machinations. In Georgia, prosecutor Fanni T. Willis is investigating the pressure the ex-president put on Georgia Secretary of State Brad Raffensperger, who is responsible for organizing the elections, after the 2020 election. "Find 11,780 votes!" Trump is said to have demanded during a phone call to State Secretary Raffensperger after his election defeat in Georgia.
That number of ballots would have been needed to turn Democrat Joe Biden's victory in Georgia into a Trump victory. In Georgia, prosecutor Willis has already subpoenaed two close Trump associates: former New York Mayor Rudolph Giuliani and South Carolina Republican Lindsey Graham. Trump accuses both women of running a "witch hunt" against him.