Political prisoners in Nicaragua: Daniel Ortega shows no mercy
An attempt by the Colombian government to free at least some of the more than 200 political prisoners in Nicaragua has failed.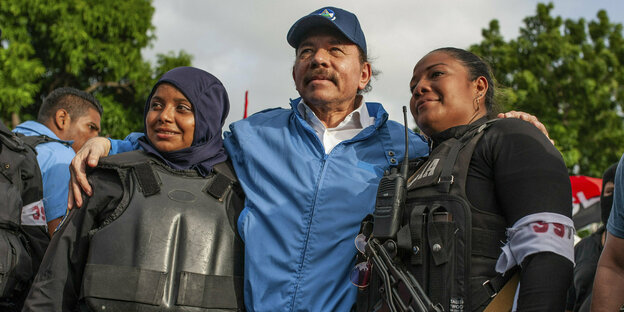 VIENNA taz | "And should you send Saint Peter as a messenger," Nicaragua would not release its political prisoners. What William Grigsby Vado sneered at on Monday on his well-heard broadcaster La Primerísima can be understood as the position of the government of Daniel Ortega and his wife Rosario Murillo. The veteran radio journalist is one of the regime's official mouthpieces.
Grigsby refers to a secret initiative of the new Colombian Foreign Minister Álvaro Leyva, which was made public by the Colombian media. Daniel Coronell, Editor-in-Chief of the online newspaper cambiohad found that the Colombian government had proposed to ease a decades-old border dispute in the Caribbean in exchange for Nicaragua releasing at least 14 political prisoners.
It is in this light that Colombia's representative was absent from a vote by the Organization of American States (OAS) that almost unanimously condemned Nicaragua's systematic human rights abuses.
It's all about them Leaders of the opposition party Unamos (formerly MRS): Dora María Téllez, Suyen Barahona, Tamara Dávila and Ana Margarita Vijil. There are also politicians, journalists, student leaders and business representatives, some of whom opposed Daniel Ortega at the last year's presidential elections wanted to compete from November 7th.
Cruel prison conditions for the prisoners
They were arrested every three to four months before elections and sentenced to lengthy prison terms under specially created laws for treason, "undermining national sovereignty" or other obviously fabricated crimes.
The conditions of detention are extremely cruel. Some of the prisoners starve in solitary confinement in total darkness. According to credible reports from relatives, all of them receive only inadequate medical care and are inadequately fed. The ex-general and former companion of Daniel Ortega, Hugo Torresdied in February due to a lack of adequate treatment for his condition.
When relatives recently raised the alarm about cuts in food rations, the government felt compelled to bring 23 of the most prominent prisoners before a judge at an extraordinary hearing. There is no basis for the "informative hearing" in Nicaraguan criminal procedure law.
Local legal experts say the charade was intended to show the public that the prisoners were still alive. Pale and emaciated, they could be filmed and photographed by the media loyal to the regime. Some are said to have lost up to 30 kilos.
According to independent human rights organizations, a total of 205 prisoners of conscience are currently being held in Ortega's dungeons. Then in August the prominent Bishop of Matagalpa, Rolando Alvarez, and half a dozen other clergymen under house arrest. Church radio stations in the Diocese of Matagalpa have been stormed by the police and shut down.
The fact that Pope Francis remained silent for a long time and finally only very diplomatically spoke out in favor of "dialogue and reconciliation" in Nicaragua is interpreted by many as weakness in relation to a despotic regime. As has now become known on the occasion of the Colombian initiative, the head of the church may have been involved behind the scenes in a search for a solution for the political prisoners.