Political prisoner in Egypt: activist ends hunger strike
Democracy activist Alaa Abdel Fattah, who was imprisoned in Egypt, has apparently ended his hunger strike. This was announced by his family.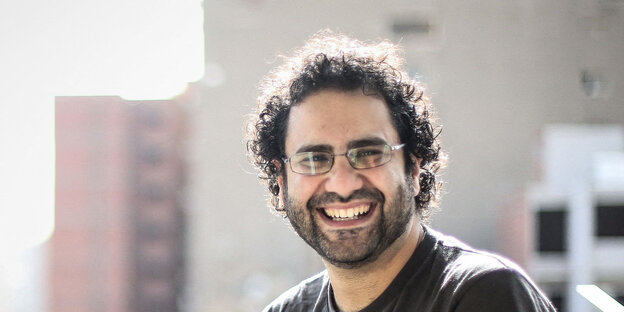 BERLIN dpa/taz | British-Egyptian democracy activist imprisoned in Egypt Alaa Abdel Fattah apparently ended his hunger strike. His family said on Tuesday that Abdel Fattah had informed them in a letter dated Monday that he had started eating again. "I broke my strike," read Fattah's handwritten letter.
Abdel Fattah was a key figure in Egypt's 2011 Arab Spring – the revolution that ousted the longtime ruler Hosni Mubarak led. Abdel Fattah, now 40, has spent much of the past few years behind bars since he was sentenced to five years in prison in 2021. He has been imprisoned since 2019.
The activist had been on a limited hunger strike for more than half a year and only consumed 100 calories a day. With the beginning of World Climate Conference in Sharm al-Sheikh a week and a half ago he started not eating any calories or drinking water. This had fueled concerns that the activist might die.
The White House had expressed "deeply concerned" about the health of the activist. Chancellor Olaf Scholz (SPD) had called for his release during his visit to Sharm al-Sheikh. Last week, the activist's family said they applied for a pardon from Egyptian President Abdel Fattah al-Sisi. According to human rights organizations such as Amnesty International, there are around 60,000 political prisoners in Egypt.