Podcast "Bundestalk": Is this the turning point in the Ukraine war?
The Ukrainian army is reclaiming terrain. The taz correspondents from Kyiv and Moscow report what that means.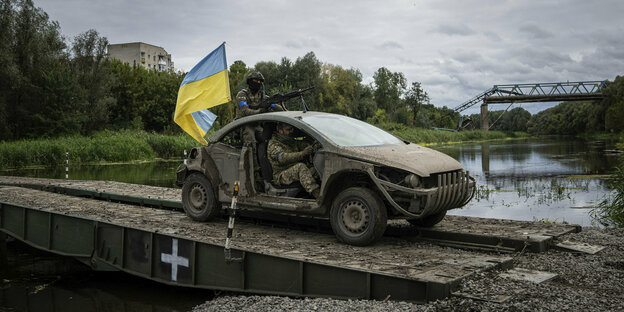 BERLIN taz | In the past week, the Ukrainian army has great terrain gains made, Russia has its soldiers "regrouped", as Putin calls it – others call it flight and are already talking about a turning point in the war.
We would like to show you some external content here. They decide whether they also want to see this element.
I consent to external content being displayed to me. This allows personal data to be transmitted to third-party platforms. Read more about our privacy policy.
Can that be true? How does this change the mood in Russia? And can normality return to the liberated areas, as Ukrainian President Zelenskiy wants?
And what does this mean for Germany, where the debate on tank deliveries burned up again is?
Talking about this in the new episode of the "Bundestalk": Inna Hartwich, the Russia correspondent of the taz, who usually lives in Moscow with her family, but is currently in Berlin for the meeting of the taz foreign correspondents. The Ukraine correspondent Bernhard Clasen, who lives in Kyiv, is also in the city. There are also Tobias Schulze, defense expert from the taz parliamentary office, and the domestic political correspondent Sabine am Orde.
"federal talk" – The political taz podcast, every two weeks on taz.de, Spotify, Deezer and iTunes.