Pacific Ring of Fire: Earth trembles in West Java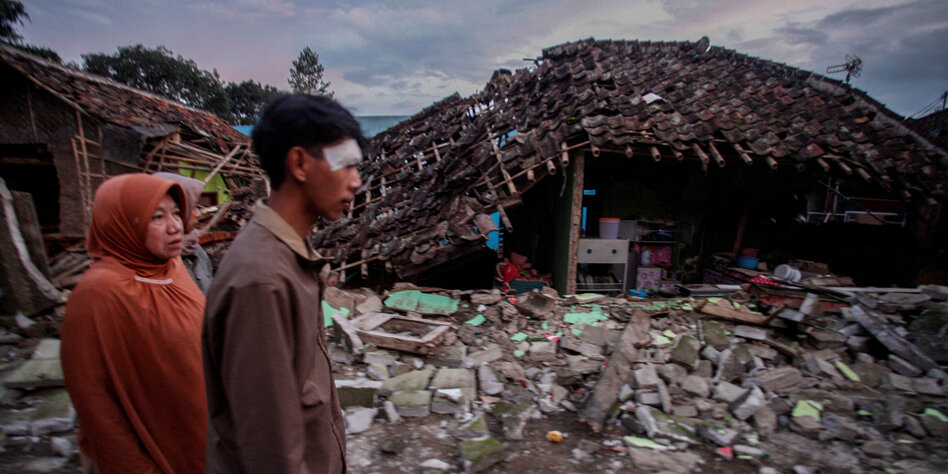 In Indonesia, landslides and power outages hamper rescue operations after a 5.6 magnitude earthquake southeast of Jakarta.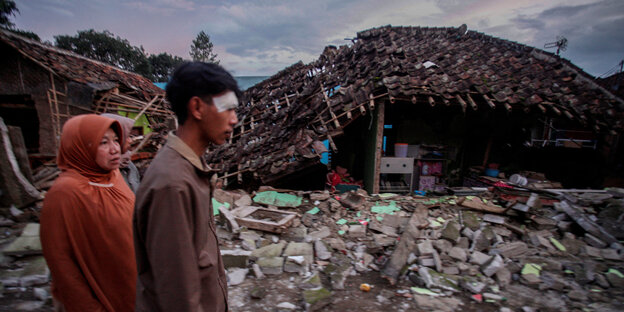 CIANJUR (AFP) | A 5.6 magnitude earthquake on the Indonesian island of Java on Monday killed more than 160 people. "I regret to report that 162 people have died," West Java Province Governor Ridwan Kamil said in a video on Monday. A spokesman for the city administration of the particularly hard-hit city of Cianjur confirmed the information. Hundreds more injured.
The Indonesian civil protection authority initially continued to speak of 62 fatalities. Due to errors in counting, there were also major deviations in the official number of victims after the stadium disaster in Malang in eastern Indonesia in October.
Around the particularly hard-hit city of Cianjur, rescue operations were made more difficult by power outages and landslides. Because many people could not yet be reached, the number of dead and injured is likely to continue to rise, Governor Kamil said in a press conference.
In several hospitals, the power went out for hours because of the earthquake and the doctors treated the injured on the street. The power supply was partially restored by the evening.
Authority chief: Medical staff urgently needed
Cianjur city chief Herman Suherman told Metro TV that doctors at the Sayang Hospital in his city were initially unable to operate on earthquake victims due to a power outage. In view of the enormous number of injuries, additional medical personnel are urgently needed. The injured were also taken to the hospital on motorcycles or flatbed trucks.
Local police chief Doni Hermawan said on Metro TV a woman and a baby were rescued after a landslide. Another buried person had succumbed to his injuries. According to Governor Kamil, landslides also made several roads impassable, so that clearing vehicles had to move up.
Local media reported severe damage to a hospital, an Islamic boarding school and various businesses. "Hundreds, maybe even thousands of houses were damaged," the spokesman for Cianjur's municipality told AFP.
The US Earthquake Monitor (USGS) gave the magnitude of the quake as 5.6. The epicenter was therefore near Cianjur in the province of West Java. Cianjur is located about 100 kilometers south of the capital Jakarta and west of Bogor.
Indonesia's meteorological agency counted at least 25 aftershocks. The inhabitants of the earthquake region should remain outdoors because of this danger for the time being, said the head of the authority, Dwikorita Karnawati.
Swaying skyscrapers cause panic in Jakarta
High-rise buildings in Jakarta were also shaken by the earthquake. People ran outside in panic, but no major damage or injuries were reported from the capital.
Hundreds of people in Jakarta stayed outside after the earthquake as a precaution, a journalist from the AFP news agency reported. Some of them wore helmets to protect themselves from falling parts of the building.
Because of Indonesia's location on the Pacific Ring of Fire Earthquakes and volcanic eruptions often occur in the Southeast Asian country. In January 2021, a 6.2 magnitude earthquake struck the island of Sulawesi, killing more than 100 people. Thousands of people lost their homes.
Many deadly earthquakes in recent years
In 2018, more than 550 people died in an earthquake on the islands of Lombok and Sumbawa. In the same year occurred on Sulawesi a 7.5 magnitude tremor: Around 4,300 people have died or have been missing since then.
The 9.1 magnitude seaquake that struck off Sumatra on December 26, 2004 is still a terrible memory. The resulting tsunami killed 220,000 people across the region, 170,000 of them in Indonesia alone.