On the death of Hebe de Bonafini: a figure of light with a dark side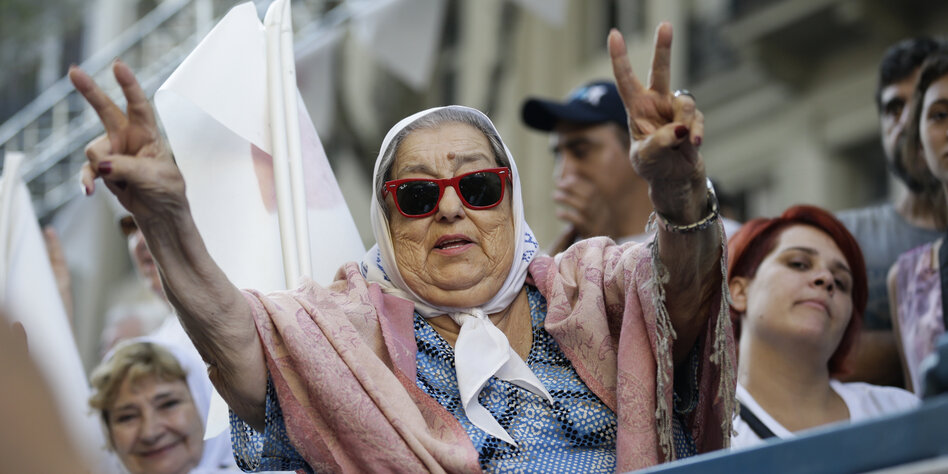 Argentinian activist Hebe de Bonafini is dead. When her sons disappeared during the military dictatorship, she founded the "Mothers of Plaza de Mayo".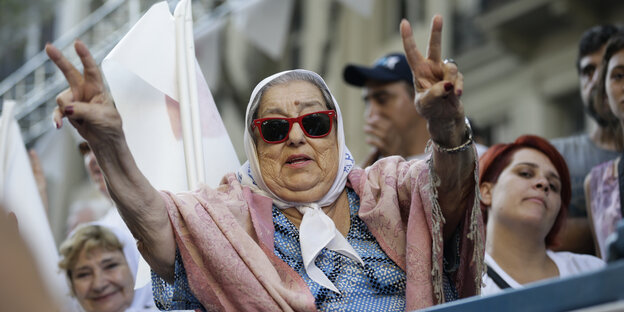 BUENOS AIRES taz | Hebe de Bonafini is dead. The co-founder and president of the Argentine human rights organization Mothers of Plaza de Mayo died on Sunday at the age of 93 in a hospital in La Plata, Buenos Aires province. This was announced by her daughter Alejandra. Bonafini co-founded the Mothers of Plaza de Mayo in 1977. Two years later she became president and led the more radical part of the human rights organization that had split in 1986 until her death.
Bonafini's sons Jorge and Raúl were abducted during the military dictatorship (1976-1983) and have since disappeared. "The day they disappeared, I forgot who I was, I never thought of myself again," she said at the beginning of November on the occasion of the photo exhibition "Hebe de Bonafini, a mother in revolt".
Born in 1928 in a working-class neighborhood in the small town of Ensenada just outside La Plata, she married Humberto Alfredo Bonafini at a young age, with whom she had two sons and a daughter. In February 1977, Jorge was kidnapped at the age of 26. "Before my son was kidnapped, I was just a normal housewife. I didn't know a lot of things and they didn't interest me either," Bonafini once said about himself. A few months later, the then 24-year-old Raúl was also abducted.
As she combed hospitals, courthouses, police stations, and morgues in search of her sons, she found other mothers whose children had also disappeared.
"I was just a normal housewife"
In April 1977, faced with the silence of the authorities, 14 mothers began to demand information about the fate of their children on the Plaza de Mayo in front of the Presidential Palace in the center of the capital Buenos Aires.
White cloth diapers, worn like headscarves, soon became the group's identifying mark. "Initially we just got together until one day the police came and hit us and said, 'Run.' We linked hands and started walking in pairs," she said.
Since then, the madres of the Plaza de Mayo have made their rounds on this square every Thursday at 3 p.m. "The doctors know that I need the Plaza for my health," she said during her last tour on November 10.
"Dear Hebe, Mother of Plaza de Mayo, global symbol of the struggle for human rights, pride of Argentina. God called you on National Sovereignty Day…it can't be a coincidence. Simplemente gracias y hasta siempre", Vice President Cristina Kirchner tweeted.
Change to the unconditional supporter of the Kirchners
During the presidencies of Néstor and Cristiana Kirchner (2003-2015), mothers were first welcomed in the presidential palace and with the repeal of the amnesty laws in 2005, the trials for human rights crimes during the dictatorship received an important boost. According to the mothers and other human rights organizations, 30,000 people disappeared or were murdered.
While Bonafini had severely criticized all of her predecessors and wished them all the best, she now became an unconditional supporter of the Kirchners. Since then, her unyielding attitude and relentless attacks on what she believes to be political opponents have often caused irritation.
For example, a few years after the September 11, 2001 attacks on the World Trade Center in New York, she said: "I felt lucky. I will not be a hypocrite. It didn't hurt me at all."
Or when she took her last tour of the Plaza de Mayo Defense of Cristina Kirchner in a corruption trial called for a "popular uprising against the judges". That it's in the process too Misappropriation of the equivalent of several million euros She left unmentioned.